The Best Battery Maintainers: Stay Charged and Ready to Roll
Save yourself time and frustration by keeping your batteries in tip-top shape with these reliable battery maintainers.
The Drive and its partners may earn a commission if you purchase a product through one of our links. Read more.
You wake up pumped and ready to play on your favorite vehicular toy and rock out to the garage all suited up only to be greeted by the mother of all mood killers: a dead battery. Or worse, you're already running 15 minutes late for work and hear the dreaded hollow whirring of a dead car battery. It never seems to fail.
I'm here to tell you that all this hassle can be easily avoided simply by investing in an affordable and compact battery maintainer. These clever devices keep your batteries charged and healthy so that you don't ever have to worry about your plans being stymied by a dead battery again. My comprehensive list of top-quality battery maintainers, along with an informative buying guide, will have you fully charged and ready to go in no time.
Best Overall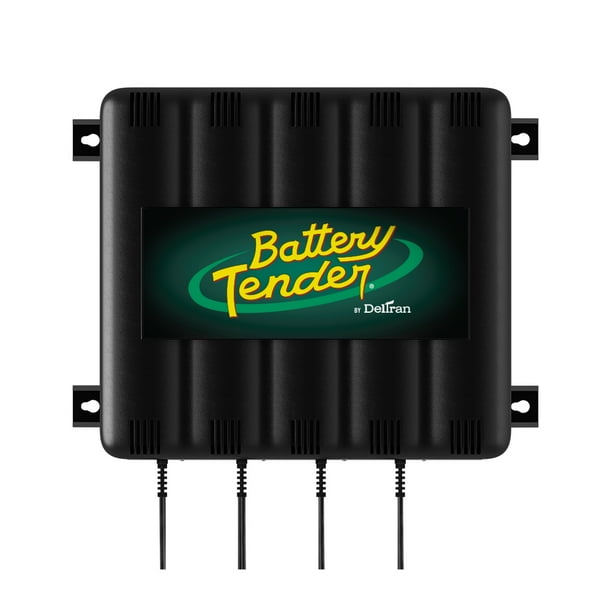 Deltran Battery Tender Four-Bank Battery Management System
Able to maintain four batteries at the same time, this precisely machined device automatically controls output voltage. Each port offers 12-volts at 1.25 amps.
Works on all AGM batteries

Protected against reverse polarity

Microprocessor optimizes electrical flow
Comes at a fairly high price point

Better if you're working with multiple batteries
Best Value
Everstart 12-Volt Battery Charger and Maintainer
Cost-effective and user-friendly, this battery maintainer works on any type of car or water vessel. Complete with O-rings and clamps, it lets you restore your battery quickly.
Affordably priced

Includes long cabling for easier connections

Encased in a durable polymer exterior
Cord connections can get strained easily

Vulnerable to extremely cold situations
Honorable Mention
Noco Genius1 1-Amp Fully-Automatic Smart Charger
This streamlined, compact, and affordable battery maintainer will desulfate, charge, and maintain 6- and 12-volt batteries.
Backed by a three-year warranty

35 percent more powerful than competing battery maintainers

Can desulfate and manually recharge dead batteries
Not powerful enough for use on cars, trucks, or SUVs

Has a tendency to automatically shut off after several days
Summary List
Our Methodology
Best Battery Maintainer Reviews & Recommendations
Our Verdict
Things to Consider Before Buying a Battery Maintainer
Key Features
Charging Ports
Amperage Supply
Charging Approach
Safeguards
Battery Maintainer Pricing
FAQs