Best Car Anti-Theft Devices: Give Your Vehicle an Extra Layer of Security
Add extra security to your car with these simple and quick-to-install anti-theft devices
The Drive and its partners may earn a commission if you purchase a product through one of our links. Read more.
Cars may not be the easiest things for thieves to steal, but it does happen. If you want to deter them from getting away with your car, there are a few options to help lock down your car. Here are some of the best car anti-theft devices we found to help defend against car thieves.
Best Overall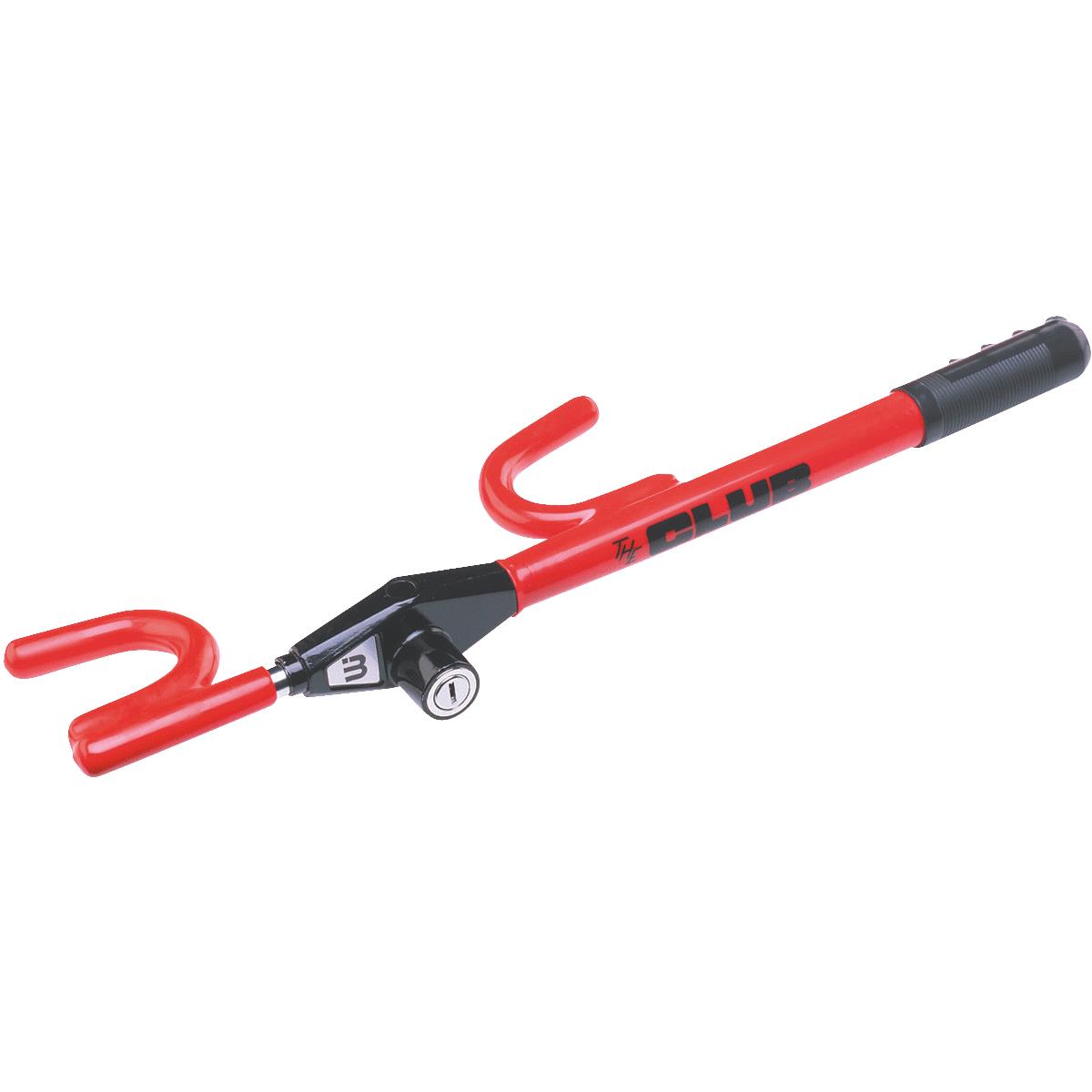 The Club 1000 Original Club Steering Wheel Lock
One of the top-rated devices when it comes to helping prevent and deter thieves from stealing your car.
Lightweight and quick to attach
The bright red color stands out to anyone able to see through the windows
The device can slip into the locked position accidentally, making it difficult to handle if you're in a hurry
Best Value
The Club CL606 Brake Lock Vehicle Anti-Theft Device
The tool locks a car's brake or clutch pedal into place by preventing them from being depressed.
It's easy to set up: just extend the device to the brake or clutch, and it will automatically lock in place
Small and simple to store when not in use
You'll want to measure the size of the car's pedals
It may not be able to fully extend to lock into place
Honorable Mention
Oanon Wheel Lock Clamp Boot Tire Claw 
A large and sturdy metal clamp that locks around a car's tire to prevent the vehicle from moving.
The device is bulky and hefty, making it more difficult to remove without the keys
It's weather-resistant and easily noticeable
It will not fit on tires over 14 inches, so you will want to know the diameter of your tires before purchasing
It's also heavy, weighing nearly 14 pounds
Our Methodology
We can't put our own hands on every item available. In these instances, we put our collective experience in journalism, research, and prior product testing to use to make our product picks. Items that are used by our own staff may get earnest endorsements as well, but we'll never accept fees or bonuses to sell you stuff we're not actually excited about. Affiliate revenue is always disclosed.
The Drive aggregates reviews and research from all over the internet to figure out which products are worth buying. We also put out shopping guides to help you understand how to assess the value of these things on your own. As our editorial cousins at Car Bibles say, "Knowledge is horsepower!"
Why Trust Us
Our reviews are driven by a combination of hands-on testing, expert input, "wisdom of the crowd" assessments from actual buyers, and our own expertise. We always aim to offer genuine, accurate guides to help you find the best picks.
Learn more
Best Car Anti-Theft Device Reviews & Recommendations 2022
This is one of the top-rated devices when it comes to helping prevent and deter thieves from driving away in your car. Among Winner International's many options for car anti-theft devices, The Club 1000 Original Club Steering Wheel Lock is the one we found to be the most dependable. It's bright red color alerts any would-be thieves and lets them know your car is better protected.

The device is lightweight and simple to set up on the steering wheel of most vehicles. The steel construction helps resist sawing, prying, hammering, and freezing the device. It takes seconds to lock into place and is able to be removed after unlocking it with the keys in very little time. If red isn't your color, it also comes in a navy blue but doesn't stand out as much when in the car.

While it is one of the most recommended anti-theft devices for your car, one thing to note is it does automatically lock in place without the key. While locking it may be convenient, it can accidentally slip into place and lock on its own if extended.
This brake lock bar offers a lot of protection for your vehicle. It attaches to either the clutch or brake pedal, making the car nearly impossible to drive or stop. Winner International's use of the bright red color makes it stand out to anyone looking inside your car.

It weighs a little over four pounds and can be locked into place within minutes. It locks by extending the device from the wheel to the back of the pedals. Once at the preferred length, it will only retract by using the keys to unlock it.

While it does offer a lot of protection against someone trying to drive off in your ride, there are a few things to keep in mind. Locking it with the keys facing away from the driver's door makes it more difficult to unlock. Also, depending on what size car you have, it may not fit properly across the brake pedal from the steering wheel. It's rated to fit pedals up to 9/16 inches wide.
Yes, the name of the device is quite a mouthful, but it still keeps your car in place. This tire clamp, often used by police officers to make sure cars don't drive off before being towed away, is great for extended stays or vehicles left outside for long periods of time. It comes in a vibrant yellow that stands out and alerts anyone hoping for a quick getaway.

It's made of heavy-duty steel and covered by a rust-resistant coat so it can be left in the rain without tarnishing. It also comes with protective rubber wheel clamp tips to help prevent damaging your car's tires. The clamp fits between the tire and is able to be locked in place with the included set of keys.

It is on the heavier side, weighing just under 14 pounds, so you'll have to lug it around in the trunk before setting it up. It's also rated to fit certain tire sizes and will not lock around anything larger than 14 inches. A word of caution as well: The clamp comes with spikes that can puncture the tire if driven.
The Club CL303 connects the steering wheel to the brake or clutch pedal, which makes it impossible for someone to steer or stop the vehicle. The device is red for high visibility, made of tempered steel, and is a universal fit for most cars, trucks, SUVs, and vans. It comes with two keys, has a self-locking feature, and is 22.5 to 30 inches long.
This device is easy to take on and off, and it's very strong. It's simple to adjust, locks tightly, and is lightweight yet sturdy. This lock is a great deterrent for manual transmissions, and it takes a lot of work for someone to steal a vehicle when it's installed.
However, it's not indestructible, and a thief who really knows what he's doing could break the device by cutting into the steering wheel panel. Also, it can be a bit challenging to figure out how to set it up, but it's easy once you know where to put the end hooks and how to use the key.
This tire clamp wraps around a vehicle's wheel to prevent theft and towing. It works on cars, trucks, and vans, and is painted bright red and yellow for visibility. It has a PVC coating, so it won't scratch the wheel, and it comes with two keys, so you always have a backup. It's adjustable based on the size of your tire.
This is a very sturdy, heavy-duty, anti-theft mechanism that is also great for motorcycles, trailers, ATVs, and golf carts. It's really easy to install, it fits as advertised, and it's very visible, which reminds you to remove it before you drive away. The key cylinder is also waterproof with anti-rust properties, so it won't seize.
But like most anti-theft devices, there are tools to bypass this. However, a thief would have to make a lot of noise to remove it. Also, you may struggle a little when engaging the lock and the sliding portion to align it correctly on your wheel.
This steering wheel lock comes in three sizes and fits wheels measuring 13.7 inches up to 17.3 inches. It fits on 99 percent of cars and light commercial vehicles. It works by spinning on your steering wheel instead of attaching to it, and it prevents keyless entry theft. It also protects the airbag. The Disklok is constructed of hardened steel and weighs between 8.8 and 11 pounds.
It's a great visual deterrent, it fits the wheel really well, and it's easy to operate as long as you have the key. This heavy-duty device is nearly impossible to remove and just free spins on the steering wheel if someone tries to tamper with it. Overall, it's a high-quality mechanism and is a bit intimidating to look at.
The biggest drawback is that it's heavy and can be awkward to put on and take off, particularly if you're not a very strong individual. It's so big, you can't store it under your seat when it's not in use. Also, it doesn't work on every make and model.
This anti-theft lock is available in black, blue, and red. It's made of high-quality round steel and aluminum alloy and can be installed on the back of your steering wheel to protect the airbag. It comes with two protective pads to alleviate pressure on the steering wheel as well as a safety escape hammer. The company also provides a lifetime money-back guarantee.
It's sturdy, affordable, very easy to put on and take off, and it gets the job done. It comes with three keys, so you have a couple of backups if you lose one. The unique key pattern makes it harder to open it or break it if you don't have the actual key. Users also like the included window spike, which can break glass in an emergency or be used for self-defense purposes.
However, this anti-theft device doesn't fit all makes and models. Also, the way the bar slides closed can pinch your hand, and if it's really hot it may leave noticeable marks on a leather steering wheel.
This steering wheel lock extends from 17.7 to 28.7 inches and works on a variety of makes and models. It's made of hardened steel and is designed to prevent keyless entry theft. It comes with three laser keys that cannot be copied, and they slide in and out very smoothly. The bar automatically locks into place and only requires a key to unlock it.
One of the best things about this product is that you can install it and remove it quickly, which is convenient if you use it consistently. This sturdy anti-theft device is as easy to remove as it is to put on your steering wheel. It's lightweight yet a solid piece of metal that isn't too heavy or cumbersome to manage. It also comes with a built-in window breaker.
However, the finish isn't the best quality, and it may be either too small or too big for certain steering wheels. There have also been some complaints that it completely locks up after a short period of use, rendering it useless.
Our Verdict
If you're looking for a car anti-theft device to better protect your ride when you leave it anywhere, we recommend The Club 1000 Original Club Steering Wheel Lock, Red. It features a simple design that allows for a quick and easy set up to deter anyone looking to get away with your car.
Types of Car Anti-Theft Devices
Wheel Lock
Wheel lock anti-theft devices are the most common. They easily attach to the steering wheel of the car to keep it from turning. These anti-theft tools can be extended to fit most steering wheels. They come with keys that allow them to be unlocked with ease.
Brake Lock
Brake locks attach to the brake or clutch pedal. This prevents either pedal from being depressed. These car anti-theft devices also lock in place and come with keys so you can unlock them quickly.
Tire Lock
Tire locks clamp onto the tires, preventing them from spinning. They are typically made of heavy-duty steel and are easy to fit overtires, depending on what size device you get. Tire locks are more durable and are often used for vehicles that will be in one place for long periods of time.
Car Anti-Theft Device Pricing
$20-$30: These anti-theft devices are lighter and are typically simple wheel locks to hold your steering wheel in place.
$30-$40: This price range often adds another layer of protection by adding locks that are more difficult to pick and break. Pedal anti-theft devices that hold the clutch or brake in place are also common.
$50–$60: The higher price range introduces tire locks. The higher price is partially due to the heavier construction and high-quality construction materials.
Key Features
Exterior Materials
Anti-theft devices are reinforced with extra-tough steel design. This material makes sure anyone looking to steal your car has a much more difficult time doing so. The steel resists sawing, prying, hammering and freezing.
Wheel Mount
The device extends to latch onto the steering wheel. Depending on the device, either one or both ends are able to grab hold of the steering wheel to prevent it from turning. This allows both the device and the wheel to lock in place and is a great visual deterrent to anyone who may be looking to steal your car. 
Lock
Anti-theft deterrent devices all lock in place to make sure no one easily takes your car. These locks all come with their own set of keys; each key only fits and unlocks the specific device. This prevents anyone with a similar device from unlocking another in a different vehicle. 
Other Considerations
Tire Size: If you're looking at getting tire locks, you will need to know the size of your tires before making a purchase. Tire locks fit most standard tires, but if you've got large mud tires on your truck or Jeep, the locks may not fit properly or may not fit at all.
Brake Size: Brake locks may not extend to fit over every car's pedals. You will want to measure the width of your car's brake and clutch pedal to make sure the device you're looking at will fit properly.
Extra Pair of Keys: The locks all come with their own set of keys, so you'll have an extra pair to add to your car key collection. While it may not seem like much, owning more keys means they take up more space on your key ring and add a little more time to your journey by unlocking the devices. If they get lost or misplaced, getting a new set may be difficult.
FAQs
You've got questions. The Drive has answers.
Q: What if I lose the key to the device?
You should contact the manufacturer and ask about their policy. Generally, they will ask you to order a new device.
Q: If I buy multiple devices, will the keys fit the locks, or are they all different?
Each device is keyed differently to help prevent anyone from unlocking multiple devices. 
Q: I locked The Club on my steering wheel and can't find my keys. What should I do?
We recommend calling a locksmith to remove the device to avoid possibly hurting yourself or your car.
Q: Do I need an anti-theft device if I have a car alarm or security system?
While a car alarm or security system may be good at alerting you of a break-in, the added security of an anti-theft device may help make sure a thief looks somewhere else before breaking in.