Best Jeep Wrangler Floor Mats: Keep Your JK Clean
Fierce all-weather protection for your Jeep's floors.
We may earn revenue from the products available on this page and participate in affiliate programs. Learn more ›
Any Jeep off-roading adventure is a surefire bet for mud, water, and caked soles which can permanently stain your carpet or make your footwells permanently disgusting. To protect your carpet and floor pan, we like to rely on a solid set of front and rear floor mats as their rock-solid construction and unique design consisting of raised edges, deep channels/ridges, and reservoirs work to trap debris, contain spills, and keep your interior floor spotless. To help you choose the best Jeep Wrangler floor mats, we evaluated over two dozen different models based on material and design, ultimately narrowing down the list to just seven of the very best. Here's what we recommend.
Best Overall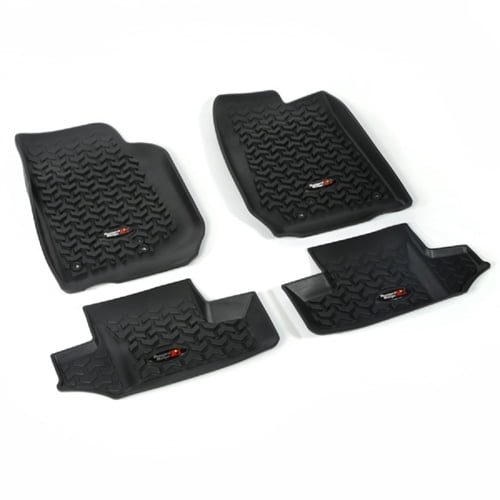 Heavy duty construction with reinforced edges, deep ribs, and a durable molded thermoplastic.
Rolled reinforced edges for strength
High perimeter wall to contain liquids
Durable, thick molded thermoplastic construction
Very easy to clean
Rear mat logo can loosen with heavy wear and tear
May feel too thick for some people
Best Value
Armor All 78840ZN Floor Mats
Affordable, universal fit option that is easily trimmable to match your vehicle's specs.
Easy to cut using scissors
Thin, durable rubber construction
Deep and varied tread pattern channels liquids and debris
Very quick to clean
Rear mats too small for some vehicles
Honorable Mention
Good combination of value and functionality.
Super deep ribs trap liquid and debris
Durable thermoplastic elastomer construction
Toxic-free of latex, lead, and cadmium
Attachment tabs are not the most durable
Not designed for comfort
Summary List
Our Review Methodology
Best Jeep Wrangler Floor Mat Reviews & Recommendations
Our Verdict on Jeep Wrangler Floor Mats
What to Consider When Buying Jeep Wrangler Floor Mats
Types of Jeep Wrangler Floor Mats
Rubber Floor Mats
Carpet Floor Mats
Thermoplastic Elastomer Floor Mats
Jeep Wrangler Floor Mats Key Features
Material
Design
Ease of Cleaning
Jeep Wrangler Floor Mat Pricing
FAQs
Q: Do Jeep mats require a lot of maintenance?
Q: Do Jeep Wranglers come with floor mats?
Q: How many floor mats do I need?