Best Car Air Beds: Sleep Soundly When You're Short on Space
With one of these inflatable yet durable car-ready beds, you'll be able to get a good night's rest without a tent.
We may earn revenue from the products available on this page and participate in affiliate programs. Learn more ›
If you've ever had to sleep in your car, even just for one night, you know how terribly hard and unforgiving its surfaces can be—and how not-so rested you feel in the morning. Whether your car camping adventures are unexpected or pre-planned, you need a comfortable place to spread out and sleep when night falls. While laying across your back seat is an (uncomfortable) option, carrying a lightweight, easy-to-inflate car air bed is a much better alternative. These convenient mats and pads inflate like air mattresses, and they're sized to fit into your cargo area, back seat, or the bed of your truck so you can relax and get some solid shut-eye. Discover how to turn your car into a cozy sleep spot that won't cause tossing and turning with one of these convenient travel beds.
Best Overall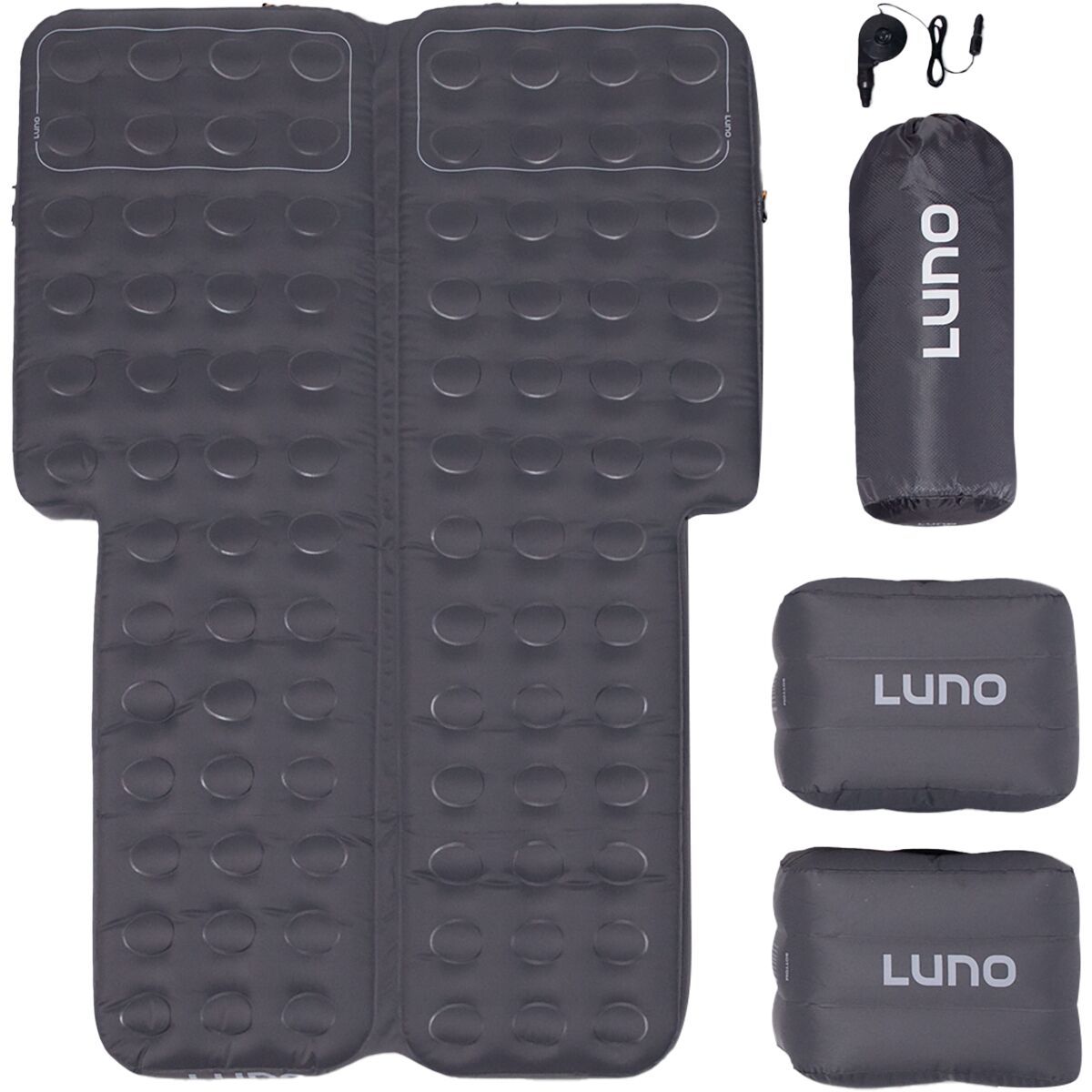 Expansive, comfortable, and supportive, this durable car air bed is a favorite of car campers because it hits all of the most important hallmarks.
Fits more than 1,800 makes and models

Suitable for sleepers up to 6-feet-2

Holds up to 300 pounds per side
Might not fit every vehicle
Best Value
Klymit Static V Sleeping Pad
Slim, streamlined, and extra compact when deflated, this car air bed is highly supportive and perfect for those who want to travel light.
Conforms to your shape 

Body-mapping supportive air chambers

Easy to inflate, with no electric pump required
Honorable Mention
Therm-a-Rest MondoKing 3D Self-Inflating Camping Sleeping Pad
If comfort is what you're looking for, this extra-cushioned car air bed with a layer of foam provides extra stability and plenty of room to sleep comfortably.
Fits sleepers more than 6 feet tall

Includes air and foam core for added support

Extra thick at 4.5 inches
Inflation can be a hassle
Summary List
Our Methodology
To choose the best car air beds, I used my own car camping experience with different air mattresses and sleep pads to identify top brands and reputable products within the space. From there, I considered beds that would work for a variety of vehicle makes and models as well as options that could work in different configurations, or even do double duty for tent camping. My top picks were those car air beds that were easy to inflate without any special accessories beyond your standard 12-volt pump as well as those that are durable and resistant to punctures or leaks and light enough to carry when you're short on space.
Best Car Air Beds: Reviews & Recommendations
Specs
Bed type: Inflatable (pump required)
Thickness: 4 inches
Size when inflated: Depends on model purchased
Pros
Compatible with more than 1,800 vehicles
Shaped to fit over back seats and wheel wells
Fits sleepers up to 6-feet-2
Supports up to 300 pounds per side
Cons
May not suit every make and model
When it comes to comfort, durability, and convenience, the Luno 2.0 Air Mattress is pretty difficult to top. Loved by reviewers and highly rated across the board, this impressive car air bed is specifically shaped and sized to fit more than 1,800 vehicles, and each size suits models from various model years. It features three components: a wide mattress that fits two sleepers and stretches over folded back seats and cargo areas, plus two support blocks that sit beneath the "pillow" top. It comes with a 12-volt electric pump for easy setup and teardown. It's versatile too. You can inflate just half if you're camping solo, and you don't have to use the support blocks if you don't need them.
Although the Luno is designed in a few key sizes that suit more than 1,800 specific makes, models, and model years, it may not fit every vehicle. If it doesn't work for your particular car, sizing may be slightly off.
Specs
Bed type: Inflatable
Thickness: 2.5 in.
Size when inflated: 72 inches L x 23 W
Pros
Body-mapping supportive air chambers
Conforms to your shape during sleep
Lightweight and ultra-compact when packed
Limits air movement for increased stability
Cons
The Klymit Static V Sleeping Pad is a more affordable option than many other car air beds. It also offers a wealth of value with rugged, durable construction, supportive cushioning, and simple inflation that doesn't require electricity or a pump. This outdoor-ready pad weighs 18.7 ounces, and you can inflate it in minutes with your own breath. A V chamber design creates body-mapping chambers of air that support and cushion, and the pad even conforms to the shape of your body while you're atop it. Plus, those chambers limit air movement to keep your sleep surface stable and prevent rolling. And when you're ready to hit the road, this product packs down to just 8.0 inches long.
There are very few complaints with this car air bed, but it's worth noting that for all of its perks, it is small. It's best for sleepers shorter than 6 feet, as it measures exactly 72 inches long. Its narrower width also means it might not fit all sleepers.
Specs
Bed type: Inflatable
Thickness: 4.33 inches
Size when inflated: 77 inches L x 25 W
Pros
Extra-thick for increased comfort
Stretch knit exterior fabric layer
Two inflation valves
Compressible foam core adds support
Cons
Included pump bag is a hassle
If you're looking for the cushioning of an air mattress combined with the support of a foam pad, the Therm-a-Rest MondoKing 3D Self-Inflating Camping Sleeping Pad is a great pick. While it isn't actually self-inflating, it does combine inflation with a supportive foam core for all-around comfort. Thicker than other car air beds, this product stands 4.5 inches high when fully inflated, and its TwinLock valve keeps air in while preventing slow leaks. It's sized to fit inside most vehicles, but it's also long enough to offer enough sleeping space for those taller than 6 feet. This pad can be paired with a second from MondoKing to offer extra cushioning and support, especially on rocky terrain. When you're ready to pack up, this bed folds up to just 26.0 by 10.0 inches.
The biggest drawback to this car air bed is its setup. While it comes with a pump bag that's meant to make inflation a breeze, this accessory really only complicates things. It requires you to connect the bag and mat, blow into the bag, and compress it to "pump" it full of air. It's easier if you use your own breath and skip the bag.
Specs
Bed type: Self-inflating
Thickness: 2 inches
Size when inflated: 75 inches L x 24 W
Pros
No pump required to inflate
Large side air chambers prevent rolling
Rapid inflation valves fill in minutes
Can be configured with additional pads for two sleepers
Cons
Hard to repack
Somewhat heavy
Don't want to fuss with pumps or your own breath to get your car sleeping spot set up? The Teton Sports ComfortLite Sleeping Pad will satisfy your needs. This easy-to-use, low-effort option creates a cushioned bed without a pump. It'll inflate all on its own in a matter of minutes; just open the rapid inflation valve, and you can watch it get to work. Constructed out of solidly durable material with the bonus of a microfiber top for comfy sleep, this car air bed is easy to use and can be set up inside your car, in a tent, or anywhere else you need its support. It's constructed with large side air chambers to prevent you from rolling around, and if you want to add a second for another sleeper, the built-in Velcro side strips make it easy. Plus, the nonslip base ensures you aren't sliding around the car.
Unfortunately, when it's time to pack up, this car air bed can become unwieldy. It's large and a bit tough to repack once you've inflated it. Its heaviness means you'll want to keep it stashed in your trunk rather than carrying it in a duffel bag.
Specs
Bed type: Inflatable
Thickness: 7 inches
Size when inflated: 80 inches L x 51 W
Pros
Made from heavy-duty PVC
O-beam support for level sleeping
Accommodates wheel well placement
Leaves room for in-bed gear storage
Cons
Truck owners hoping to convert an empty bed into one suitable for sleeping will like the design and durability of the Rightline Gear Truck Bed Air Mattress. Built in two sizes, with heavy-duty PVC material and internal O-beam support for your body weight, this air bed is meant to slip right between your wheel wells and provide a cushioned spot to rest. It leaves enough space between the sides of your truck bed and the mattress to store gear and must-haves, and it stays nicely inflated and decently supportive. You will need an electric pump to inflate it. Based on the large size of this air bed, blowing it up with your breath will be quite the task.
Because this air bed is shaped specifically for truck beds and their design cues like wheel well placement, it won't provide a good fit in your typical car, crossover, or SUV's available space.
Specs
Bed type: Self-inflating
Thickness: 4 inches
Size when inflated: 78 inches L x 52 W
Pros
Flow Core construction with high-volume air channels
Micro-adjust valve to change firmness
50D stretch fabric
Keeps warm in temperatures as low as minus-30 degrees
Cons
The Nemo Romer Sleeping Pad is a car air bed, but it's also a sleeping surface you're going to want to use everywhere you camp. Featuring an award-winning design, this bed can hold two sleepers and provide a luxurious, comfortable, and supportive place to rest. Constructed with soft, stretchy fabric on top, it offers a thick cushion against your car's hard cargo space or the ground. It's self-inflating, meaning you don't have to worry about carrying a pump, and the Flow Core construction with high-volume air channels keeps you stable while you sleep. It's also warming, which means you can stay warm inside your car even in temperatures as low as minus-30 degrees. Plus, the addition of a multifunction micro-adjust valve lets you control how soft or firm you'd like your car air bed to be once it's fully inflated.
Although this is a highly versatile and nicely comfortable car air bed, it's also expensive.
Our Verdict on the Best Car Air Beds
When it comes to a flawless in-vehicle fit, it's hard to beat the customized shape and sizing of the Luno 2.0 Air Mattress. Made specifically for car campers, it's a pick that's as durable as it is comfortable, and it's equally supportive for two. If value is your top priority, the Klymit Static V Sleeping Pad is another supportive and durable option, though it's smaller overall. You can take this air bed car camping and backpacking or use it anywhere you need solid extra cushioning.
Things to Consider Before Buying a Car Air Bed
Before you squish any camping-ready air mattress into your car, think about a few key details. Sleeping in your car means you need a comfort-enhancing air bed that'll fit in your available space. To find the best fit for your particular make and model, make sure to keep these factors and features in mind.
Key Features of Car Air Beds
Easy to Inflate
If you can't get your car air bed inflated when you're ready to hit the hay, you're not only going to be frustrated but also potentially sleeping on an uncomfortable surface. Since your only power source is (typically) the available outlets in your vehicle, opt for a car air bed that utilizes a compatible electric inflator or opt for a self-inflating model. For the highest level of convenience and worry-free setup, self-inflating beds can be the best pick when you're camped out in your car.
Durable, Puncture-Resistant Material
It's no secret that air mattresses can spring leaks. They might be quick to set up and comfortable for camping, but even the best air mattresses are prone to slow leaks, punctures, or an inability to hold the right firmness once inflated. Pay close attention to the material. Choosing a pad or mattress that's constructed with durable, puncture-resistant, and rugged material can stave off leaks and inflation problems.
Sized for Car Use
Your basic air mattress is sized for tent camping, not sleeping in your car. And as you're likely aware, not all cars, crossovers, or even SUVs have perfectly rectangular cargo space, making a simple air mattress a poor fit. Instead, make sure you're choosing a pad or air bed that's designed for car sleeping. These products tend to be narrower and sized lengthwise to fit particular makes, models, or cargo spaces so you don't have to struggle with a comfortable fit.
Pricing
You can find car air beds for $60 to $400. It all depends on the quality level you're looking for, and how high-tech and potentially comfortable you'd like your sleeping space to be. If you're looking for budget-friendly options that don't require inflation tools and don't mind a thinner pad, you can find products around $60 to $125. Car air beds that offer more cushioning and more high-tech details, like foam, self-inflation, and durable material can run between $175 and $250. The most premium product picks cost from $250 to $400, depending on size.
FAQs
You've got questions. The Drive has answers.
Q: What size air mattress fits in a car?
A: This really depends on the make and model you're driving and how much available interior space you're working with. While SUVs and trucks might have enough room to fit a traditional twin or queen air mattress, most vehicles will require something slimmer and smaller. It's best to look for air beds specifically designed for car use rather than a standard air mattress. 
Q: Can you use a car air bed while driving?
A: If you're behind the wheel, you definitely shouldn't be trying to lounge on an air bed. Your passengers shouldn't either. Your air bed should be rolled up and put away while you're in motion, and everyone should be wearing a seatbelt.
Q: Do I need to open a window when sleeping in my car?
A: You shouldn't need to open a window if you're worried about breathing easily. If it's warm out or you want a little ventilation while you sleep, you can crack a window or two.
Why Trust Us
Our reviews are driven by a combination of hands-on testing, expert input, "wisdom of the crowd" assessments from actual buyers, and our own expertise. We always aim to offer genuine, accurate guides to help you find the best picks.
Learn more