Warm Up Your RV with One of These Efficient Electric Heaters
Combat chilly temperatures and cool nights by adding a compact, RV-ready electric heater to your packing list
We may earn revenue from the products available on this page and participate in affiliate programs. Learn more ›
If you travel in a camper during the winter, staying warm is an important factor. One of the best ways to ensure everyone inside is comfortable is with an electric heater. These compact and lightweight units can be stowed away in the RV and are powerful enough to heat up the whole vehicle. Check out the best RV heaters to consider for your future travel excursions.
Sure, your RV is great at protecting you from all of the unpredictable weather of the outdoors, with hard sides, a cozy and comfortable place to relax, and even shade from the hot sun. But when temperatures drop and evenings get chilly, getting the temperature just right — and perfectly warm — inside can be a bit tricky. The solution? Stash a portable electric heater right inside your RV.
These small, efficient heaters come in many different forms, and they're just the right size for campers, with enough heat to battle the crisp chill that can enter in fall, winter, and spring. Even better, an electric heater is so easy to use inside your RV. From powerful models that can heat your whole interior to smaller versions suitable for your RV's sleeping spaces or bathroom, there's an electric heater for every RVer's needs.
Best Overall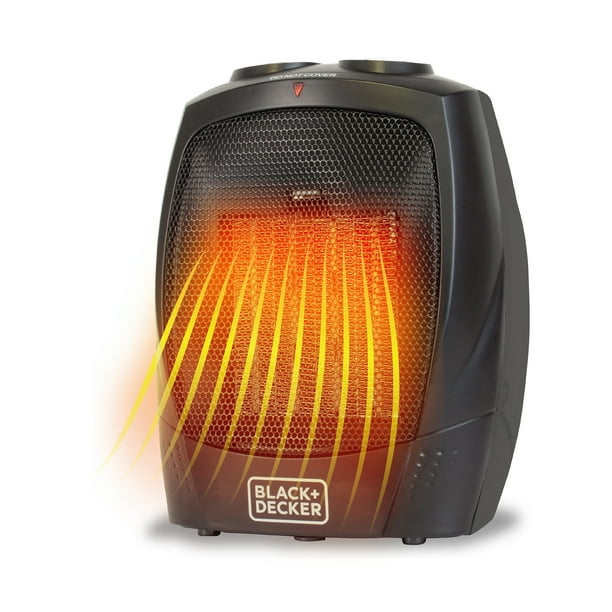 Black+Decker Personal Ceramic 1500W Heater
An electric heater that's lightweight, efficient, and yet powerful enough to warm up the interior of your RV easily and quickly.
Two heat levels plus adjustable thermostat

Lightweight, with convenient handle

Self-regulating ceramic heating element
Best Value
Selanto Portable Electric Space Heater
Affordably priced, nicely sized for portability, and quick-working, this is an electric RV heater that can start delivering warmth as soon as it's on.
Quick-working ceramic heating element

Four heating and fan settings

Tip-over and overheating automatic shutoff
Eco and low heat modes are the same

Gets hot while running
Honorable Mention
Dr Infrared Portable Space Heater
Powerful and built to handle the entire interior of your RV, this electric heater uses dual heating systems to get you warmed up ASAP.
Heats up large spaces effortlessly

Uses both infrared and ceramic heating

Can heat up to 85 degrees
Our Methodology
In my search for the best electric heaters for RVs, I looked for compact devices that could warm up either area within a camper or the entire interior space, without sacrificing too much space or sucking up significant electric power. These portable heaters all run on electricity, but I considered details like power consumption, wattage, and efficiency in comparing them to one another. Additionally, I looked for heaters that worked quickly, offered multiple temperature control options and settings, and included important safety functions like tip-over protection, timers, and automatic shutoff. And I dove into users' reviews to get a sense of which RV electric heaters performed best while out on the road and at campgrounds.
Best Electric Heaters for RVs Reviews & Recommendations
Specs
Size: 7.3 in L x 6.3 in W x 9.2 in H
Wattage: 1,500 watts
Settings: Low and high
Pros
Two heat levels and an adjustable thermostat
Self-regulating ceramic heating element
Tip-over and overheat protections
Lightweight with carrying handle
Cons
Can get noisy while running
The Black+Decker Personal Ceramic 1500W Heater is no slouch, despite its small size. In fact, it's pretty powerful, which is exactly what makes it one of the best picks for warming up your RV. Designed for indoor use, this portable heater (with a built-in carrying handle) offers two heat settings — high at 1,500 watts and low at 750 watts — and gets to work via a self-regulating ceramic heating element. When turned on, you'll immediately feel warmth begin to radiate, and it can warm up your RV's interior quickly. At just 2.8 pounds total, it can sit just about anywhere, too. Plus, this little electric heater features safety extras like overheating protection, automatic tip-over shutoff, and a one-year warranty. The only downside? This heater does make some noise while it's running, and it can be a little loud for some. But otherwise, it's effective, safe, and easy to use on the road.
Specs
Size: 6.5 in L x 4.9 in W x 8.8 in H
Wattage: 1,500 watts
Settings: Low, high, eco, and fan
Pros
More settings for more customization
Affordable price
Quick-working ceramic heating element
Tip-over and overheat protection
Cons
Eco and low heat modes are essentially the same wattage
Gets very hot up close
A whole lot of heat in a small, budget-friendly package: That's what you get with the Selanto Portable Electric Space Heater. This compact device, which stands under nine inches tall, is your road companion. It'll heat up your RV with four different settings, allowing you to opt for high (1,500 watts), low (750 watts), eco, or fan-only modes. You'll get plenty of value, thanks to the dual heat and cool functionality, and the PTC ceramic heating element paired with a high-speed fan ensures you're getting warmth throughout your camper's interior. The exterior of this heater can get warm, but it's made out of flame-retardant material to lower the risk of fire. Plus, extra safety features like a tip-over shutoff switch and an automatic overheat system that shuts off the heater will help add more peace of mind. This little RV-ready electric heater does need some space, though. It's very hot when you get close to it, and you may want to keep pets and kids out of reach of this ceramic electric heater. Additionally, there's not much difference between the low and eco modes; both are 750 watts, which means you're really getting three modes instead of four.
Specs
Size: 13 in L x 12.5 in W x 17 in H
Wattage: 1,500 watts
Settings: Low and high
Pros
Can heat large areas easily
Dual heating systems, featuring infrared plus ceramic heating
Heats quickly and blows air powerfully
Electronic thermostat can reach up to 85 degrees
Cons
Fan is super loud when running
Heater is heavy
If you're trying to heat your entire RV interior, not just one area or room, the Dr Infrared Portable Space Heater is up for the task. This electric heater is pricey, but it's also highly effective at warming up large spaces. It offers two temperature settings, high and low, plus an electric thermostat that covers a range from 50 to 85 degrees. With this heater, you'll get two heating systems in one, with an infrared quartz tube and a ceramic heating element that work together to deliver heat quickly. Extras like a remote control, automatic energy-saving mode, tip-over protection, and overheating protection make it easy and comfortable to use, too. You can also set the programmable timer for up to 12 hours to allow this heater to run on its own. Unfortunately, this isn't a quiet electric heater. You'll hear it running in your RV; though its product description claims it's just 39 decibels, users say it's much louder. Additionally, at 24 pounds, this heater is heavier than most other portable electric models.
Best Oscillating Electric Heater for RV
SEE IT
Specs
Size: 5.51 in L x 6.69 in W x 10.31 in H
Wattage: 1,500 watts
Settings: Low, high, eco, and fan
Pros
Four modes, including eco and fan only settings
Oscillates 70 degrees
Advanced PTC ceramic heating element for quick warmth
Tip-over and overheating automatic shutoff
Cons
Very loud
Doesn't automatically turn back on once desired temperature is reached
The Dreo Portable Space Heater is a heater that'll direct heat in more than one area of your RV. Thanks to its oscillating design, this heater can rotate up to 70 degrees and blow warm air from its ceramic heating element in any direction you choose. Featuring four modes — high (1,500 watts), low (1,000 watts), eco, and fan only — you can also adjust as needed, depending on the weather or ambient temperature. The eco mode is particularly handy, as it's both energy-efficient and automatically shuts off the heater once your desired temperature is reached. You set the maximum temperature via the digital thermostat, and extra safety protections like tip-over and overheating automatic shutoff will give you the security you need while running a heater. Plus, on warmer days, you can get rid of the heat entirely and use this device with its built-in handle to cool you down as a rotating fan. There are a couple of points worth mentioning, though. While this RV electric heater claims it'll automatically turn on and off in eco mode, it only turns off, not back on. It won't start heating as the temperature drops unless it's manually turned on. Additionally, the heater is loud while it runs, especially on the highest setting.
Best Stay-Cool Electric Heater for RV
SEE IT
Specs
Size: 12.5 in L x 8.3 in W x 22.8 in H
Wattage: 1,500 watts
Settings: Low and high
Pros
Dual quartz tubes radiate heat
Fan-assisted heat dispersion
Adjustable thermostat paired with two heat settings
Top-mounted, easy-to-reach controls
Cons
Loud for some personal preferences
Heavy and tall
If it's some serious heat you're looking for throughout your RV, the Comfort Zone 1500-Watt Electric Quartz Infrared Radiant Tower Heater is a solid pick. Built with dual quartz tubes that produce radiant heat to warm up people and objects, you'll love the fan that helps disperse the heat that's generated from this RV-ready device. Its adjustable thermostat and two heat settings allow you to control the warmth as well as the output and wattage. And the top-mounted control knobs mean it's easy to adjust without risk of touching heat, thanks to the stay-cool exterior housing and handle. Plus, protections like an overheat sensor and tip-over cutoff switch make it nice and safe. This RV electric heater is pretty tall, but that makes it even better at heating up your entire camper interior. Though this electric heater is larger, it's still portable, with a convenient handle and a total weight of 6.6 pounds. However, it can be noisy for some users. And it's worth pointing out that the fan speed can't be changed. It's the same speed and noise level on both low and high settings.
Our Verdict on Electric Heaters for RV
What to Consider When Buying an Electric Heater for RV
What makes a great electric heater for your RV? Keep these key details in mind as you shop, search for, and compare different options. They're aspects that'll help you find a heater that's safe, easy to use, and energy-efficient for your camper's needs.
Types of Electric Heaters for RV
Fan-Forced Electric Heaters
One of the most common kinds of RV heaters you'll find is fan-forced electric heaters. This kind delivers heat by pushing air through an electric heating element, then using a fan to circulate that warmed-up air throughout your space. They work slowly, but their heat gradually builds and fills up your space. This kind of heater is great for longer-term heating or maintaining a warm temperature. However, they can take a while to heat larger, more open spaces.
Infrared Electric Heaters
An infrared heater delivers heat quickly and pretty powerfully. These electric RV heaters emit infrared rays, radiating heat outwards into a space to add warmth. Instead of warming up the air within a room, they heat objects. You can feel the heat from one of these electric devices as soon as it's powered up. However, because they heat objects and work so quickly, they need a bit more supervision and monitoring than fan-forced or convection heaters.
Convection Electric Heaters
Convection heaters are somewhat similar to fan-forced electric heaters. They work slowly to heat up rooms and spaces, gradually adding heat by warming the air. However, instead of using a fan to push and pull air, convection RV heaters use convection currents to get warmth flowing. This kind of heater is great for small spaces, like the bedroom of your RV, as they can fill compact rooms more quickly with warm air.
Electric Heaters for RV Key Features
Automatic Shutoff
Automatic shutoff is a convenient and super handy feature in an RV heater. There are two kinds of automatic shutoff that are beneficial: auto shutoff when the heater heats your space to the desired temperature, and auto shutoff on a timer. Both are great for ensuring your camper doesn't get too warm, but they're also helpful at ensuring your heater doesn't overheat dangerously. Having auto shutoff ensures you can easily keep the heat at just the right level, without worrying about the heat generated posing a problem.
Tip-Over Protection
Tip-over protection is a must-have for any small, RV-ready electric heater. Whether you're running your heater while you're asleep, enjoying the outdoors, or even hanging out in your camper, you never know what might happen. And if a heater gets tipped over, it poses a big risk, both in overheating, electrical and structural damage, and potential fire. So, with tip-over protection, your electric heater will shut off if it falls over or gets knocked down. That can be a preventative feature that provides crucial safety and peace of mind.
Multiple Temperature Control Settings
While pretty much every small electric heater features different levels of heat – often as simple as high and low setting choices – it's possible to get even more customized heat. For the smartest and most convenient heater, you'll want to opt for one that offers multiple temperature control settings so you can adjust as needed. Look for a heater that gives you low, medium, and high choices; if you want even more control over your warmth, you can find products that'll actually let you set an exact temperature.
Electric Heaters for RV Pricing 
An electric heater for your RV is pretty reasonable in price. You can find budget-friendly picks for $50 or less, though these electric heaters will be very small and may not offer as many features (like customizable temperature settings or automatic shutoff with timer). Spend between $50 and $100, and you'll find larger electric heaters that suit RVs as well as models with all of the latest, smartest features.
FAQs
You've got questions. The Drive has answers.
Q: What's the cheapest way to heat an RV?
A: It really depends on what kind of heater you're considering and its energy efficiency. While propane is often touted as the cheapest option, electrical heaters can actually use very little energy — especially if you're buying a newer model with an Energy Star rating. Plus, when you're plugging in at a campsite, you don't need to worry about the cost (or refilling a propane tank) of heating up your interior. 
Q: Can a solar generator power an electric RV heater?
A: If your RV's electronics and electric appliances are being run off your generator, you can definitely use your solar generator to power your heater. As long as you're plugged in and powered up, whatever power source you're using for your RV can also power your electric heater.
Q: Is it safe to use an electric heater in an RV at night?
A: Just like any regular ol' electric heater, you can use an electric heater inside your RV overnight. However, to err on the side of safety, it's a smart idea to keep your heater on a timer so it automatically shuts off (and doesn't overheat). Or, opt for one that has automatic shutoff after so many hours or at a certain temperature.
Why Trust Us
Our reviews are driven by a combination of hands-on testing, expert input, "wisdom of the crowd" assessments from actual buyers, and our own expertise. We always aim to offer genuine, accurate guides to help you find the best picks.
Learn more