Best RV Roof Sealants: Protect Your RV's Roof From the Elements
UV rays, rain, and even temperature changes don't stand a chance of wrecking your camper with one of these RV roof sealant and coating picks.
We may earn revenue from the products available on this page and participate in affiliate programs. Learn more ›
You might not think about your RV's roof very often. After all, it's always overhead, keeping you dry, shaded, and comfortable, no matter where you're parked and camping. But if there's one part of your camper that really takes a beating from the elements, it's that roof. Constantly exposed to outdoor factors like harsh sunlight, temperature changes, rain or snow (or even hail), and all of the dirt and debris that might fall on its surface, your RV's roof can show its wear over time. But there's an easy way to keep it strong, protected, and durable: apply a roof sealant and coating.
These brush-on/roll-on products are made to strengthen your RV roof's defenses, offering a layer of protection against all of those damaging outdoor elements. And they can even restore a worn roof, giving it a longer lifespan and saving you from a roof repair or replacement.
Best Overall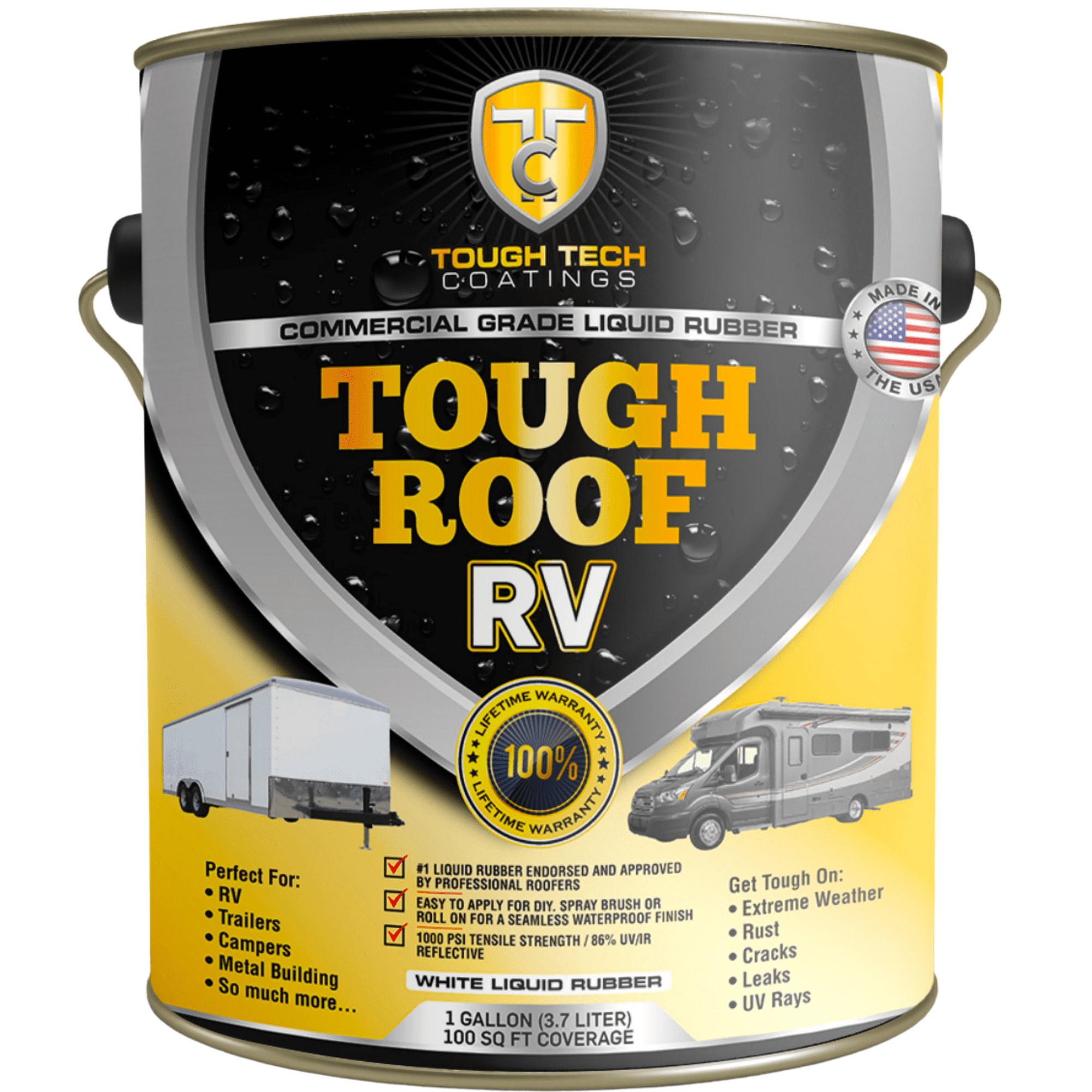 Tough Tech Coatings Tough Roof RV Liquid Rubber
An impressively flexible and strong RV roof sealant and coating that's formulated to last a whole lifetime.
500 percent flexibility

Reflects 87 percent of UV rays

1,520 psi tensile strength
May not completely fix large cracks or damage
Best Value
Heng's Rubber Roof Coating
Affordable and able to cover up to 200 square feet of roof, this sealant and coating is a value-rich RV pick.
UV-resistant

Impact- and crack-resistant

Contracts and expands with your RV's roof
Multiple coats needed

Water-based formula may wash off
Honorable Mention
Dicor RPCRC1 Rubber Roof Coating
A thick, protective sealant and coating that'll keep your RV roof well-covered under sunlight and in temperature extremes.
Quick-drying

Weather- and UV-resistant

Flexes with temperature changes and your roof
Our Methodology
To choose the best RV roof sealants and coatings, I took a look at the many different types of products available, from small spot sealant products for repairs to complete rooftop coatings. I compared these different options, looking for those that offered the best durability and protection for always-exposed roofs. Those coatings and sealants that were easy to apply and the longest-lasting were the best of the bunch. I also looked at user reviews to determine how the application process went in different real-life settings, and how RV owners said these products held up after many miles out on the road. The best RV roof sealants and coatings were those that kept campers looking great — without cracks or spots of serious damage — for years to come.
Best RV Roof Sealant & Coating Reviews & Recommendations
Best RV Roof Sealant Overall
SEE IT
Specs
Size: 1 gallon
Coverage: 80 to 100 square feet
Formula: Liquid rubber
Pros
87 percent UV reflective
Covers up cracks, rust, holes, seams, and more
Stays flexible and watertight once dry
Backed by a lifetime warranty
Cons
May not fix larger cracks or leaks
When it comes to a trustworthy, highly effective RV roof sealant and coating, it's hard to beat all that a can of Tough Tech Coatings Tough Roof RV Liquid Rubber can offer. This impressive and highly durable sealant goes on like paint — with a brush or roller —but dries to a consistency that's like a rubber RV roof. A one-gallon can covers up to 100 square feet, and there's no special rooftop priming process required before application. Once dry, this sealant will reflect 87 percent of UV rays and create a watertight seal. Most importantly, though, it can cover up and fill everything from cracks and seams to holes, leaks, and even vents. Plus, it's so tough and durable that it offers 1,520 psi tensile strength and 500 percent flexibility so you don't have to worry about temperature changes.
The only potential problem you might run into with this sealant is it isn't a solution for large cracks, holes, leaks, and damage in general. If you're working with bigger damage, you need more significant repairs.
Specs
Size: 1 gallon
Coverage: 200 square feet
Formula: Acrylic latex polymer
Pros
Expands and contracts with your roof
UV-resistant
Can be used on rubber roofs
Resists cracking and impacts
Cons
Requires multiple coats
Water-based formula can wash off before drying
Stop your RV's roof from decaying by applying a few coats of Heng's Rubber Roof Coating. Specifically formulated to enhance your protection for rubber roofs, you can apply this affordable sealant and coating across the entirety of your RV's rooftop. You can also apply it along seams and tears, or use it to seal up vents and other openings if you so choose. It offers all of the protection you need without breaking the bank, as it's UV-resistant as well as crack-resistant and able to withstand impacts. The non-toxic, water-based sealant can cover up to 200 square feet of rooftop per one-gallon container, giving you plenty of formula for its reasonable price.
However, do keep in mind that you'll definitely need multiple coats of this sealant. Users recommend anywhere from two to four coats, depending on the state your roof is in. The water-based solution is thinner, and it can wash off if you rinse the roof before it's fully dried and cured.
Specs
Size: 1 gallon
Coverage: 125 square feet
Formula: Acrylic
Pros
Quick-drying formula
Withstands all weather conditions
UV-resistant
Applies smoothly and thickly
Cons
Dicor RPCRC1 Rubber Roof Coating is formulated to make your rubber RV roof last longer, and its acrylic formula can withstand all of the tests the great outdoors throws your way. Once applied, this sealant and coating will flex well with temperature extremes and your roof's natural contracting and expanding. It'll also provide superior weather and UV resistance to prevent future damage. With this sealant, your RV roof should need less maintenance overall throughout its lifetime. And, as an added bonus, this sealant can help eliminate the irritating sound of a rumbling RV roof. And it'll fully dry and cure quickly, too.
The only drawback? You'll need to apply two coats of this RV roof sealant and coating. However, this product goes on pretty smoothly and offers a quick drying time, so it's not too much of a sacrifice at all.
Specs
Size: 1 gallon
Coverage: 50 square feet
Formula: Water-based, solvent- and VOC-free
Pros
Environmentally friendly formulation without odors
Solar reflective and UV-resistant
Waterproof once cured
Easy application process with brush or paint sprayer
Cons
Have to apply thick coats
Five one-gallon cans are needed for a 30-foot roof
If you're looking for an RV roof sealant or coating that won't harm you, your family, or the environment, L R Liquid Rubber RV Roof Coating is a great option. This sealant helps keep your RV's roof protected in the face of weather changes, road debris, and frequent sun exposure, protecting with a UV-resistant and flexible rubber-like coating. However, it's even better than other products when it comes to protecting the environment, too. This water-based sealant is eco-friendly, made without solvents, VOCs, and harmful odors. It's safe for humans and pets, and it can be used indoors or outdoors. Additionally, because it's white, this RV roof coating can also help reflect sunlight, keeping the interior of your camper cooler.
The biggest drawback to this RV roof sealant is you'll need multiple cans — as many as five for a 30-foot roof — to apply it fully and correctly. It goes on thick, and the manufacturer recommends applying multiple thick coats to get the full level of protection.
Best RV Roof Sealant Spot Treatment
SEE IT
Specs
Size: 750 ml
Coverage: 130 linear feet
Formula: Rubber
Pros
Repairs cracks, seams, leaks, and more
Contractor-grade formula
Suitable for RV roofs as well as home roofs, metal, and more
Free of solids, solvents, and isocyanates
Cons
Larger than caulk guns, but still small
If you don't yet need to coat or seal your entire RV roof, Premier Pro Products RV Roof Sealant is a great option for smaller jobs. Available in a squeezable pouch that's equal to three of the smaller caulk gun products commonly used for RVs, yet contains significantly more sealant, you'll get good bang for your buck. And since it's meant for spot sealing or repairing, you can use it to cover cracks, leaks, holes, and other areas like seams that may compromise your roof. It's self-leveling, which makes application a breeze. And this sealant has a high tensile strength that can withstand contracting and expanding throughout the year. Plus, it'll dry and be ready to hit the road in just 1.5 hours.
However, because this is designed as a spot treatment solution, it doesn't go as far as gallon-sized sealants and coatings.
Best Reflective RV Roof Sealant
SEE IT
Specs
Size: 5 gallons
Coverage: 50 to 70 square feet per gallon
Formula: Acrylic
Pros
Reflects UV rays and heat
Waterproof
Lowers interior temperature
Dries within three hours
Cons
May require more than two coats
Jetcoat Cool King Reflective Acrylic Roof Coating is a great sealant option if you're worried about heating up your RV. It doesn't merely protect against UV rays and sun damage; it also helps lower the temperature inside your camper by reflecting those rays in the opposite direction. Its white coloring and shine help keep you cool and stave off sun damage. Safe for rubber roofs as well as concrete, polyurethane, foam, and more, this versatile coating can be used on any RV. And since it's backed by five-year protection, you don't have to reapply regularly. Plus, when applied on a moderately warm day, it'll dry in two to three hours so you don't have to wait around.
While the manufacturer's recommendation suggests you apply two coats of this RV roof coating and sealant, users say you may need three coats or more. If you're looking for thick coverage, two coats may be too thin for your liking.
Our Verdict on RV Roof Sealant & Coating
What to Consider When Buying RV Roof Sealant & Coating
There are plenty of different kinds of RV roof sealants and coatings available to choose from. But which ones hold up the best out on the road or when your RV is parked? Look for these key details and features when you're picking out a sealant or coating product to ensure you're getting a good, long-lasting one.
Types of RV Roof Sealant & Coating
Whole-Roof Sealants and Coatings
The most popular and longest-lasting kind of RV roof sealant and coating? It's whole-roof sealants and coatings. These look kind of like paint (and even come in paint-style cans), and they can be brushed or rolled onto your RV's roof just like a coat of paint. Designed to cover your entire rooftop with a protective coating, whole-roof products do require a bit of surface prep and must be applied in slightly cool, slightly shady weather conditions so they can cure properly. You can find rubber (or silicone) sealants, which tend to be the most durable pick, as well as acrylic and urethane options to suit whatever level of protection your RV needs.
Spot Treatment Sealants
If you aren't yet ready to coat your entire roof, you can spot-treat areas where your roof is weakening or starting to pose problems. Spot treatment sealants look kind of like RV caulk; they come in slim tubes with pointed nozzles so you can squeeze some liquid sealant into small cracks, chipped corners, and other areas in need of some extra TLC. These sealants are small and won't give you a whole lot of coverage, but they're ideal for anyone who has just a few areas that need protection or sealing.
Sealing Tapes
Instead of opting for a liquid spot treatment sealant, you can choose sealing tape. These are by far the easiest to use; just slap a bit of sealing tape over cracks or other worn areas of your RV roof. The tape's sticky side features an adhesive sealant that bonds to your roof to lock out air and moisture, preventing or stopping leaks. However, while tape is easy to use, it's not the most permanent (or attractive) solution. It'll cover you in a pinch, but you'll have to replace the tape or add more sealant within a year or two.
RV Roof Sealant & Coating Key Features
UV Protection
One of the must-have features of any good RV roof sealant and coating? It's UV protection. No matter what color coating you choose, you want a formula that's able to withstand constant UV light exposure. After all, your RV's roof (when uncovered) sits out under the sun all year long. UV protection in a sealant and coating will ensure you don't experience cracking, fading, and other signs of sun damage both now and for the lifespan of the sealant.
Flexibility When Cured
As daily temperatures fluctuate throughout the year, your RV roof sealant needs to keep up. In cold weather, materials contract; in warm weather, they expand. If your roof coating isn't flexible once dried and cured, it can become damaged during temperature fluctuations. Look for a sealant or roof coating product that can handle temperature extremes and swings, with the ability to expand and contract just like your RV's roof might throughout the year.
Crack-Resistant
Along with the flexibility mentioned above, it's possible to find RV roof sealants and coatings that are crack-resistant. Rubber or silicone products tend to be the most crack-resistant, as they offer flexibility and some great stretch. Crack resistance is key in a rooftop sealant because it ensures that even with exposure to the elements, your coating will stay bonded seamlessly to prevent issues like leaks, moisture seeping into the roof, and flaking or peeling.
RV Roof Sealant & Coating Pricing
Pricing for RV roof sealants and coatings tends to fall into one of two categories, depending on the kind of product you're buying. If you're looking for spot treatment products in smaller sizes, you'll find prices between $20 and $45 per product. However, whole-roof products that come in larger sizes tend to run between $80 and $125.
FAQs
You've got questions. The Drive has answers.
Q: Should you clean an RV roof before applying sealant?
A: Absolutely! In fact, your chosen sealant or coating will tell you exactly how you should clean and prep (and prime, if necessary) your RV roof before application.
Q: How often should you recoat an RV roof?
A: Your chosen RV sealant should tell you how long it's expected to last, but regardless of that information, it's a good idea to recoat your roof every two to four years. Let your local climate be your guide. If you live somewhere with warm or hot weather year-round, with frequent sun exposure, every two years is ideal. If you live in a region with extreme winter weather, you may also want to check your roof every two years. Moderate climates can go as long as four years without another coating.
Q: Should you coat a rubber RV roof?
A: If you have a rubber roof on your RV, it's protected with a rubber membrane that should last up to 20 years (most rubber roof manufacturers will give you a 10-year warranty, too). However, you can still apply a sealant or coating to either protect or refresh your roof. Just double-check that doing so doesn't void your existing warranty.
Why Trust Us
Our reviews are driven by a combination of hands-on testing, expert input, "wisdom of the crowd" assessments from actual buyers, and our own expertise. We always aim to offer genuine, accurate guides to help you find the best picks.
Learn more