Best RV Tankless Water Heaters: Quickly Access Hot Water On Demand
Get a tankless water heater and enjoy a consistent supply of hot water in your RV.
We may earn revenue from the products available on this page and participate in affiliate programs. Learn more ›
If you enjoy RVing, you'll eventually want to invest in a tankless water heater. They instantly heat water with a heat exchanger and don't require a storage tank. The best RV tankless water heaters provide 2-5 gallons of hot water per minute. Check out our tankless RV water heater reviews and buying guide to find the best one for your camper.
Best Overall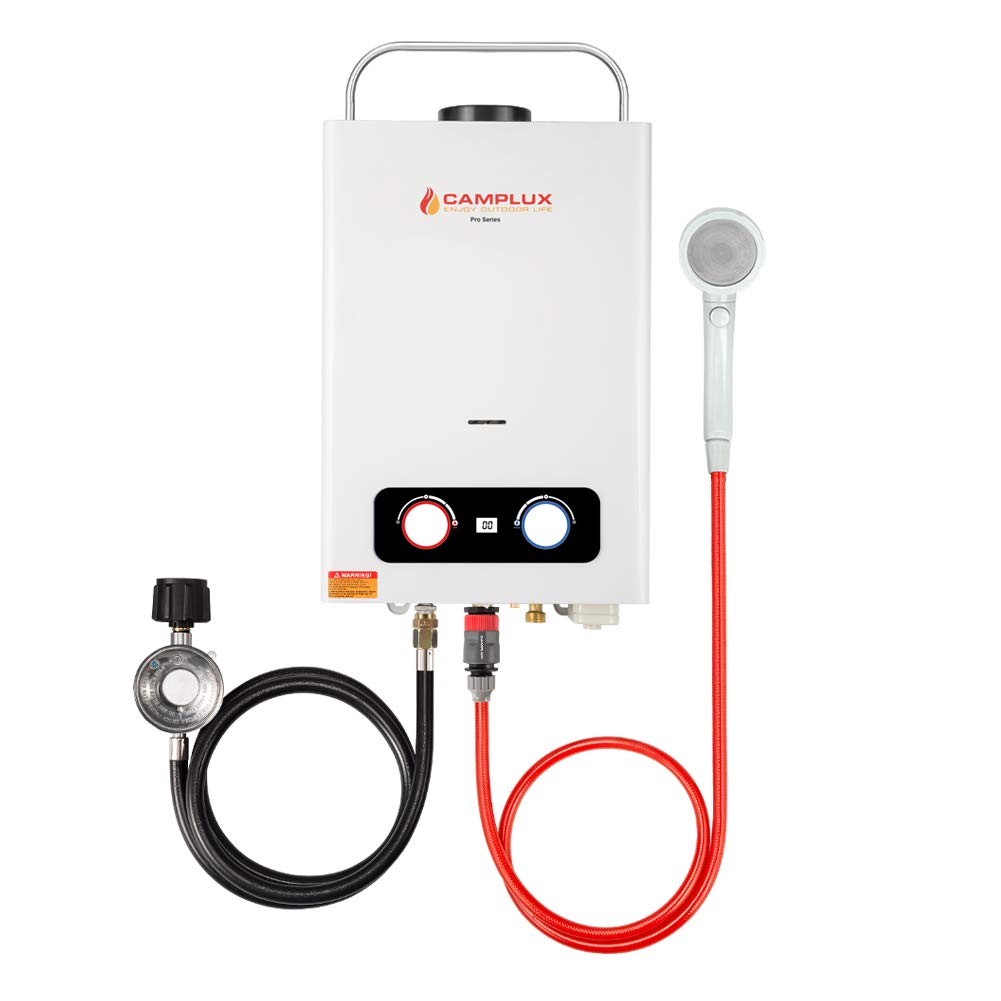 Camplux Tankless Propane Water Heater
This is a gas-powered water heater that uses replaceable batteries to ignite the fuel so it can be used off-grid. It provides hot water at a rate of 1.58 gallons per minute.
Easy to carry around
Can function even with a low water pressure supply
Compatible with modified water systems
Not recommended for heating drinking water
Low flow rate may limit the use of multiple water outlets
Best Value
EZ 101 Tankless Water Heater
This portable heater has a battery-powered ignition and provides a steady flow of hot water at the rate of 2 gallons per minute.
Reliable and cost-effective
Easy to install
Lets you adjust the temperature  and water flow rate
Can be used in areas with no electric supply
Batteries sold separately
Susceptible to freeze damage
Honorable Mention
Takagi T-H3M-DV-N Tankless Water Heater
This is a heavy-duty, gas-powered water heater that can provide hot water at a rate of up to 6.6 gallons per minute.
Energy-efficient water heating
Compact, wall-mountable design
Corrosion-resistant construction
Can supply a steady flow of hot water to multiple applications
Can be noisy when the vent fan is activated
May not be easy to install for DIYers
Benefits of RV Tankless Water Heaters
They grant hot showers on demand. The best tankless water heater can provide hot water whenever you need it for showers, washing dishes, etc. You can also access a constant supply of H2O without a storage tank.
They're energy-efficient. Compared to a traditional storage tank heater, a tankless hot water heater for RV use has more energy efficiency. That's because it is less likely to lose heat from standing water.
They distribute water more efficiently. If your family wants to take multiple showers while you're doing the dishes or washing clothes in your camper, it's not a problem. These units allow you to perform multiple functions at once and continue to produce hot water on demand.
They're very durable. Tankless water heaters last on average between 10 to 15 years, while traditional ones may only have a lifespan of 6-10 years. Some tankless brands can last up to 20 years if they are properly maintained.
They conserve water. You no longer have to waste water by letting it go down the drain in the shower while you're waiting for the hot water to come out. A tankless unit heats the water quickly compared to traditional tank heaters, which may take two to three minutes or more to expel hot water.
They're cost-effective. A tankless water heater for RV showers and appliances heats water more efficiently than traditional ones, thus consuming less energy. As a result, it will save you several dollars each month.
Types of RV Tankless Water Heaters
Electric
What RV owners like about electric tankless water heaters is they are environmentally-friendly and very cost-effective. An RV tankless electric water heater is quite easy to install, and you can use it with a generator or solar panel. It is 99 percent efficient and does not contribute to greenhouse emissions.
Gas
An RV tankless gas water heater runs on kerosene or propane. It typically comes with power vents to release exhaust gases, and venting is essential for proper operation. One problem is a propane tankless water heater can release greenhouse gases. It is 85 percent efficient and is less expensive than electric tankless water heaters.
Non-Condensing
This type of tankless water heater uses a heat exchanger to heat water on demand. It is very reliable; however, stainless steel venting is required for the hot exhaust, which can be pricey. It's not particularly energy-efficient, especially if you use a lot of hot water in short bursts.
Condensing
This type of unit uses a second heat exchanger that reuses the heat from the exhaust to further heat the water. As a result, condensing tankless water heaters are 92 to 94 percent efficient. While the PVC vents are inexpensive, the units are not very energy efficient when water is used in short bursts.
Top Brands
Excel
Excel is based in Miami, Fla., and has been in business since 2004. The company distributes the gasFlex flexible gas piping system as well as a line of Excel tankless gas water heaters. One of its most popular products is the Excel Tankless Water Heater.
The Girard Group
Girard Products, based in Clemente, Calif., introduced its first RV tankless water heaters in 2009 and is one of the top-selling tankless water heater companies in the RV Industry. One recommended product is the 2GWHAM Tankless Water Heater.
Suburban
Suburban Manufacturing was established in 1947 in Dayton, Tennessee, and is the leading manufacturer and supplier of RV heating, water heating, and cooking appliances. It is currently part of the AIRXCEL, INC. family. One popular product is the Suburban Electric Ignition RV Water Heater
Takagi
The Takagi brand has been making tankless water heaters worldwide since 1952. It maintains regional offices in California, Tennessee, New Jersey and a global office in Canada. One recommended product is the Takagi Indoor Tankless Water Heater.
RV Tankless Water Heater Pricing
Under $200: A small RV water heater typically costs several hundred dollars, but you can find some models for less than $200. They may be smaller in capacity and have fewer features compared to more expensive models.
$200 to $500: Some of the most popular RV tankless water heaters are included in this price range. They are efficient enough to get the job done but aren't super expensive.
$500 and up: It's not uncommon to pay a lot for a premium tankless water unit. Some cost up to $1,000 or more. They are also frequently used in small cabins and by people who live off the grid.
Key Features
Size
You should estimate your water consumption before purchasing an RV tankless water heater. That way, you will be able to determine what size you require. The shower area consumes between 1.5 to 3 gallons per minute, while the bathtub and toilet consume 2 to 4.5 gallons per minute, respectively. The kitchen sink can use around 1.5 gallons of water per minute.
Water Flow Rate
A tankless water heater's water flow rate is the amount of hot water it releases per minute. Most people use the heater when they shower, so the best RV tankless water heater will accommodate a typical family and can supply 2 to 2.5 gallons of hot water per minute.
Heating Capacity (BTU)
The British Thermal Unit (BTU) is the heat capacity a tankless heater provides. Groundwater temperatures vary depending on the location, and it can be more challenging to heat cold groundwater. Many units have between 30,000 and 50,000 BTUs, which is slightly smaller than what you get at your house. A higher rating means a higher efficiency unit. It also means that the unit can heat the water faster.
Power Source
Tankless heaters are powered by natural gas, propane, and electricity, so check to see what source is available in your RV. If it's a single source, then you should select a heater using that power supply. If you have more than one power source such as electric and gas, be aware that gas heaters require more maintenance and electric ones are more expensive to run.
Other Considerations
Space. Space is premium real estate in your camper, trailer, or RV. As a result, you need to make sure the water heater doesn't take up too much space. Make sure you know the actual size of the heater to see if it will fit properly. In addition, you may want one that's lightweight so you can easily maneuver it.
Failsafe. A tankless water heater for travel trailers and RVs should have some protections to keep it in good working order. This includes a design that prevents voltage shortages and spikes as well as accidental electronic ignition triggering due to excessive heat. It should also have features that protect it during bad weather and in rough terrain.
Best RV Tankless Water Heaters Reviews & Recommendations 2021
Camplux's propane water heater is a small, compact, and lightweight option that will provide you with continuous hot water at a rate of 1.58 gallons per minute. This heater works best with a Camplux 12-volt water pump, but is also compatible with other modified versions of the 12-volt water pump.
The Camplux heater is designed with a variety of safety features, including protection from overheating, freezing, flame failure, low-water flow, high-water pressure, and dry combustion. In case it detects any of the foregoing complications, an auto-shutoff switch will instantly turn off the heater. It's recommended that you use it in a ventilated space if it's hooked up to a propane tank.
Unfortunately, the Camplux heater is not recommended for boiling drinking water. It only peaks at 114.8 degrees Fahrenheit, which is only enough to warm shower water and not for boiling safe drinking water.
The EZ101 is an instant propane-powered water heater sporting a compact design that's ideal for indoor installation. It comes with a battery-powered ignition that automatically ignites the gas when you open a faucet, and automatically extinguishes the flame when the water supply is cut off. Also, it includes a 20-minute timer that will automatically turn off the heater to reduce the risk of carbon monoxide poisoning.
The unit provides a steady flow of hot water at the rate of 2 gallons per minute, and has three dials on the front panel that you can use to adjust the water flow and its temperature. Besides that, this heater boasts a low water pressure startup function so it can still supply sufficient hot water to your shower head and faucet even when hooked to a gravity-fed water system.
However, you should know beforehand that it requires two, "D" cell batteries to ignite the heater, but the batteries are sold separately. Also, the batteries should be replaced every six months of normal use.
This Takagi water heater utilizes condensing and powerful PVC direct vent technology to heat up water directly or indirectly in storage tanks. Not only is it good for heating shower water, but it can also be used in radiant floor systems, hydronic heating systems, and other domestic heating applications to heat the room or a swimming pool.
The unit runs on natural gas, and has both a primary and secondary heat exchanger for better heat transfer. The primary heat exchanger is made from commercial-grade copper alloy, which provides 25 times better thermal efficiency than stainless steel. The secondary one features stainless steel for enhanced corrosion resistance. It also has a plethora of built-in safety features, including an overheat cut-off switch, an air-fuel ratio sensor, and a freeze protection system.
The main downside of this heater is that it can get quite loud when the vent fan is activated. Also, you may need to have the tap running in full swing to get warm water, and as a result, you may end up wasting a lot of water. In addition, installing the unit may not be a breeze for anyone who doesn't have the tech know-how.
This is an electric heating system that works with hybrid hot water delivery systems and radiant heated floor systems. By utilizing infrared technology, the unit only needs about 110 to 220 volts and low amperage to heat a sufficient amount of water, which can be used in the bathroom, kitchen area, and anywhere else it's needed. Therefore, it's a great option for anyone looking for consistent hot water from an energy-efficient heating unit.
The unit delivers of a flow rate 2.3 gallons per minute at a 30-degree temperature rise. It has a compact design with a corrosion-resistant body that can be mounted anywhere, including under the sink or on a wall. The front panel has a digital display, which shows the temperature of the water (calibrated in Celsius). You can increase or decrease the water temperature, in one-degree increments, from the two buttons next to the display.
It's recommended that you hire a professional to fix the unit for you; installation involves connecting it to your electrical and plumbing system, which can lead to electrocution if done incorrectly. Also, it's mostly recommended for heating tap water; you won't get a good spray of hot water from the showerhead since it can only heat a small amount of water at a time.
The EcoSmart ECO 11 is an efficient electric heater designed with multiple features that might just help you save water and reduce your energy consumption. It does this by using EcoSmart's patented self-modulated technology to calculate the energy needed to heat a specific amount of water to minimize waste. This can help you reduce your water heating costs by about 60 percent.
The unit can heat up 2 gallons of water per minute, and can be tuned to only heat water if you need it to. You can also adjust the temperature of the water to suit your preference with the digital thermostat (calibrated in Fahrenheit) on the front panel. Since it has a compact design, you can mount it on the wall to save on floor space, and it's lightweight so installing it will be relatively easy. Lastly, it's backed with a limited lifetime warranty for defects in workmanship.
However, this may not work for you if you intend to use it in colder climates where temperatures dip below 67 degrees. It may not deliver hot water effectively in such conditions. That aside, it has a working temperature range of 80 to 140 degrees and can be used to heat shower water.
The Furrion Tankless Water Heater is a gas-powered unit that was built for the modern outdoorsman who likes to travel off-grid. You can count on the unit to provide years of reliable service thanks to Furrion's innovative VibrationSmart technology, which it gives the machine a solid structure so it can withstand intense vibrations when you are driving on uneven terrain. The unit provides up to 2.4 gallons of hot water per minute, and can be depended on to work effectively even when the temperatures dip to 34 degrees Fahrenheit.
To reduce the risk of getting scalding hot water or cold water when using multiple water outlets at the same time, the unit creates a vortex pattern inside the water mixing chamber that mixes the water to a comfortable temperature. Best of all, it comes with a plethora of safety features, including a pressure relief valve and a dual-sensor that automatically powers off the unit when the water temperature is too high.
However, all the advanced technology and features that go into making this unit reliable and safe for use don't come at a low price. It's a premium model, so expect to pay a bit more than most of the heaters on our list.
Available in white and black, the RecPro Tankless Water Heater is a sturdy and durable unit that provides hot water to your shower and faucets on demand. It comes with a remote, which you can use to adjust the temperature (in degrees Celsius or Fahrenheit) before activating the heater. The unit only starts up when water flows through it, and it heats the water to a maximum temperature of 124 degrees Fahrenheit.
The unit is safe and reliable thanks to the built-in smart control function that ignites the gas that heats the water and also regulates the water temperature to a comfortable level. Also, it's designed with a forced exhaust structure that keeps the air clean as it enters or leaves the combustion chamber. On top of that, it has a dust net that keeps the heating chamber free of dirt.
Just note that while it may have a frost protection function, it only works when the unit is connected to both propane and 12-volt power. Otherwise, it will freeze when the temperatures drop below 40 degrees Fahrenheit.
We included the Stiebel Eltron Heater mainly for the versatility it offers. It's available in several sizes each with different power ratings. However, this doesn't mean that it's a subpar product. In fact, it's 50 percent more energy efficient in comparison to tanked storage heaters. It is also controlled with a flow switch, which helps to prevent permanent failure typically caused by dry fires.
The unit is hydraulically controlled, and this makes it operate more quietly than most tankless heaters. In addition, it can heat 2.5 gallons of water per minute to a maximum temperature of 130 degrees Fahrenheit, and a minimum of 80 degrees.
Unfortunately, it isn't recommended for heating shower water, but can deliver sufficient hot water to a single point of use such as a kitchen or bathroom sink. Despite that, it's recommended for both commercial and residential applications. It's best installed near the sink so that you don't have to purchase extra plumbing fittings.
Tips
If you have a tankless water heater that operates on propane, you may need to purchase stainless steel tubing for venting purposes, which can be a little expensive. These types of recreational vehicle heaters also need to be serviced annually.
Since RV water heaters are much smaller than home water heaters, you shouldn't spend too much time in the shower. You can turn the water off temporarily while you're shampooing your hair or soaping up your body to conserve water.
Drain the water tank before you store your RV for an extended period of time. To prevent the pipes from freezing or cracking, make sure to winterize them.
When you take your RV out of storage, turn off the bypass valve. You should fill the tank before you hit the road because if it heats up without any water in it, you may damage it.
An anode rod will prevent corrosion in your tank. The water will corrode the rod instead of the tank. It's quite inexpensive and can greatly extend the tank's lifespan.
FAQs
Q: Is it hard to convert a traditional RV water heater to a tankless one?
It's not too difficult if you plan in advance. Choose one that is the correct size and has the power source you desire before you make the conversion. Mount the unit; connect the gas, water, and electricity, lines; and install the flue vent. Consult a professional if you want to ensure that it's properly installed.
Q: What does it mean if only lukewarm water is coming out of the shower or faucet?
Check that the hot and cold faucets to the outside shower or water line are turned off. If they're on, the hot and cold water can mix together.
Q: Can I install a tankless water heater under the RV's sink?
Sometimes. However, be sure to check the manufacturer's manual to be sure you know exactly where you can install a tankless water system.
Q: Do I need to clean a tankless water heater?
Yes, particularly if you haven't used the unit in a while. Cleaning it regularly will ward off bacteria. Read the manufacturer's manual for instructions.
Q: Do all tankless water heaters need electricity?
While some use gas as the main source of power, some brands require electricity for the automatic ignition to work. Other brands have a battery ignition, so electricity isn't required.
Final Thoughts
The Camplux Tankless Propane Water Heater is one of the most portable water heaters on the market and this is one of the reasons it stands out for us. It can provide hot water on demand and won't freeze even in the harshest winter conditions. However, if you are looking for a more affordable water heater that also does not occupy too much space, consider the EZ 101 Tankless Water Heater.
Why Trust Us
Our reviews are driven by a combination of hands-on testing, expert input, "wisdom of the crowd" assessments from actual buyers, and our own expertise. We always aim to offer genuine, accurate guides to help you find the best picks.
Learn more