Best Aftermarket Speakers: Don't Torture Yourself With Bad Sound
Replacing speakers is one of the best ways to instantly improve car audio sound.
The Drive and its partners may earn a commission if you purchase a product through one of our links. Read more.
There's nothing worse than a blown speaker. Even if you care very little about sound quality, listening to the buzzy, rattling sound of a tired or blown speaker is enough to drive anyone mad. It's easy to solve the problem, however, with one of the hundreds of aftermarket speakers on sale today.
That's the good news. The downside is that the number of products for sale makes it tough to pick one that sounds good and that will last. We've done the homework for you, though we couldn't cover every available speaker size. Take a look at our picks for the best aftermarket speakers, and keep in mind that if our choices aren't in the size you need, most manufacturers offer many sizes in a single model line.
Best Overall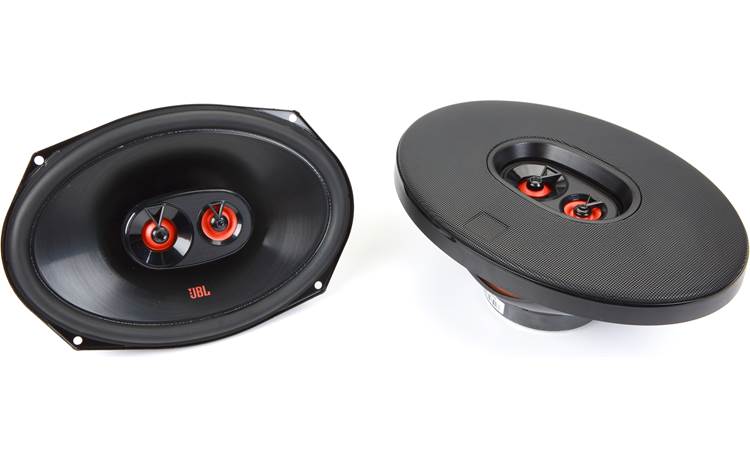 Great value, quality, and ease of installation. The JBLs also deliver strong, clear sound at loud volumes.
Value pricing

Clear highs and mids at louder volume levels

Easy installation

Solid bass
Included hardware doesn't work for all vehicles

Instructions could be clearer

Some people required web research to find an answer to their questions
Best Value
Save some money, but don't sacrifice quality or sound. Most report easy installation.
Great price and value

Shallow installation depth

Additional hardware included for different sized installation openings
Bass response and clarity at higher volumes could be better

Not as long-lasting as many would like
Honorable Mention
These speakers provide great clarity at high volumes and can really rock the house.
Good value and low price

Loud, clear sound

Easy installation
Low max wattage

Bass is weaker than expected
Summary List
Why Trust Us
Our reviews are driven by a combination of hands-on testing, expert input, "wisdom of the crowd" assessments from actual buyers, and our own expertise. We always aim to offer genuine, accurate guides to help you find the best picks.
Learn more
Our Methodology
I chose speakers that provide the highest quality and best customer reviews, paying attention to pricing and value. Having been surprisingly successful at DIY car stereo installations myself, I looked closely at how easy each speaker is to install, and noted the depths or oddball requirements as needed. If you want to know more about how we select products, head over to The Drive's Gear page.
Best Aftermarket Speakers Reviews & Recommendations
Specs
Brand: JBL
Speaker Size: 6x9 inches
Peak Wattage: 255 watts
Pros
Value pricing
Clear highs and mids at louder volume levels
Easy installation
Solid bass
Cons
Included hardware doesn't work for all vehicles
Instructions could be clearer
Some people required web research to find an answer
The JBL Club 9632 brings solid sound and durable construction in a common size. The 6x9 speakers deliver strong bass, and make an excellent upgrade for factory units. With 85 watts RMS and 255 watts peak, the JBLs also generate loud, clear sound that overcomes road and wind noise inside the cabin. Most people report that the 9632 6x9 speakers are easy to install and simple to fit for most vehicles. The design is slimmer than others, so they'll look better for in-door and other installations that have limited space. JBL backs the speaker with a one-year parts and labor warranty.
Specs
Brand: Polk
Speaker Size: 6.5 inches
Peak Wattage: 300 watts
Pros
Great price and value
Shallow installation depth
Additional hardware included for different sized installation openings
Cons
Bass response and clarity at higher volumes could be better
Not as long-lasting as many would like
We live and die by the "you get what you pay for" mantra, but Polk Audio is pushing the limits of that logic with the DB6502. They offer serious value and sound quality that defies the price tag. The 6.5-inch speakers feature a 3/4-inch silk dome tweeter and 300 watts peak power/100 watts RMS. Polk makes it easy to install the speakers, and they offer a shallow installation depth for easy fitment in most cars. In the box, there are adapter rings for openings up to 6.75 inches, and Polk sends grilles and all required hardware to install.
Specs
Brand: Rockford Fosgate
Speaker Size: 6.5 inches
Peak Wattage: 90 watts
Pros
Good value and low price
Loud, clear sound
Easy installation
Cons
Low max wattage
Bass is weaker than expected
Rockford Fosgate is a big name in in-car audio, as the brand is known for making high-volume, great-sounding speakers that can handle bass and abuse. The R165X3 provides loud, clear sound and good mids, and many report that they far exceed expectations for volume and clarity. On the downside, bass output leaves much to be desired. As part of a complete audio system, however, these speakers create big sound and work well. Bass aside, Rockford Fosgate designed the speakers for easy installation, though they do require a bit more clearance underneath for top-mount applications. The Fosgates also lack some of the impressive power output of their competitors, at just 45 watts RMS and 90 watts peak. Again, these speakers are intended for use as part of a stereo system instead of standalone units, so it's best to adjust expectations accordingly.
Specs
Brand: Morel
Speaker Size: 6.5-inch woofer and 1.1-inch tweeter
Peak Wattage: 600 watts
Pros
Handmade quality and stunning design
Incredible volume and sound quality
Clever slim sizes
Cons
Exorbitantly expensive
Cutout size may need to be larger than 6.5 inches to fit woofer
When money is no object, it's hard to beat handmade Morel Supremo 602 speakers for your car. The 6.5-inch component speaker system features a 1.1-inch silk soft dome tweeter coated in a material to enhance movement and damping for clearer sound, and the speakers come with a larger voice coil size to improve heat dissipation and temperature control. The Supremo 602 tweeters feature a flush mounting depth of 1.28 inches, making them installable in tight door spaces or located in unique places in the cabin. It should also be noted that, while the 602's woofers are listed at 6.5 inches, they may require a larger cutout for installation. It's important that you check your sizes and clearances before purchasing.
Specs
Brand: Kicker
Speaker Size: 6x9 inches
Peak Wattage: 450 watts
Pros
Good value and low price
Loud, clear sound
Easy installation
Cons
Low max wattage
Bass can be muddy at times
Sometimes, a straightforward, high-performing speaker is the best choice over flash and fancy design. Kicker's 6x9s may have a funky name, but they're a great drop-in replacement for tired speakers. They're also a decent value, with good features and power delivery for the price. The Kickers are easy to install, and most report satisfaction with the included wiring and accessories for the job. Bass response is good, and the speakers continue to deliver clear sound at higher volumes. Some customers say that the bass response and clarity could be better, but no one complains about the strong level of bass.
Specs
Brand: Infinity
Speaker Size: 4 inches
Peak Wattage: 105 watts
Pros
Great price
Good quality and easy installation
Sound good at higher volumes
Cons
Some installations may require additional parts
Fit may not work in some vehicles
It always feels great to save money, especially when you're buying expensive automotive components like audio equipment. The Infinity Reference REF-4032cfx is a 4-inch speaker with great performance and an incredible price. They feature an oversized cone and a 0.5-inch dome tweeter that provides clear highs and striking sound at higher volumes. The vast majority of buyers report an excellent experience with speakers that provide exceptional performance and quality. That said, some say that they came without necessary connections and wiring for installation, so it's important to check to make sure you've got what you need before you start.
Our Verdict
My pick overall is the JBL Club 9632. It's not flashy, it's not the most expensive, but it's a solid pick at a good price. It's also a capable speaker with great bass and quality sound at higher volumes. The Polk Audio DB6502 is also a solid speaker, and is worthy of its value pick status. 
Things to Consider Before Buying Aftermarket Car Speakers
Fit
The most important aspect of buying speakers is confirming their fit. Some products advertise one size, but require a larger opening or a bracket to fit properly, so you'll need to take the time and do your homework up front. In some cases, the speaker requires a larger space because of the frame and magnet sizes, but most manufacturers focus on providing a slim speaker that is easy to install in tight spaces.
Type
Most speakers come with a tweeter and sub or mid-range speaker combined into one unit. This makes it easy to buy and install, but some prefer the clarity and positioning capabilities that component speaker systems bring. Additionally, some factory stereo systems feature tweeters and smaller speakers mounted up front, so it's a good idea to understand the types of speakers you're shopping for before you start purchasing.
Wattage
Speaker wattage tells you how much power a speaker can handle before it starts to sound bad or damage itself. This is important because if you're using an external amplifier that generates far more wattage than a standalone head unit, you'll need to find speakers that can handle that power.
Aftermarket Car Speaker Pricing
Speaker pricing varies wildly between brands, sizes, and types. It's also worth noting that you can find great, high-quality speakers at prices that seem suspect because they're so low in price. At the same time, getting the best speakers generally requires a considerable outlay up front.
Expect to pay between $50 and $90 for a solid set of 4- to 6-inch speakers. Moving up in size, a good quality set of 6x9s will set you back anywhere from $90 to $200.
FAQs
You've got questions. The Drive has answers.
Q: Do I need an amplifier for my speakers?
A: Not always, as many head units offer enough juice to power most speakers. That said, many aftermarket speakers sound better with more power, so you may prefer having the amp.
Q: Do 6x9 speakers provide good bass?
A: Buying 6x9s is a great way to get more bass without having to buy a subwoofer or external amp. They don't fit every car, but the ones that accommodate them will get the benefit of strong bass and clear mids/highs.
Q: How can I make my aftermarket speakers sound better?
A: If you're doing the installation yourself, you should take a few precautions to make sure you get the best sound. Most newer cars have good sound insulation, but older models may require extra material in the doors and other areas to prevent rattling and poor sound. You'll also want to make sure that you follow the directions precisely and use the correct tools to avoid stripping screws or damaging the speaker during installation.
Q: Are subwoofers good for bass?
A: Subwoofers are designed exclusively for bass, and must be used as part of a stereo system to get the best sound. They are available with pre-made and built enclosures, but many times you'll have to buy the sub and enclosure separately.