Best Car Speakers: Stop Suffering Through Bad Sound
Jam out with new speakers that can make your commute much more enjoyable.
The Drive and its partners may earn a commission if you purchase a product through one of our links. Read more.
Audiophiles love to brag about picking up minute details in music and being able to critique audio equipment of all kinds. However, when it comes to replacing your car stereo speakers, you don't have to be one nor do you have to be loaded to afford a good set of speakers. I've blown enough car audio equipment over the years to know what makes a good speaker and I'm here to help.
Before I get started, it's important to note that your car audio experience depends largely on your car and on whether or not the speakers were properly installed. What sounds good in one car may sound like a toddler screaming in a garbage can in another, so take your time and do the job right, start to finish.
Best Overall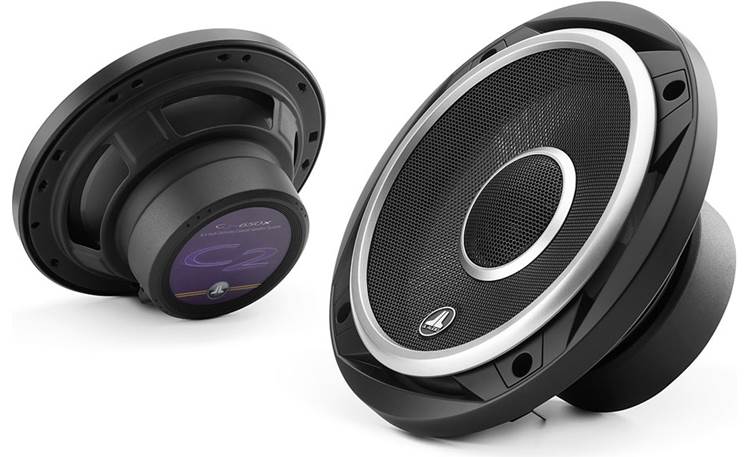 JL Audio C2-650X Evolution Series
JL Audio knocked it out of the park with these speakers. They offer an excellent mix of easy installation, great features, and good value.
Strong bass and clear highs

Included speaker grilles for custom installs

Sturdy stamped steel frame
Expensive

Some report needing an amp to get enough volume
Best Value
Don't let the low price fool you. Polk Audio did its homework and built a solid speaker.
Great value

Work well without an amp

Polk includes everything and then some in the box
Do not always live up to longevity expectations
Honorable Mention
The Focal speakers are handmade in France, and offer incredible sound quality.
Incredible sound reproduction

Handbuilt quality

Can easily handle loud volumes
Cost the same as a used car

Not available everywhere

Complex installation
Summary List
Why Trust Us
Our reviews are driven by a combination of hands-on testing, expert input, "wisdom of the crowd" assessments from actual buyers, and our own expertise. We always aim to offer genuine, accurate guides to help you find the best picks.
Learn more
Our Methodology
In order to find the best car speakers available, we dove into the wide selection of different speakers and took a close look at many. With so many different product options, we compared each set of car speakers based on their specific details, from speaker size to materials and construction to ease of installation. We took a look at the specs of each set of car speakers too, considering the wattage for power, the cone structure and material, and the levels available for bass and treble. Our top picks were those car speakers that offer good value for their price and great performance, whether you're tuned into music or talk radio.
Best Car Speakers Reviews & Recommendations
Specs
Peak Watts: 225 watts
Subwoofer Diameter: 6.5 inches
Mounting: Flush or surface
Pros
Strong bass and clear highs
Included speaker grilles for custom installs
Sturdy stamped steel frame
Cons
Expensive
Some report needing an amp to get enough volume
You get what you pay for and with the JL Audio C2-650X, that means powerful, responsive speakers with great bass and clear highs. The 6.5-inch speakers have polypropylene cones and .75-inch silk dome tweeters for smooth highs. There's a stamped steel frame for stability and durability, a built-in crossover, and up to 60 watts RMS.
JL includes most of what you'll need to install the speakers in the box, but it's important to make sure you're ready for the project. Many buyers report easy installation, but the speakers do have large magnets and can be too deep for some applications.
Specs
Peak Watts: 300 watts
Subwoofer Diameter: 6.5 inches
Mounting: Flush or top-mount
Pros
Great value
Work well without an amp
Polk includes everything and then some in the box
Cons
Do not always live up to longevity expectations
Value and performance don't always cross paths, but they are old friends with the Polk Audio DB6502 speakers. They come with a 6.5-inch polypropylene woofer and rubber surround, a .75-inch silk dome tweeter, and an external two-way crossover. Polk says it uses a laser-imaged design for reduced distortion and smooth bass.
With 100 watts RMS and 300 watts of peak power, you won't be left wanting more, and Polk includes adapter rings in the box that allow you to install the 6.5-inch speakers in a 6.75-inch space. Buyers say that installation is easy, but note that they don't always get the longevity out of the speakers that they'd hoped for.
Specs
Peak Watts: 240 watts
Subwoofer Diameter: 6 inches
Mounting: Flush
Pros
Incredible sound reproduction
Handbuilt quality
Can easily handle loud volumes
Cons
Cost the same as a used car
Not available everywhere
Complex installation
When you're looking for an uncompromising speaker and don't care about cost, the Focal ES should be on your list. They are handmade in France and handle up to 240 watts of peak power. Focal uses Kevlar and glass fiber to build its woofers, and they feature a unique "W" sandwich cone design that Focal claims reproduces audio accurately and clearly.
The complexity of these speakers means that there will be some challenges with installation and setup. Some people say that installation was fine, but the speakers take some time to break in, and may sound different after a few hours of use. Others say that professional installation is key, and the speakers need tuning and set up to perform at their best.
Specs
Peak Watts: 400 watts
Subwoofer Diameter: 6 inches
Mounting: Flush
Pros
Affordable
Solid quality
Easy installation
Cons
Don't last as long as rivals
Some report damaged speakers out of the box
Pioneer is a giant name in car audio, and for good reason. The company makes high-quality components that work great and sound fantastic. The G-Series speakers are no exception, and with up to 400 watts peak for the pair, they can handle some volume. Pioneer offers speakers in a variety of sizes, including 6.5 inches and 4 inches x 6 inches.
Buyers report an extremely easy time installing the speakers, and say that their compact design makes it simple to install them, even in tight spaces. Some sellers include extras and bonuses with the speakers, depending on where you buy them, but that is not the norm.
Specs
Peak Watts: 360 watts
Subwoofer Diameter: 6.5 inches
Mounting: Surface
Pros
Solid high frequency performance
Design helps limit vibration
Highly intense sound
Cons
Don't be fooled by the bargain price tag here. Blaupunkt makes solid audio equipment, and the four-way coaxials are a great product. They handle up to 360 watts of peak power, and feature durable construction with a mylar dome tweeter and a poly-injected surrounding cone. Blaupunkt says it uses an aluminum voice coil that helps the speakers continue to produce high-quality sound in higher temperatures.
Buyers say the speakers produce a solid, loud sound, even without an amp. Their design allows them to be installed barely anywhere, and they make a fantastic upgrade for aging factory speakers.
Specs
Peak Watts: 150 watts
Subwoofer Diameter: 6 inches
Mounting: Flush
Pros
Clear highs, even with loud bass
Great volume and durability
Easy to install
Cons
Premium pricing
Speaker grille can be too large for some applications
Rockford Fosgate made a name for itself with incredible speakers that produce gargantuan sound. The Punch 6x9 continues the tradition with a durable design, excellent sound, and easy installation. The speakers feature a new construction technique that gives them as much as 25 percent more cone area and better sound reproduction.
The pair of 6x9 speakers can handle up to 150 watts RMS, and come with everything you'll need to install them in the box. Buyers rave about the sound quality and ease of installation, though a few mention that the speaker grilles are too large for some vehicles.
Our Verdict on Car Speakers
The JL Audio C2-650X Evolution Series is our best all-around car speaker. They provide a good mix of quality, value, and ease of installation that makes them ideal for a wide range of people and vehicles. That said, even the best speakers will sound bad if they're poorly installed, so it's best to make sure of the fit and placement for the best sound.  
What to Consider When Buying Car Speakers
If you look up a car speaker sales ad, it's easy to be overwhelmed with specs, numbers, and features. Don't get bogged down too much, as it's not rocket science, and don't get caught up in fancy styling.
Types of Car Speakers
Full-Range Speakers
Also referred to as coaxial speakers, these are the more basic speakers and the most prevalent on the market. The speakers feature a tweeter and a woofer, with the former being responsible for higher frequencies. Woofers deal with the bass at lower and mid-range frequencies. Since these models are so straightforward in design, they require fewer modifications and are more budget-friendly. Improving the sound substantially, you can get up to four-way coaxial speakers to control the flow of the soundwaves.
Component Speakers
This type of car speaker consists of separate parts which are positioned throughout the vehicle and allows you to control the flow of the music based on how you mount them. You can ensure that the tweeters and woofers channel different frequencies to play to their strengths by wiring them correctly. Because of the extra control, the music quality is optimal with component speakers. However, they are more likely to require modifications to the vehicle and also take substantially longer to install.
Car Speakers Key Features
Size and Installation
Most speakers fall somewhere between four and nine inches. Typically, the larger the vehicle, the bigger the factory speakers. Usually, the speakers are installed behind a protective grill and the amount of space you have to work with determines the size of the speaker you can get (unless you want to make modifications). Generally, the more space there is, the higher the quality of the audio.
Speaker Axes
Depending on how much room you have to work with and the layout of your vehicle, you will want a different speaker setup. Within the full-range category, you can find two-, three-, and four-way speakers. Naturally, the more speakers, the higher the quality of audio. Each of the speakers accommodates a specific frequency range, limiting crossover and cutting down on sharp, staticky sounds.
Structure
Another critical feature is the materials of each speaker. Sound results from vibrations, but you don't want ambient noise. It not only compromises the sound quality, but it also can cause the system to overheat. Look for models with a butyl rubber protective layer. This material absorbs the vibrations, helping prevent damage to the system and preventing background noise.
Wattage
Especially if you drive a loud vehicle, wattage is an essential feature. You can find stereos as low as 80 watts and higher than 350 watts. The higher the wattage, the louder it can get. Now, all speakers can blow out, but you are much less likely to face this issue if you're working with a higher wattage capacity. Consider the type of vehicle you drive when picking out your new speakers.
Car Speakers Pricing Considerations
You can spend less than $60 and get budget-friendly car speakers with less than 60 RMS and a maximum power output of 100 watts or less. Despite that, most have good sound quality and bass. For $60 to $80, you'll find speakers that don't disappoint as they come with great designs and are made of high-quality materials. They can handle extended use without overheating and have impressive sound. Spend $80 or more, and you'll find car speakers from top-of-the-line brands that will deliver the ultimate music experience. They offer differentiated sound levels, from low to high frequencies, on different cones with no distortion.
FAQs
You've got questions. The Drive has answers.
Q: How do you check if the speaker is working? 
A: The easiest way to check the function of your speaker is to listen to music on it. Make sure you check a range of frequencies, test the bass, and make sure the volume works properly. Look for any vibrations or noisiness and try the speakers while the car is in motion. You'll know if something is off by the quality of the sound. 
Q: Can I use 8-ohm speakers in my car?
A: Cars use either two- or four-ohm speakers, while models for the home rely on eight ohms. Since ohms refer to the electrical resistance in the system, it's a very important consideration. Stick to low-ohm speakers for your vehicle, as they are designed for exactly that purpose. 
Q: What causes a blowout in a car speaker?
A: A blowout could be because of a mechanical failure in the speaker when it collides with its enclosing surface and results in broken or torn components. It could also be due to a thermal failure when the speaker's internal components overheat and melt or burn. When the voice coil is burnt, you will get no sound from the speaker.