Best Impact Drivers: The Top Tools for Working With Fasteners
The best impact drivers to make fasteners of all kinds a breeze to screw in or remove.
The Drive and its partners may earn a commission if you purchase a product through one of our links. Read more.
A power drill — or a drill driver — is an absolute must-have in your tool kit. These power tools make it easy to push in or take out fasteners, and they're highly versatile. But even drills have their limits. And if you're dealing with particularly difficult screws or nuts, or an especially tough material, a drill won't be able to get the job done. Instead, you'll need to have an impact driver on hand. An impact driver looks pretty similar to a drill at first glance. But an impact driver offers more torque, more power, and more speed. Impact drivers can do what drills can't, and they're often lighter, more compact, and incredibly convenient. If you don't have an impact drill in your tool box yet, you're going to want one. We've rounded up the best impact drivers you can buy right here to help you find just the right fit for your needs.
Best Overall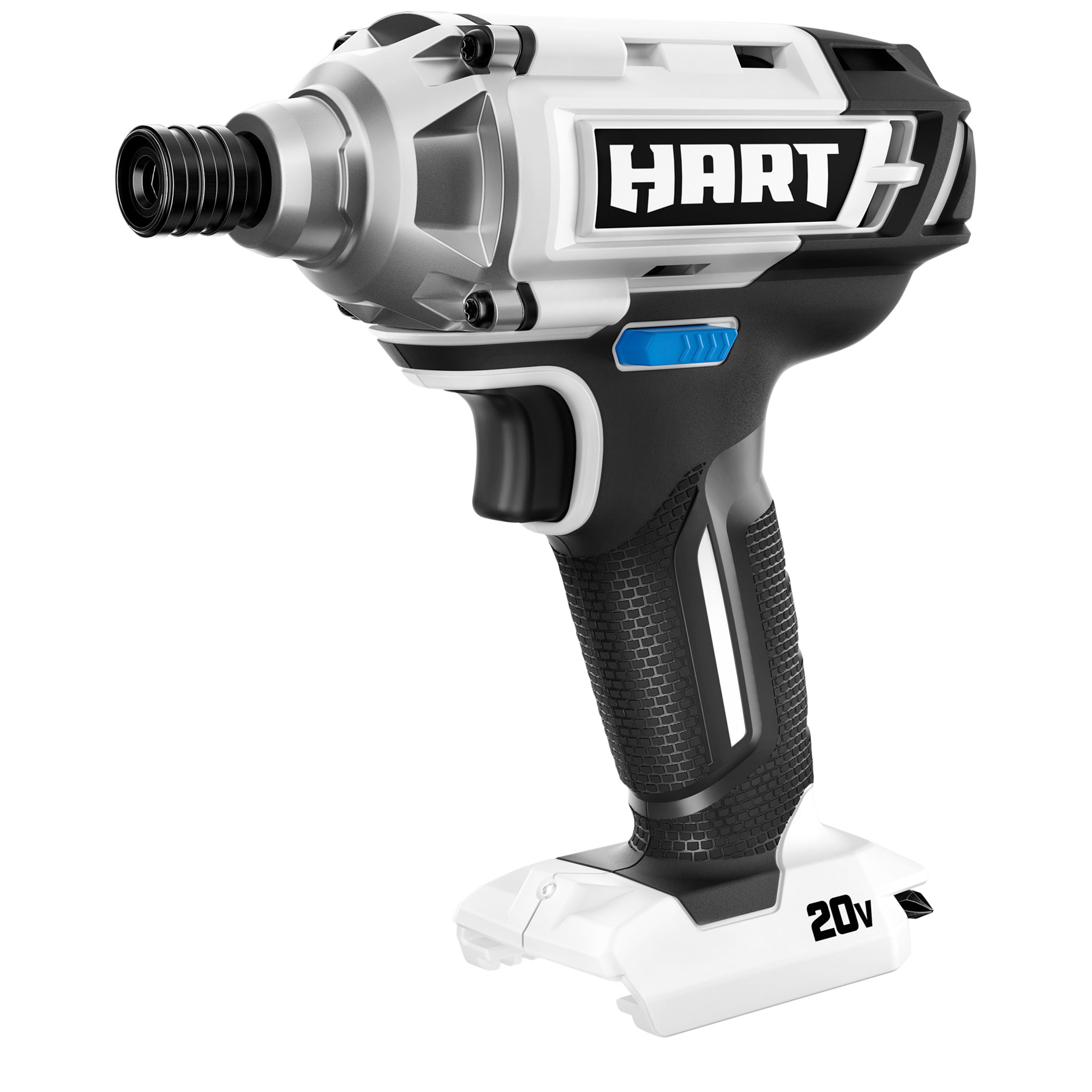 Hart 20-Volt Cordless Impact Driver
A powerful yet easy-to-control impact driver with extra features to make your work easier and more effortless.
Variable-speed trigger puts you in control when drilling or driving
Includes integrated LED work light
Offers serious torque without increasing fatigue
Doesn't come with the battery you need to operate the driver
Best Value
Hyper Tough 20V Max Cordless Impact Driver
Powerful torque and speed that's convenient to use, and affordably priced to suit any budget.
Incredibly lightweight, at just 2.5 pounds
Soft, over-molded grip increases comfort
Gets jobs done in very little time, without requiring much experience
Only includes a Philips screw bit
Some drivers may arrive with parts missing
Honorable Mention
DeWalt 20V Max Brushless Atomic Compact Impact Driver
A high-performance impact driver that's made for extra-tough jobs, with a warranty for increased reliability.
Ergonomically designed to increase your comfort while working
Backed by a three-year warranty
Variable speed trigger allows for better control and precision on small jobs
Battery and charger have to be purchased separately
Benefits of Impact Drivers
Compact and convenient. Impact drivers are handheld power tools that are meant to be easy and comfortable to hold. Most weigh just a pound or two, and they're small enough in size to be carried with ease. You can fit them into a carrying case, tool box, or even a backpack, and take your driver anywhere. 
High torque. Impact drivers are designed to be tougher than drills when it comes to driving fasteners like screws — and they can offer higher, more impressive torque with lots of rotational force. Impact drivers are especially handy when you need to remove stubborn fasteners, as that extra torque can be just what's needed for the job.
Quick and effective. If you want to get a screw driven into place fast, an impact driver can get it done. With increased rotational force and quick bursts (or "impacts"), the tool can drive even large screws in no time at all, working more effectively than a drill.
Better stability. While drill bits can slip and spin, making your job a bit more challenging, impact drivers tend to offer better stability. Drivers can keep their bits more engaged with screw heads, even at increased speeds, which prevent slipping and spinning from happening. 
Types of Impact Drivers
Why Trust Us
Our reviews are driven by a combination of hands-on testing, expert input, "wisdom of the crowd" assessments from actual buyers, and our own expertise. We always aim to offer genuine, accurate guides to help you find the best picks.
Learn more
Cordless Impact Drivers
Cordless impact drivers are the most common type you'll come across today. These impact drivers rely on compact batteries — some removable and some built-in — and give you total freedom. Well, almost total freedom. You can use your impact driver anywhere, without worrying about distance from electrical outlets or needing a nearby power supply. However, you will need to plug in your driver or its battery every so often to recharge. 
Corded Impact Drivers
Corded impact drivers are the opposite of cordless impact drivers. These power tools have a cord attached, and you have to plug that cord into an electrical outlet in order to operate your driver. It can be limiting, as you can only reach so far with your driver. But these kinds of impact drivers do have unlimited power, and you'll never have to worry about replacing or recharging the battery.
Top Brands
DeWalt
As one of the best-known names in power tools — and tools in general — DeWalt is a staple in plenty of tool boxes and garages. Since the brand's founding in 1922 with the very first woodworking machine, DeWalt has created impressive and powerful tools like the DeWalt 20V Max Brushless Atomic Compact Impact Driver.
Makita
First founded in 1915, Makita originally started as an electric motor service and repair company. But today, Makita is better known for its tough tools, including power drills, saws, concrete and masonry tools, and powerful impact drivers like the Makita LXT 1/4" 18V Brushless Hex Impact Driver.
Milwaukee
Since 1924, Milwaukee (or Milwaukee Tools) has created professional-quality tools and equipment. While the brand is a big name for experts in construction, it's also a fantastic and high-quality brand for anyone in need of tools, including easy-to-use products like the Milwaukee M18 Cordless Hex Impact Driver.
Bosch
The Bosch Group has been around for over 125 years — but the company's power tool line, Bosch Power Tools, has only been around since 2003. Made with professional-level use in mind, all Bosch tools are built to be tough and reliable, like the Bosch Freak 18V Impact Driver. 
Impact Driver Pricing
Under $50: If you don't want to spend a lot of money, you can still find a few high-powered impact drivers for $50 or less. There isn't a big selection, but you'll find cordless models and even some options with interchangeable, removable batteries.
$50 to $100: Most impact drivers fall within this price range, and it's where you'll find the largest selection of products. From corded and cordless models to mid-range and high-end quality, it's all available between $50 and $100 — including every level of torque.
$100 and up: If you're looking for the most premium, top-tier impact drivers, you'll find them priced at $100 or more. This price range includes higher-quality or more specialized products, along with those that are compatible with removable battery power tool systems.
Key Features
RPMs
RPMs are one of the most important factors in determining how powerful and capable an impact driver is. You'll want to make sure that you choose a driver that has enough RPMs to tackle heavy-duty jobs like stuck fasteners or particularly tough materials or woods. With more RPMs, you'll get more turns and more force from the driver's bit. This, in turn, can help you work faster and more smoothly, getting fasteners in or out of place more quickly. 
Torque
Torque is another absolutely critical feature in any impact driver. It's the torque that determines how much power or force is getting sent through the driver's bit to the fastener you're working with. Higher torque makes an impact driver more effective. It also puts less stress on the tool itself and lessens recoil. It's also a good idea to look for a driver that features both high torque and multiple speed settings so you can choose the right amount for the task at hand.
Brushless Motor
A brushless motor is one of the best choices you can make when you're considering different impact drivers. A driver with a brushless motor doesn't need carbon brushes to deliver a current; instead, an internal circuit does that work. This kind of motor increases your driver's workload and efficiency — which makes for a better overall tool. A brushless motor can lead an impact driver to have multiple speed settings, run longer on a single charge, and prevent issues like overheating.
Lithium-Ion Battery
If you're opting for a cordless impact driver, look for one that's powered by a lithium-ion battery. This kind of battery is now the standard in cordless power tools, and it's what you'll find in the best impact drivers. Lithium-ion batteries charge faster than other types of batteries, and they also hold a charge longer — meaning you'll be able to work longer without needing a recharge. Lithium-ion also makes your driver lighter and easier to hold.
Electronic Clutch
Check to see if the impact drivers you're considering have an electronic clutch. Also called an adjustable clutch, an electronic clutch is what operates many of the best impact drivers. This kind of clutch will control the amount of torque hitting the fasteners you're working with, automatically reducing the power and torque if the driver encounters a lot of resistance. An electronic clutch gives you more precise control and makes it easier to work with.
Other Considerations
Driver Ergonomics and Shape. You'll have to hold an impact driver in your hand while it operates, which means the driver you choose needs to be comfortable to hold. Look for drivers that are ergonomically-shaped, as these are ones that have been designed with your hand comfort in mind. Padded grips, non-slip handles, and other little features that give you better hold on the tool are good ergonomic cues.
Included or Available Attachments. Some impact drivers will come with extra attachments, or they're compatible with an array of optional attachments you can purchase separately. All of these attachments can make your driver more versatile, giving you more reach, more flexibility, and the ability to work with different fasteners and materials. The more attachments you have as options, the more you'll put your driver to work.
Keyless Chuck. Impacts drivers with keyless chucks — which are found in most cordless models — make it easy and quick to adjust your tool. A keyless chuck enables you to swap bits out in just seconds, an important detail when you're working with different kinds of fasteners or fasteners in different sizes. You'll also get increased versatility.
LED Lights. It's now common for impact drivers to come with LED lights. These lights are built right into the head of the driver and are meant to help you see exactly what you're working on by illuminating what's in front of your tool. These LED lights can be especially helpful in dark or poorly lit work environments. And they're energy-efficient, meaning they won't drain your battery.
Best Impact Drivers Reviews & Recommendations 2021
The Hart 20-Volt Cordless Impact Driver is a real workhorse, and it's built for functionality as well as ease of use. Whether you're a first-time impact driver user or looking for a quality new tool to invest in, this driver is just the right one to pick. With up to 1,700 inch-pounds of torque, you'll have plenty of power for all kinds of projects. A variable-speed trigger gives you control over the RPMs, from zero to 2,500. You'll have control while you drill and drive, and the trigger offers nice precision. A 1/4-inch quick-connect chuck makes bit changes simple, and you can even stash your bits right inside the built-in storage compartment on the driver itself. An integrated LED work light also gives you better visibility, illuminating your workspace no matter the lighting around you.
There's just one drawback you need to know about: This impact driver doesn't include the rechargeable battery. That has to be purchased separately, which does increase your investment.
You don't always have to spend a ton of money to get a decent, efficient tool — the Hyper Tough 20V Max Cordless Impact Driver is proof of that. When you choose this driver, you'll get an excellent bang for your buck while staying within budget. With up to 1,320 inch-pounds of torque and a no-load speed of zero to 2,700 RPMs, you can put this driver to work in a wide range of ways. The tool itself weighs just 2.5 pounds, meaning it's light and easy to work with, all without increasing hand fatigue. The 20-volt rechargeable lithium-ion battery means you can take your impact driver anywhere, and the 1/4-inch locking hex chuck suits plenty of bits. More importantly, your comfort is front of mind — this driver features a soft overmold grip to give you a strong, secure hold while you work. You'll even get an LED light on this driver, a feature that's usually found solely on more expensive models.
If you're looking for a high-quality tool, you're going to want to consider the DeWalt 20V Max Brushless Atomic Compact Impact Driver. This premium product is more expensive, but it's also impressive. It offers 1,700 inch-pounds of torque — but it only measures 5.1 inches in size. It includes a variable-speed trigger, giving you precision-level control over your driver's work. It's powered by a DeWalt-built brushless motor, which runs more efficiently and delivers great performance. Backed by a three-year warranty, you'll get excellent reliability from this driver. It also comes equipped with three LED lights for good visibility, a removable belt hook, and an ergonomic shape. This driver is part of the DeWalt 20V Max tool system, with an interchangeable rechargeable battery you can use for all your power towels.
But there's one catch: This impact driver doesn't actually come with the battery. That has to be purchased separately.
Not all impact drivers can squeeze into all workspaces, and if you frequently find yourself working somewhere cramped or slim, you'll want to make sure you're using the Black+Decker 20-Volt Max Cordless Impact Driver. It's ideal for tight, narrow spaces or limited flexibility situations, giving you power and convenience in one. This high-powered driver is small and slim in size, measuring just 7.88 x 3 x 9 inches in overall size. It's lightweight for better maneuverability, too, weighing just 3.6 pounds. Powered by a 20-volt lithium-ion battery, you'll get up to 1,375 inch-pounds of torque. The quick-release 1/4-inch hex chuck rotates from zero to 3,000 RPMs and zero to 39,000 BPMs. You'll easily be able to control the driver's speed, power, and force while you work, thanks to the variable-speed trigger that's right on the handle. This driver actually includes a battery and charger, ensuring you get the whole package for one price.
Cordless power tools come with two common downsides: a frequent need for battery recharging and short overall battery life. But that's what makes the Skil Pwr Core 12 Brushless Impact Driver Kit such a standout product. This impact driver offers both a long runtime and a long-lasting battery that'll survive plenty of recharging cycles. Powered by a Pwr Core 12 lithium battery, this driver's included battery actually runs 25 percent longer and offers double the lifespan compared to competing products. It'll charge faster, too, getting you a 25 percent charge in just five minutes — you can get to 100 percent in just 45 minutes. In addition to its battery benefits, this impact driver measures 15.2 x 8.5 x 3.8 inches in size and weighs 4.1 pounds. A digital brushless motor delivers two torque speeds, low or high, depending on your needs. You'll also like the bright halo light built into the driver, which illuminates your workspace with a light that's five times brighter than your basic LED.
The reason an impact driver is tougher than a traditional drill is its increased torque and power — two factors that can deliver quite the impact on a tool. But the Milwaukee M18 Cordless Hex Impact Driver is built to handle exactly that kind of wear. This durable tool is made with a robust design that's meant to make it last longer, giving you more mileage over time than other drivers. It's also able to successfully tackle challenging jobs, with up to 1,500 inch-pounds of torque, 2,750 RPMs, and 3,450 IPMs. The driver is powered by a Milwaukee four-pole frameless motor, which is paired with an optimized impact mechanism. You'll get great performance alongside overload protection and improved efficiency. The 1/4-inch hex quick-connect chuck also makes changing your bits a breeze while you're in the middle of a job.
However, there aren't any extras on this driver; it doesn't really have any fancy features or ergonomic details.
The Bosch Freak 18V Impact Driver is a great option if you're looking for a high level of accuracy at fast speeds. This driver delivers up to 1,600 inch-pounds of torque, a maximum 2,800 RPMs, and up to 3,600 IPMs. A variable-speed trigger gives you control no matter how fast you're moving with your tool. The standout detail of this driver is its accurate driving speed. Thanks to that special trigger, you're able to get accurate fastener driving even at the highest speeds, adjusting as needed to achieve the perfect result. You're also getting great versatility. This driver includes the common 1/4-inch hex chuck of most impact drivers, but it also comes with a 1/2-inch square chuck. You'll be able to use more bits and tackle more jobs with this sole impact driver; you can swap between the two chucks as needed. The battery, however, has to be purchased separately, and only Bosch batteries will work.
The PowerSmart 20V Cordless Impact Driver is a fantastic product to pick if you're looking for impressive torque. Like some of our other best picks, this cordless impact driver is able to reach 1,750 inch-pounds of torque in total, delivering a high speed of up to 1,800 RPMs, and give you the force you need to handle tough materials, stubborn fasteners, and so much more. Built with a high-performance motor and running off of a 20-volt, 1.5 amp-hour lithium-ion battery, this driver works incredibly fast and gets fasteners in place in no time. It's comfortable to work with and wield, too. Made with an ergonomically designed handle, you'll have good balance and control as you work. There's even a removable belt hook included for extra convenience. Weighing just 3.1 pounds and featuring built-in LED workspace lights, you'll also find this driver is pretty easy to work with regardless of your experience level or the kind of material you're driving into.
Tips
If you're a first-time impact driver user, you may want to opt for a smaller model with less torque — using a high-torque product right out of the gate may have some recoil, which can be tricky to work with.
Impact drivers are especially great for challenging projects, so opt for a driver instead of a drill if you're working with particularly tough woods, stuck-on fasteners, or other hard-to-drill materials.
If you're choosing an impact driver that runs on a rechargeable battery, check to see if the battery and charger actually come with the drill — many have to be purchased separately.
FAQs
Q: What is an impact driver used for?
Impact drivers offer high torque and high power, which makes them great for difficult materials and bigger, tougher fasteners. An impact driver is great for driving long screws or bolts, for example; it's also great for screwing fasteners into block walls or metal studs. 
Q: What's the difference between a drill and an impact driver?
A drill and an impact driver seem pretty similar, but they have different uses. Your basic drill is meant to be an all-purpose tool, using standard and hex bits to drive all kinds of fasteners into place. An impact driver, on the other hand, has increased torque, power, and speed. Also, an impact driver can be used for tasks that need more force, driving fasteners that are longer, larger, and going into tougher items like metal or dense wood.
Q: Do you need special bits for an impact driver?
Most impact drivers take 1/4-inch hex shank bits, so they'll work with a very common bit size.
Final Thoughts
Our pick for the best impact driver is the Hart 20-Volt Cordless Impact Driver, which offers both solid torque and high power — but it's also a fantastic option with little extras, like an ergonomic grip and convenient work light. Need a more affordable option? You'll get a ton of value out of the Hyper Tough 20V Max Cordless Impact Driver, our top choice when it comes to a good bang for your buck.