Best Car Dollies: Seamlessly Move Vehicles Around Your Garage
These tools are a lifesaver when restoring, repairing, and maneuvering a car or truck.
The Drive and its partners may earn a commission if you purchase a product through one of our links. Read more.
Car dollies, also known as car skates, are handy tools if you need to move a vehicle around a garage or other space without turning the engine on. They're a convenient option if you are storing your vehicle for a long period of time, repairing it, or restoring it, or if you're working in a tight space.
These devices raise the vehicle a few inches off the ground and feature caster-like wheels that enable you to push or turn the vehicle into a certain position, either to get it out of the way or to work on it. You can even rotate a vehicle 360-degrees around if you need to. Some types of dollies are even designed so you can use them to change tires. Excellent for project cars or disabled vehicles, the best car dollies are heavy duty, easy to use, and are an effective way to move a car without too much fuss.
Best Overall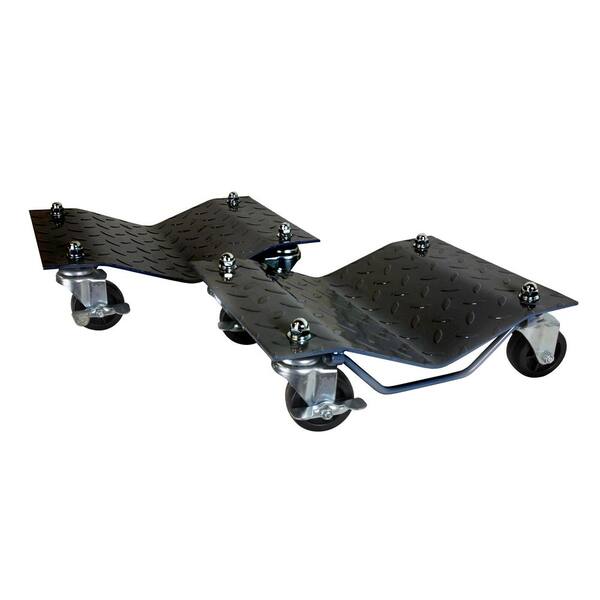 Wen Vehicle Dollies with Brakes
These two dollies have a combined weight capacity of 3,000 pounds. They feature 2-1/2-inch casters.
Omni-directional movement 

Brakes included

Carrying handles
Can be hard to move around if ground isn't smooth
Best Value
Pittsburgh Automotive Vehicle Dollies
This two-pack of dollies can accommodate a total of 3,000 pounds. The casters are three inches in diameter.
Rust-resistant

Heavy-duty steel construction

Non-slip tread
Rolls best on surfaces free of debris
Honorable Mention
Daytona Ultra-Mobile Self-Loading Dolly
You get one dolly in the package, and it has a weight of 1,300 pounds. It features a foot pedal ratchet system.
No jack required

Enables users to change tires on the dolly

Accommodates big tires
Expensive

Heavy to move around
Summary List
Our Methodology
Best Car Dollies Reviews & Recommendations
Our Verdict
Consider Secondhand
Things to Consider Before Buying Car Dollies
Type
Standard and Hydraulic
Weight Capacity
Pricing
FAQs