Best Performance Tires: Enjoy the Rush of Driving Your Vehicle
We'll help you get a grip.
We may earn revenue from the products available on this page and participate in affiliate programs. Learn more ›
Your tires are one of the most important parts of your car. Without them, you're going to have a pretty hard time moving. You need them for traction, acceleration, cornering, braking, shock absorption, supporting the weight of the vehicle, and keeping you heading in the right direction. There are levels to both the quality of your tires, as well as the type of tire best suited for different situations and conditions. If you're looking for a boost in performance and want to get the absolute best out of your car, you'll want to continue reading to find the best performance tires you can buy.
Best Overall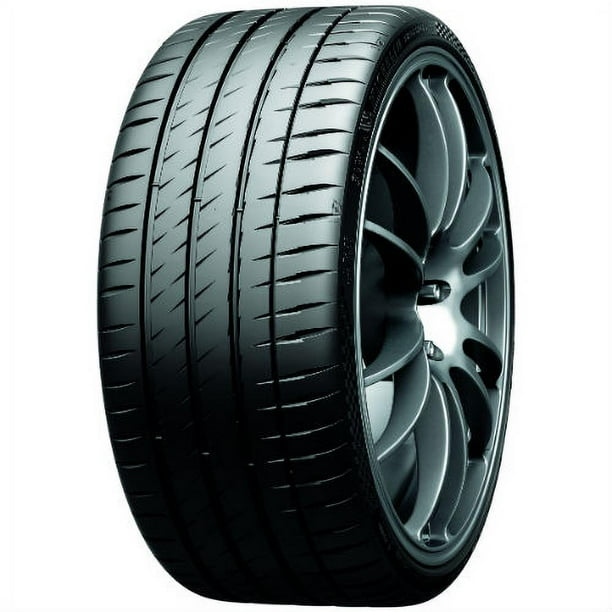 A grippy, versatile, comfortable, and long lasting premium performance tire that not only does the job, but goes above and beyond.
Extremely grippy in almost any situation 

Quiet and comfortable

Lightweight

Long-lasting
High price point

Should only be used in the summer
Best Value
Continental ExtremeContact DWS 06
The best bang for your buck performance tire. An all-season workhorse with fantastic grip in dry and wet, with a price point a bit lower than others in the same class.
Fantastic in dry conditions

50,000-mile warranty 

Solid performance in light snow
Noisy at high speeds

Compared to its competitors, it loses a bit of performance in wet conditions

Not a safe tire in anything other than mild winter conditions
Honorable Mention
BFGoodrich g-Force Comp-2 A/S Plus
A budget friendly option for those looking for reliable tire performance at a fantastic price point.
Great price point

Does well at high speeds

Great tread patterns
Not safe in snow.

Not great in the rain.
Summary List
Our Methodology
When searching for the best performance tires, I made sure to keep some things in mind: Grip, ideal conditions, speed rating, lifespan, comfort. To make sure that I only recommended the best options, I made sure to only include brands that have a reputation of being trustworthy and reliable throughout the years. Although some choices vary in price, I chose to present options that get the overall job done, regardless of cost. Most of my research comes from looking into the reviews of professionals, but customer feedback from people who have used these products for extended periods of time also played a part. For more info on selection criteria, head over to The Drive's Gear About page which explains our methodology further.
Best Performance Tires Reviews & Recommendations
Specs
Type: Summer
Speed rating: 186 miles per hour
Warranty: 30,000 miles
Pros
Lightweight
Great in dry or wet
Quiet and comfortable
Versatile
Cons
Very high price point
Not suitable for snowy conditions
The top dog of performance tires. The Michelin Pilot Sport 4S is a grippy in both dry and wet conditions, very quiet, comfortable, and long-lasting tire. They're ready for track days, while still being comfortable enough to be daily driven in the streets on pretty much any car. Many online reviewers report using the same set of Pilot Sport 4S's for multiple track days on top of numerous daily commutes.
This type of versatility often comes at the cost of a tire's performance, but that's not the case here. Although the price point is a bit higher than most, this tire is the overall best you can buy if you're willing to shell out more cash than usual. "You get what you pay for" remains true here.
Specs
Type: All-season
Speed rating: 186 miles per hour
Warranty: 50,000 miles
Pros
All-season typing adds to its versatility
Great warranty
Can handle light snow
Cons
Very high price point
Not suitable for snowy conditions
The Continental ExtremeContact DWS 06 is a great alternative option to the Pilot Sport 4S, and is a top choice for those looking to use their tires from Spring to Fall. These tires will move with excellent performance in almost any weather, and carry Continental's "+Silane" tread typing, which makes them exceed in rainy conditions as well as avoid uneven tread wear over extended use. This tread pattern expels water quickly, keeping you safer and planted on the ground.
The main drawbacks to the ExtremeContact DWS 06 are that these are pretty noisy, especially at high speeds, and they're less grippy than their Summer tire competitors. Still, if you're looking for a boost in tire performance at a reasonable price while being able to be driven in multiple seasons, this is the choice for you.
Specs
Type: All-season
Speed rating: 186 miles per hour
Warranty: 45,000 miles
Pros
Fantastic warranty
Performs well in all conditions
Great price point
Cons
Lifespan is somewhat low
Wet traction could be better
A bit noisy
A third alternative to the Pilot Sport 4S, the BFGoodrich g-Force Comp-2 A/S Plus is a budget-friendly option that suits the needs of most drivers looking to boost performance without breaking the bank. This all-season tire is good at a lot of things, while not necessarily being the greatest at any. It's reliable in any condition but doesn't quite execute as well as others during hard acceleration, cornering or high speeds.
This tire can and will get the job done in all seasons, but should be noted that it's not an ideal replacement for snow tires in the winter. Lastly, quite a bit of road noise can be heard on any kind of surface. The amount is mostly acceptable, but should be considered for drivers that are looking for comfort during daily driving. Nonetheless, if you're coming from the average all-season tire, or a non-performance tire, the g-Force Comp-2 A/S Plus is likely a welcome upgrade.
Best Entry Level Performance Tires
SEE IT
Specs
Type: All-season
Speed rating: 149 miles per hour
Warranty: 30,000 miles
Pros
Fantastic price point
Performs well in dry and wet weather
Great for daily and spirited driving
Cons
Very noisy
Short lifespan
If you're new to the car hobby, on a tight budget, or just looking to grab their first set of wheels, the Achilles ATR Sport 2 is a good option to try without much to lose. These come at a very affordable price point, while still offering the benefits of other premium performance tires. Although they can take a bit of time to warm up, once they're ready, these tires are extremely grippy. The ATR Sport 2s are all-seasons, and hold their own in the wet, and even some snowy conditions. It should be noted that their execution drops a bit when faced with those challenges, but that's to be expected at this price range.
These tires become very noisy after a few thousand miles, and wear down pretty quickly afterward. As someone who has previously owned multiple sets of these and used them on a daily driven, handling-focused Mazda3, I can confidently say that the pros outweigh the cons. If you're looking to save cash without losing out on performance, these are the tires for you.
Best Racing and Competition
SEE IT
Specs
Type: Semi-slick
Speed rating: 186 miles per hour
Warranty: Limited
Pros
Among the best in grip
Soft yet solid
Great for racing and competition
Cons
Not recommended for street use
Extremely expensive
Short lifespan
If the previous tires I listed weren't enough of a performance boost, you'll want to look into racing tires. These kinds of tires are for the hardcore driver looking to compete. They'll give you the absolute best grip during acceleration and high speeds. They're made for dry conditions only and should usually be used on the tarmac. The price range is much higher than the average performance tire, but that's to be expected for a specialty tire like these. Semi-slick tires are strictly for those looking to race and are not recommended for any daily driving due to their lack of reliability in wet conditions. They also have an extremely low lifespan on public roads.
The Toyo Proxes R888R is an unbelievably grippy tire. It's soft, yet sturdy, and warms up extremely fast, giving you one of the best possible racing experiences when compared to the average performance tire.
Our Verdict
Things to Consider Before Buying Performance Tires
The main things to consider before purchasing performance tires are your overall plans for use, the type of vehicle you drive, and the environment that you'll be consistently driving in. These factors are the best way to determine which tire you should spend your money on. Most options are capable of getting the job done during spirited driving or daily commutes, but you'll find that some are better suited for your needs when considering these topics.
It's important to do your own research with those points in mind, as there are an overwhelming amount of great choices on the market. I picked the tires on this list considering the average driver and their general conditions for use, but you may find better options suited for you elsewhere. All in all, this guide is meant to point you in the right direction on your search for a great performance tire.
The general specs that you should always consider are tread pattern, ideal conditions, lifespan, and comfort. Remember that although they may appear similar, not all tires are created equal.
Performance Tires Pricing
On average, you can expect performance tires to run between $45 and $80 per tire on the budget-friendly end of the spectrum. For more capabilities and versatility, the cost will rise to $120 to $180. And if you're looking for the most premium options focused on racing and competition, you can spend upwards of $200 or more per tire. The premium options are not necessary for the average driver, and springing for a racing tire is only necessary for those taking their cars to the track or those racing in competitions.
FAQs
You've got questions. The Drive has answers.
Q: What should I look for in a performance tire?
A: You'll want to look for a tire with a great tread pattern, long lifespan, reliable compound, and ability to perform in multiple weather conditions. 
Q: Do performance tires wear out faster than normal tires? 
A: Generally yes, as the rubber compounds used to make them are often much softer than the average tire, causing them to wear out faster over time.
Q: What makes a performance tire different? 
A: Performance tires come with a softer compound and unique tread patterns that lead to more grip, better cornering stability, and quick expulsion of water. 
Q: Do I really need performance tires?
A: Absolutely not! Normal all-season tires can and will work for pretty much any road legal car, but if you're looking to increase your confidence during spirited drives in the mountains or the occasional track day, you'll want to purchase a set of performance tires. 
Q: Are performance tires weaker than the average tire?
A: It depends on how you look at it. Since they're softer than all normal season style tires, they will wear quicker. Performance tires are also often run with a thinner sidewall than regular tires, causing a higher chance of bent wheels. During hard driving, however, a performance tire will hold up a lot better than an all-season tire, thanks to its specialized design.
Q: Are summer tires and performance tires the same thing?
A: Not necessarily, but the terms are often used interchangeably. Some performance tires can be categorized as all-season tires.
Why Trust Us
Our reviews are driven by a combination of hands-on testing, expert input, "wisdom of the crowd" assessments from actual buyers, and our own expertise. We always aim to offer genuine, accurate guides to help you find the best picks.
Learn more