Nine-Year-Old Learns To Drive Stick in 30 Seconds and Immediately Does Rad Donuts
Young off-roader Ruslan Yankilevich learns the way of the manual and instantly begins hooning.
Hoonigan | YouTube
We at The Drive are sure many car enthusiasts wish for their sons and daughters to enter some form of motorsport so they can live vicariously through them. Not every child can be Lila Kalis, the astounding wheelwoman and daughter of professional skateboarder Josh Kalis, but we can all dream, right?
A few days ago, for an episode of Hoonigan's video series Yard Party, nine-year-old off-road racer Ruslan Yankilevich stopped by the Donut Garage to play around with his UTV. It's a 38-horsepower Polaris RZR 570 which he races alongside head Hoonigan Ken Block's daughter. He even jumped his RZR over double stacked ramps which was only previously attempted by some fully built off-road trucks and one unlucky Alfa Romeo.
While young Yankilevich stopped by Hoonigan's shop to film his side-by-side tomfoolery, the crew then got the bright idea to strap him into its Mad Max-style Miata known as 'Shart Kart.' The Drive has featured some of Hoonigan's Shart Kart antics before, but never before with a nine-year-old.
In the video, "Danger" Dan Sommer, Hoonigan's resident shop foreman, gives Yankilevich a 30-second lesson on how to drive stick, then offers words of encouragement and sent him on his way to do some donuts.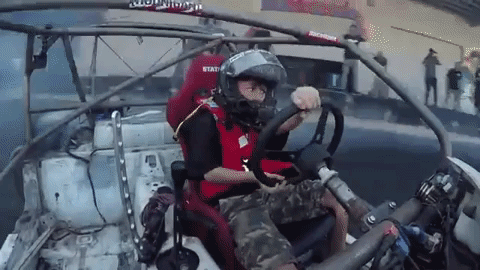 The Hoonigan driving school looks to be one for one when it comes to tutoring.
To get all the entertaining details of this young'n putting his newly learned skills to the test, check out the full clip below.