The Best Upholstery Cleaner Machines (Review & Buying Guide) in 2023
Bring your vehicle's interior fabrics and carpet back to life with the best upholstery cleaner machines.
We may earn revenue from the products available on this page and participate in affiliate programs. Learn more ›
A clean, "like new" look and feel to your car's interior, or the furniture and carpets in your home just seem to make them feel more comfortable and inviting. But, unfortunately, things often don't stay that way, and being able to periodically bring them back to that satisfyingly spotless condition, or eradicating stains before they set in too deeply, means a good upholstery cleaning machine is a necessity.
Tracking in dirt, spilling food and drinks, and all sorts of mishaps that soil the inside of your car, RV, boat, or home are bound to happen. Multiply that potential for stains and spills if you're adding kids or pets as regular users of your upholstered and carpeted areas. A good upholstery cleaning machine will not only keep things clean and fresh but also prolong the life of your upholstery and carpets by removing dirt and stains that can wear the surfaces down.
Our review and buying guide will help you define the features that will be most important to you in choosing a machine that will provide the kind of performance and ease-of-use necessary to keep your environment looking, feeling, and smelling like new.
Best Overall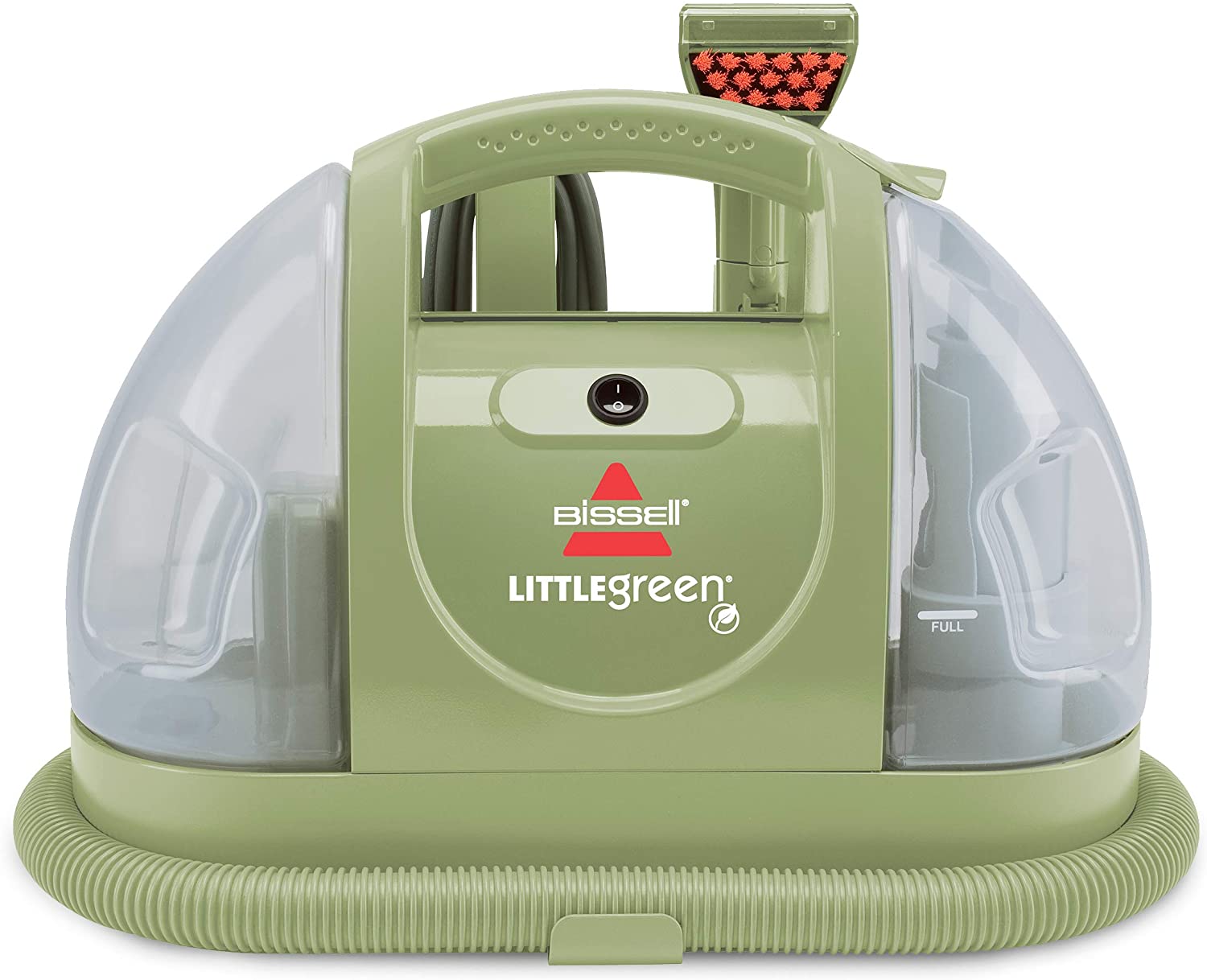 Bissell Multi-Purpose Portable Carpet and Upholstery Cleaner
A reliable, efficient, and powerful upholstery cleaner machine that's designed to work easily in small spaces.
Designed for portability and small spaces
Easily fits inside your car and gives great maneuverability
Tough on stains and set-in messes
Have to clean tank and gaskets after every use
See It
BLACK+DECKER spillbuster Portable Carpet Cleaner
This lightweight, cordless unit is easy and convenient  to use in small spaces like your car interior.
Built-in scrub brush to loosen dirt.
Designed to be easy to clean out.
Has replaceable scrub brush and filter to maintain performance
Easy storage.
Suction not as strong as larger machines.
Manual pump to spray cleaning solution.
Honorable Mention
McCulloch Heavy-Duty Steam Cleaner
A powerful upholstery cleaner machine that uses extremely hot steam to loosen dirt, stains, and more for a thorough, chemical-free clean.
Uses only hot water to tackle tough messes and stains
9-foot long hose offers plenty of reach
48-ounce tank gives you solid runtime and 45 minutes of continuous steam
Tank itself is too bulky to maneuver inside vehicles
Does take time to heat up
Our Methodology
In order to pick the best upholstery cleaner machines, we browsed the wide selection of different types of products available. We considered and compared options from the best-known brands in the upholstery cleaning space, taking a look at the products offered by brands like Bissell, Hoover, and Rug Doctor. From there, we assessed products based on whether or not they were specifically intended for automotive upholstery cleaning or if they were more versatile and able to tackle auto upholstery alongside other types of upholstery. We specifically sought out portable, handheld products that could be used inside car interiors, though we also considered ones that offered long hoses and attachments that could reach into your interior nooks and crannies.
Summary List of Upholstery Cleaner Machines
Best Upholstery Cleaner Machine Reviews & Recommendations
The Bissell Multi-Purpose Portable Carpet and Upholstery Cleaner might be compact, but its relatively small size doesn't hinder its cleaning capability at all. This portable machine is ideal for automotive cleaning, as it's light enough to be carried and moved, yet powerful enough to take on stains, spots, and whole-car upholstery cleaning with a strong spray and potent suction. It can be used for spot cleaning or complete upholstery cleaning, with two removable water tanks that are easy to fill and empty. Plus, it comes equipped with a 3-inch stain tool for scrubbing and tackling set-in stains and the included Spot & Stain formula is an added helper for these.
Just make sure you take the time to empty the tanks between uses. Sludge can quickly build up in the dirty tank, even after just a couple of cleanups, so you'll want to make sure to empty the tanks and clean out the gaskets.

Product Specs
Cleaning Method: Soapy water
Tank Capacity: 48 ounces
Accessories: 3-inch Tough Stain tool and Hydro-Rinse Self-Cleaning hose tool
Pros
Lightweight and designed for portability
Included attachments work on stubborn dirt and set-in stains
Larger tank size allows you to clean for longer
Can cover small areas and large seats
Cons
Have to thoroughly empty and clean out tank after every use
Black & Decker's Spillbuster Portable Carpet Cleaner gives you the freedom of movement of cordless operation in a lightweight, hand-held unit. This value-packed machine has a wide nozzle to pick up chunky messes without clogging and has a powered scrub brush to loosen ground-in dirt and stains. It features a collection bowl that fully opens for washing and drying to avoid odor buildup, a built-in cleaning formula dispenser, and a battery indicator. The scrubbing brush and filter are replaceable to maintain maximum performance.
Keep in mind that the Portable Spot & Stain Formula that the machine uses is not included. This handy unit is also relatively small, and so is the cleaning solution tank, so you'll be filling it more frequently than larger machines if you're cleaning a large area.
If you're dealing with some seriously dirty upholstery, you're going to love how high-powered the McCulloch Heavy-Duty Steam Cleaner is. This machine uses extremely hot steam to loosen and free up stuck-in dirt, and it offers enough power to tackle even longtime dirt and stains. The upholstery cleaner machine itself is large, with a 48-ounce water tank, but it comes with 18 versatile accessories including a selection of different brushes and a steam hose that stretches over 9 feet long. That makes this machine perfect for parking in your garage and working on the interior with the hose alone. It heats up in less than eight minutes and delivers up to 45 minutes of steam so you can get into those hard-to-reach nooks and crannies to clean out your upholstery without any chemicals at all.
The downside of this heavy-duty steam cleaner is its large size. While the lengthy hose should reach every corner of your car or SUV, you can't bring the machine itself into your car. Additionally, it does take time to heat up and refill the tank, if you run out of water.

Product Specs
Cleaning Method: Steam cleaning
Tank Capacity: 48 ounces
Accessories: 18 accessories including nylon brushes, a brass brush, a scrub pad, and a squeegee
Pros
Requires nothing but water to clean
Uses no harsh chemicals
Hose stretches over 9 feet long, with a 15.7-foot long power cord
Hot enough to tackle even tough stains and messes, like grease and mud
Cons
Tank itself isn't able to be maneuvered inside your car
Water takes time to heat up, especially if you need to refill the tank
The Vacmaster Wet Dry 3 in 1 Portable Carpet Cleaner is one of the most versatile upholstery cleaner machines. With a super powerful motor, this machine can handle tough messes that others can't. It's an excellent option for cleaning upholstery and sofas, automobile interiors, carpets, rugs, stairs, and more. It features a super-large 8-gallon capacity tank and an external detergent tank for easy filling. Equipped with a high-efficiency HEPA filtration system and a washable PTFE cartridge filter, this unit can remove up to 99.97 percent of microscopic particles. It also features a high-density foam filter for wet cleaning. This machine not only helps you take care of your vehicle's interior, but is a very useful wet or dry vacuum for all your cleanup jobs around your home, garage, or workshop.
This is one of the larger upholstery cleaner machines on our list, and it provides strong power and capabilities outside of your vehicle. The downside is that it's more cumbersome to use and tougher to transport.
Product Specs
Cleaning Method: Soapy water
Tank Capacity: 8 gallons
Accessories: Stainless steel telescopic wand, carpet shampoo nozzle, handheld shampoo nozzle, dust brush, squeegee nozzle, crevice tool, and more
Pros
Large tank size reduces refilling frequency
Offers HEPA and PTFE filtration
Doubles as an upholstery cleaner machine and wet/dry shop vac
Powerful 5.5 horsepower motor
Cons
Large and cumbersome tank
Not able to move the machine itself around inside a vehicle
The Mytee Lite Automotive Detailing Carpet Extractor might not look like it's made for automotive detailing, but it is and it offers all of the power of a traditional upright upholstery cleaner machine, with extra convenience. This powerful machine offers a 1,000-watt in-line heater that heats up water in its 4-gallon tank quickly, then extracts dirt, stains, and tough messes like grease from your car's carpet and upholstery. It's powered by a three-stage motor. While it does offer a push handle and basket for traditional use on carpet, the included 15-foot vacuum and hose plus included upholstery tool are made to tackle your car's seats and flooring.
The clearest downside of this machine is its size and bulk. You'll only be able to get the vacuum hose and upholstery tool inside your vehicle. While that's really all you need to get an effective clean, those looking for a compact machine won't find it here.

Product Specs
Cleaning Method: Hot water extraction
Tank Capacity: 4 gallons
Accessories: 15-foot vacuum and upholstery tool
Pros
Powerful motor and suction delivers quick extraction
Can be used with handheld accessories or pushed over carpet
Heats up and gets to work quickly
Lengthy 15-foot hose offers great reach
Cons
Extremely expensive
Large in size
Although designed more for household use than automotive use, the cordless design makes it an attractive choice for cleaning up your car's interior. This machine features a removable and rechargeable ONEPWR battery that delivers fade-free power and is compatible with any ONEPWR product for the ultimate in versatility. Dual tanks keep cleaning solution and dirty water separate so you can easily fill, empty, and rinse when necessary. The specially designed Hoover cleaning solution requires no mixing and is ready to tackle almost any stain you can imagine. The system comes equipped with a 4-inch scrubbing tool, removable hose, 2.0 Ah ONEPWR battery, a charger and a trial-size solution.
One thing to note is to be careful not to knock over the unit, as the cleaning solution may accidentally run into the motor's compartment and damage it.
While we love the first Bissell upholstery cleaner on our list, there's another product by the same brand that deserves a mention: the Bissell Little Green Pro Portable Carpet Cleaner. This device is a bit larger and more targeted in its power, and it's a fantastic option if you're dealing with serious stains. A great option for those with used cars or very messy interiors, this hardworking machine offers extra-strong suction, tougher scrubbing action, and specially formulated stain-removing cleaning solution. It combines scrubbing with a professional cleaning solution, giving you a Deep Stain Tool and a 4-inch Tough Stain Tool so you can effectively get your car's interior fabrics clean. In fact, it's so effective that it can deliver pro-level results on pet messes, so you know you can trust it to get deep into those longtime stains inside your vehicle.
The only little drawback to this stain-fighting machine? Its hose is a bit short, so you will need to move the portable machine around for better reach. And when it's full, it can get a bit heavy.

Product Specs
Cleaning Method: Soapy water
Tank Capacity: 3 to 4 gallons
Accessories: Deep Stain tool, 4-inch Tough Stain tool, and trial-size bottle of Pro Man Clean + Protect formula
Pros
Special stain-fighting cleaning formula protects against future stains
Professional-level suction and scrubbing action
Works on set-in and stubborn stains
Ideal for spot-cleaning or whole-interior cleaning
Cons
Hose is a bit short
Machine can get a little heavy once it's full
If there's a carpet cleaner that's designed for seriously dirty carpets and upholstery, it's the Rug Doctor Pro Deep Commercial Cleaning Machine with Motorized Upholstery Tool. This machine earned the highest rating possible from the Carpet & Rug Institute for soil removal, and it's just as effective on upholstery. With commercial-strength suction power, this upholstery cleaner machine will remove up to 90 percent of all the embedded dirt, stains, and odors hanging around inside your vehicle. Plus, it even removes oils and extra-tough grime, a key benefit for auto interiors. This machine also includes a motorized handheld upholstery cleaner tool, which is designed for detailing car interiors. You'll be able to get deep into the fibers to extract dirt with this tough product.
However, do keep in mind this is one big machine, and it cannot be maneuvered inside your car. You'll have to rely on the handheld upholstery tool and hose to tackle your car's seats and carpeting.

Product Specs
Cleaning Method: Soapy water
Tank Capacity: 1.5 gallons each (two tanks)
Accessories: Motorized handheld upholstery cleaner tool
Pros
Motorized upholstery tool works harder than hand scrubbing
Removes up to 90 percent of dirt and grime
Tough enough to remove oils
Tackles odors too
Cons
Weighs over 50 pounds
Too large to be maneuvered inside a vehicle
One of the biggest frustrations of general upholstery cleaner machines is their larger attachments, which make it hard to get into your car's smallest spaces. But with the Hoover White CleanSlate Plus Carpet & Upholstery Spot Cleaner, you'll actually be able to deep clean everything from seams to corners to the tiniest nooks and crannies in your car's upholstered seats. Featuring powerful suction, this machine can pull up embedded dirt and grime while also tackling stains. It comes with a 7-inch WidePath tool for carpeting and a small TightSpot tool for crevices, exactly what you need for total interior cleaning. Its portable size makes it easy to maneuver, and the dual tank system can carry up to 40 ounces of cleaning solution for tough messes from mud to grease to pet messes.
The only problem that can appear with this upholstery cleaner machine is it leaks pretty easily. You'll want to double-check your tanks each time they're refilled, as slight adjustments can lead to significant leaks

Product Specs
Cleaning Method: Soapy water
Tank Capacity: 40 ounces
Accessories: WidePath tool, bristles insert, rubber nub insert, Tight Spot tool, and hose rinse tool
Pros
Tight Spot tool gets deeply into corners, crevices, and other small areas
18-foot power cords offers flexibility and reach
Works quickly, even on tough stains or messes
Easy to lift, move, and empty
Cons
Leaks can happen, especially if tanks are perfectly reinstalled
Our Verdict on Upholstery Cleaner Machines
FAQs
You've got questions. The Drive has answers!
Q: How often should I clean my upholstery cleaner machine?
A. This greatly depends on the amount of use your upholstery cleaning machine gets. At the very least, you should thoroughly rinse all tanks and hoses at the end of each use to avoid chemical build-up and degradation. If you only use your machine occasionally, you should go through and examine all filters and parts and give them a thorough cleaning at least once per year. If you're a more frequent user, let's say weekly, you should clean your machine once every 3 months.
Q: What should I expect to pay for an upholstery cleaner?
A. For less than $200, your investment will get you a portable, handheld upholstery spot cleaner or a smaller, more compact, and lightweight model that can do everyday limited cleaning. Most steam cleaners will be in this price range also. Spend $200 to $350, and you'll find higher-end spot cleaners, but also larger and more rugged upright carpet and upholstery cleaners designed for larger jobs. If you spend $350 or more, you can get a professional-grade upholstery cleaner or a higher-end manufactured upright upholstery cleaning machine for serious cleaning and major volume.
Q: What are some upholstery cleaner key features?
A. A good upholstery cleaning machine should be relatively straightforward and intuitive to use. It shouldn't have a ton of extraneous steps or convoluted processes to fill the water and cleaning solution and get you started on the cleaning process. Fill lines and detergent levels should be easy to see, tanks should be easy to remove for filling and emptying, and filters should be easy to reach. 
This is one of the most important features to look for when purchasing an upholstery cleaning machine, because who wants to buy a machine that isn't going to give you the best clean? Your cleaning machine should be able to effectively and completely remove old, tough, dried stains and dirt like food, wine, oils, etc. It should be able to do this with 10-12 passes of the brush. Anything more than that is a lot more effort than should be necessary for a strong and powerful cleaner. However, remember, that generally speaking, the smaller the unit, the less powerful it will be, so don't expect a hand-held cleaner for use in your car to provide the suction and cleaning performance of a heavy, professional-grade tool. 
To reach into tight areas in your vehicle's interior, you need a cleaner that's small enough, or has attachments small enough, to easily fit under and around seats and pedals. Newer models are powerful and compact, allowing you to store them in small spaces and easily move them from one location to another. Smaller brush heads will be able to get into tighter spots on furniture and automobile interiors, giving you a more thorough and all-encompassing clean. 
Consider purchasing an upholstery cleaner machine that can clean multiple types of fabric without damaging them. A good machine will clean rugs, carpets, draperies, car interiors, and higher-end furniture fabrics, giving you a lot of different options for items that you can effectively clean with it.
Q: What are some tips and tricks to using an upholstery cleaner?
A. When cleaning, don't overdo it with the cleaning solution. Some of the cleaning chemicals are strong and can wreak havoc on the components of your upholstery cleaner machine, causing it to malfunction too soon.
Be sure to occasionally clean hoses, brushes, filters, and the suction gate of your upholstery cleaner machine in order to remove mineral build-up and promote efficient function of all your cleaner's parts.
Using distilled water to mix with the cleaning solution will help discourage the build-up of chemicals and damaging residue inside the cleaner machine.
Always pre-vacuum upholstered furniture and carpets prior to using your upholstery cleaning machine to ensure that you remove any surface dirt, dust, or hair and don't spread it around more with the cleaning machine, thus causing your upholstery cleaner to work harder than it needs to.
When cleaning tough stains, it's better to use a back and forth scrubbing motion than a circular one. This tends to lift the stains faster and with less effort. Giving occasional squirts of extra cleaning solution every so often will further aid in the stain removal process.
Q: What are the different types of upholstery cleaners?
A. Upright upholstery cleaner machines are more for home use and designed like typical upright vacuums. They're more suited to carpet cleaning than upholstery, and their attachments are generally too bulky for easy vehicle use. They have wide, motorized, rotating brushes that thoroughly scrub carpet and draw out dirt and stains. Many will have handheld attachments that allow you to clean upholstery in the same manner, with handheld rotating brushes. They're an excellent option if you have lots of carpeting and upholstery cleaning is your secondary concern.
Handheld or portable upholstery cleaners are the best models for focusing mainly on automobile interiors, cleaning furniture, fabrics, and the like. They're lightweight and compact, making them great options for moving from your car's interior into your home and room to room to clean sofa cushions, carpets, chairs, even draperies. They're typically less expensive than larger carpet cleaners with upholstery attachments and are a great option for spot cleaning. They also come in corded or cordless models, depending on your preference.
Steam cleaner machines are aimed more at home use and are the best for truly killing bacteria and germs and disinfecting surfaces. They're super versatile because they're suitable for use on sealed hardwood flooring, laminates, granite, ceramic tile, grout, carpets, upholstery, appliances, and more. The main concern with using a steam cleaner on your upholstery is the temperature of the steam may be too hot and can degrade the integrity of the fabric, damaging it or causing it to have a shorter lifespan; reserve them for tougher, more durable fabrics.
Q. How long does it take for upholstery to dry after cleaning?
A. On average, upholstery can take up to 4-5 hours to dry completely. This means you'll want to let your vehicle's seats, carpeting, and any other upholstered surfaces like the trunk air out before you hop inside and drive around. It's a good idea to open your doors or windows to encourage faster drying after you've cleaned your car's upholstery.
Q. What should I do if I apply too much cleaning solution?
A. If this happens, it can quickly lead to more stains and a huge headache, so stop the shampooing process and try to blot up as much cleaner as you can with an absorbent cloth or towel. Provide a thorough rinse to the upholstery and try to suck up as much as you can before running a drying cycle. If necessary, rinse and blot twice.
Why Trust Us
Our reviews are driven by a combination of hands-on testing, expert input, "wisdom of the crowd" assessments from actual buyers, and our own expertise. We always aim to offer genuine, accurate guides to help you find the best picks.
Learn more