Best Underglow Kit: Paint the Asphalt
What's old is cool again with a fresh take on LED underglow.
We may earn revenue from the products available on this page and participate in affiliate programs. Learn more ›
Let's take a little trip back in time to the early 2000s, when car culture was hot again. The Fast and Furious movie franchise dominated the box office, Daddy Yankee's "Gasolina" was on the radio, Need for Speed Underground was the must-have video game, and everyone wanted an underglow kit. It created a community of car enthusiasts who shared their passion.
During that time, underglow went from being the must-have mod to embarrassing and dated. But life is cyclical, and with a new Top Gun flick back in theaters and 1990s fashion on the runways, it should be no surprise that underglow is making a comeback. Not so fast: These light kits aren't the antiquated systems you remember from 15-20 years ago. Give underglow a chance and embrace the tacky retro-cool look.
Best Overall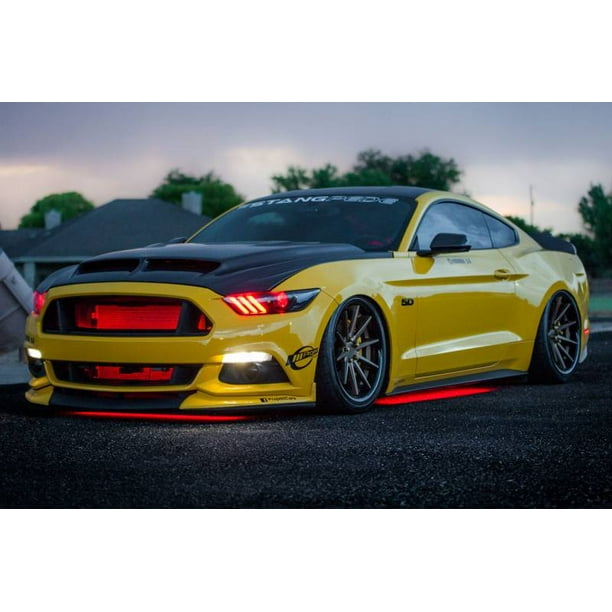 Diode Dynamics Multicolor Underglow Kit
This complete kit is easy to install, made from high-quality materials.
Barrel-style M8 connectors
Can't add additional light strips
Best Value
XKGlow Underglow Light Strips
The single design of this light setup means anyone can install it.
Expandable

Ultra-bright lights
Single color

Cigarette plug power source
Honorable Mention
Stinger Powersports Light Kit
These unique pod-style lights are perfect for creating washes of light throughout your vehicle.
Bluetooth RGB control module

Included extension cables
Instructions not included 

Need multiple sets for maximum coverage
Summary List
Our Methodology
I was in high school during the early 2000s, and I remember sneaking out to underground car meets here in Florida on weekends. I had friends that were forever struggling with their lights and other mods. We are adults now, and nobody has time or patience for troublesome aftermarket parts. Curating this list was like window shopping for the lights we wished we had back in the day. But I'm older, more mature, and experienced now. I looked for lights that were better than the cheap bulbs from China. I started with brands that have a reputation in the community and chose kits that made it easy for someone to outfit their ride and have it not look half-assed.
Best Underglow Kit Reviews & Recommendations
Specs
LED: High-density LEDs
Waterproof rating: IP67
Smartphone app control: Yes
Pros
RGBW
Highly flexible
High-density
Barrel-style M8 connectors
Cons
Can't add additional light strips
With more than a decade of experience, Diode Dynamics has been around the LED block and has established a committed following. This company engineers its products in the United States to ensure high quality. This kit isn't expensive and offers you impressive benefits. It isn't just RGB; there's an extra chip for getting pure white light. A mobile app makes it easy to control the color, strobe, fade, and camera match effects. The color wheel selector makes it possible to choose any color you can think of.
One problem with this kit is that you can't add additional light strips. The included harness is only able to handle four inputs. In addition, the light strips do not have connectors at both ends for multiple connections.
Specs
LED: 8 by 24-inch Tubes and 4 by 8-inch strips
Waterproof rating: Waterproof with no rating
Smartphone app control: No
Pros
Newly designed car controller plug
Kit is expandable to a max of 20 24-inch tubes
Least intensive install
Ultra-bright lights
Cons
Single color
Cigarette plug power source
Stick to your tight budget with this affordable set of LED underglow lights. There are seven colors to choose from: amber, blue, green, light blue, pink, red, and white. The size of this kit is impressive with eight 24-inch tubes and four flexible strips. The simple design of this installation makes it fast and beginner friendly. The ultra-bright LEDs will create a bright glow underneath your vehicle. The extra-long length of the LED strips helps to give you complete coverage. If you need more coverage, you can connect up to 20 24-inch tubes.
Unfortunately, you have to choose a single color for your underglow which limits your customization ability. The connector plugs on this kit are larger and bulkier than other LED kits. You also plug it into your vehicle's cigarette lighter as the power source.
Specs
LED: Four CREE LED pod
Waterproof rating: IPX65
Smartphone app control: Yes
Pros
Bluetooth RGB control module
Plug-and-play installation
Curved rubber mounting pads
Included extension cables
Cons
No included installation instructions
Need multiple sets for maximum coverage
This plug-and-play kit is perfect for creating an underglow effect. What's nice about this kit is that it comes with everything you need for installation and plug and play, making it easy for almost anyone to install. There's a Bluetooth control module with a range of 65.6 feet, which is impressive. There's also plenty of cable for running your lights, letting you put them exactly where you want them. What makes this set different from others are the included extra parts. It comes with flat and curved mounting pads, which gives you more security and stability for the installation.
The biggest problem with this set is that it doesn't come with installation instructions. You'll also end up buying additional lights because one on each wheel well won't look complete.
Specs
Neon: Single tube
Waterproof rating: N/A
Smartphone app control: No
Pros
15 inches in length
Red color
Easy to install
Built-in transformer
Cons
Lack durability
Only a single light
If you have your heart set on sticking with the classic neon tube, then stick with Streetglow. They are the go-to name for neon. While you will struggle with the shortcomings of neon itself, you won't have to worry about build quality. Installation couldn't be more straightforward with tabs for installation, a single plug-in adaptor, and a built-in transformer. Remember that this neon is red, so you won't be able to drive with it on, but it's perfect for when you're parked on private property.
Let's face it, no amount of quality construction can combat the fact that neon is vulnerable to road debris. One good rock hit, and your neon will crack. It's also frustrating that this is only a single light, not the entire kit.
Specs
LED: Flex strips and pods
Waterproof rating: IP67
Smartphone app control: Yes
Pros
Bluetooth controller
Four zones
High-strength 3M adhesive
Daisy chain expansion
Cons
There's a saying among motorcyclists that the more lights you have on your bike at night, the more visible and safer you are. This light kit will ensure everyone sees you coming down the road. Kuryakyn is known for its quality, and you can see it with the additional features built into the kit. Not only do you have custom color choice, but they are also smart LEDs. They can perform practical functions like run, brake, and turn signals. This kit is considered a mid-level kit, so it won't have enough lights to fully outfit the largest of cruisers out there, but it's perfect for illuminating the engine on a larger cruiser or throughout the entire body of a mid-size bike.
If you've never installed an LED kit on a motorcycle, you might be in for a tough time. Take your time and carefully place them so you can't see the bulbs, just the glow. It's easy to end up with visible bulbs and spotty light coverage.
Our Verdict
My top pick for the best underglow kit is the Diode Dynamics Multicolor Underglow Kit because of its high-quality production, extra white chip, and secure barrel-style M8 connectors. For a more affordable option, consider XKGlow Underglow Light Strips. They come with newly designed plugs, are ultra-bright, and offer the largest maximum number of strip connections. 
Things to Consider Before Buying an Underglow Kit
Lighting Type
You have two options, neon or LED. Back in the '90s, when underglow first became a thing, neon tubes were your only option. These lights weren't durable and had you praying to the car gods with every bump and dip in the road. They created a nice glow but were a nightmare to deal with. The glass tube was filled with gas, and a single rock could take out the entire bulb. They tried encasing them in a protective sleeve, but even that didn't entirely fix the issue. LEDs are a much better option. They are way more durable, insanely small for the light produced, and have low energy consumption. You can also have a rainbow of colors at your fingertips. 
Convenient Controls
Back in the day, you'd pick your color, and that was it. If you had a fancy kit, it would come with a remote that you could use to turn them on and off or select from a handful of colors. Today, you have a million colors at your fingertips with a smartphone that lets you customize everything from using multiple colors to flashing in time with the music. Look for a system that enables you to control your underglow from a reliable app with a user-friendly interface.
Design
Three styles of LED lights are designed to be mounted under your ride: pods, strips, and tubes. The pods are good for accents, like puddle lights or illuminating your wheel well. The strips and tubes are better for creating an even continuous glow down the length of your car. Curved strips are used to illuminate your wheels. LEDs are small, so you don't have the same issues with size and weight that old-school neon lights presented.
Legality
There is no real uniformity to state laws when it comes to underglow. Some states do not allow underglow, others limit the color, where you can place it, and when you can turn it on. Some states, such as California, have particular regulations. Other states are more laid back. There are also restrictions on how bright the underglow light can be. So, before you buy any kit, review your state's laws. This modification isn't like adding a tint that's a little darker than legal; police will notice your underglow.
Pricing
You can buy a cheap kit with LED kits that come with a few lights and some wire. Don't do this. These are cheap LEDs with low-quality wiring. They will overheat, flicker, and be a disappointment. Invest in your underglow kit and spend a couple of hundred dollars. You will get better quality lights and wiring, and you'll have more of both. This will help you create a better look under your car.
FAQs
You've got questions. The Drive has answers.
Q: How long does it take to install an underglow kit?
A: It will take about two to four hours to install a complete underglow kit. The exact amount of time it will take you will depend on several factors, including your experience level, the kit's design, and the included instructions. 
Q: Is it legal to drive with flashing lights?
A: No. While state laws vary, it's best not to have flashing lights on your vehicle while operating it on public roads. 
Q: Can I install an underglow kit on a motorcycle?
A: Yes, however, laws restrict how you install the lights. It's also more challenging because it's harder to hide the light bulbs so that all you see is the glow. 
Q: Is an underglow kit hard to install?
A: Installing an underglow kit isn't hard, but it's time consuming. You'll need to lift the vehicle to access the underside. Then attach the lights to the vehicle and run the wiring. Bring all the wires to the power source and connect all the lights to create a complete system. You can wire a switch to the inside of the vehicle. Or you could skip this and set up control through a smartphone app. 
Q: Will an underglow kit kill my battery?
A: LED lights are known for having low energy consumption, which is why they are so popular for aftermarket vehicle additions. While an underglow kit shouldn't drain your battery, there are some factors to consider. Lower quality lights consume more energy. The more lights you have, the more energy the entire system will use. If you're using an underglow kit and other aftermarket accessories together, you need to consider the total power pull of everything on your battery.
Why Trust Us
Our reviews are driven by a combination of hands-on testing, expert input, "wisdom of the crowd" assessments from actual buyers, and our own expertise. We always aim to offer genuine, accurate guides to help you find the best picks.
Learn more