Best Automotive Clear Coat: Give Your Car a Showroom Shine
Restore your vehicle's sleek look and protect the paintwork with automotive clear coats.
We may earn revenue from the products available on this page and participate in affiliate programs. Learn more ›
When your car first hits the dealership lot, it looks its best. That's partly thanks to its sleek, glossy clear coat. Added atop every color of body paint, automotive clear coat is a must-have to protect your car's vibrant color, its shine, and its overall appearance. But clear coat offers more than shine. It can also protect against UV rays, corrosion, and fading color over time. However, as your car spends time outdoors and out on the road, that original clear coat can disappear, especially as you repair scratches, dents, and other flaws that come with wear and tear. Every time you gently buff out a scratch or give your exterior a polish, you're taking some of the clear coat away. That's why it's a smart idea to stock your garage with a quality clear coat that you can apply as often as needed, enhancing the protection and the appearance of your car no matter its age.
Best Overall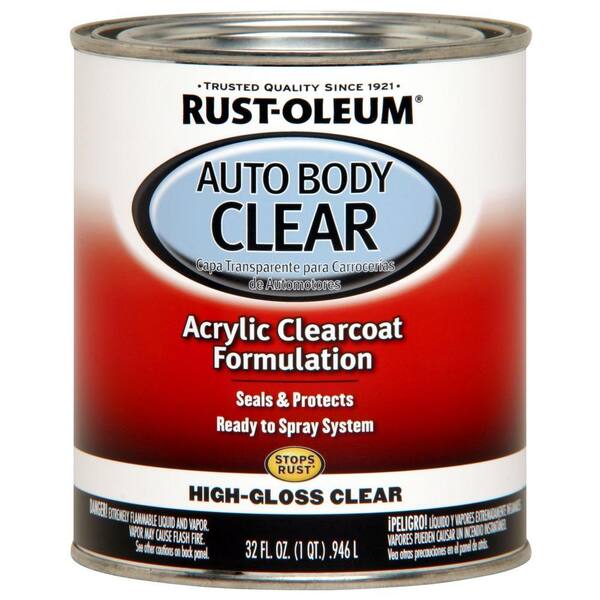 Rust-Oleum Acrylic Clear Coat
This is an acrylic clear coat formulation that's designed to seal and protect your vehicle's paintwork. It cures into a glossy finish.
Can be buffed into a glossy finish

Additional coats can be applied at any time

Can be loaded into a spray gun 

Protects against rust
Somewhat unpleasant odor

Tends to run when applied on vertical surfaces
Best Value
Duplicolor Clear Exact-Match Automotive Top Coat
This is a spray paint formulation that provides smooth and even coats on vehicles, motorcycles, and automotive accessories.
Maximum coverage for a reasonable price

Goes on smoothly and forms an even finish

Quick-drying formula 

Comes with an adjustable spray nozzle
May need several coats for a glossier finish 

Nozzle may clog or let out an uneven spray at times
Honorable Mention
KBS Coatings Diamond Finish Clear Coat
Designed to last through the toughest environment, such as high-temperature automotive applications, this is a high-gloss, moisture-cured urethane coat.
Remains permanently flexible to resist cracking or peeling 

Resists yellowing 

Can withstand high temperatures of up to 300 degrees 

Graffiti doesn't stick on the coat
Leans on the expensive side

Getting the lid open may be a hassle

Leftover paint might harden in the can
Summary List
Our Methodology
Best Automotive Clear Coat Reviews & Recommendations
Our Verdict
Things to Consider Before Buying Automotive Clear Coat
Types of Automotive Clear Coats
Topcoat
Glamour
Turbo
Higher Solid
Key Features
Gloss Level
Drying Time
Ease of Application
Transparency
Scratch Resistance
UV Protection
Automotive Clear Coat Pricing
FAQs