Best Ceramic Coating for Cars: Protect Your Car with a Glossy Finish
It's the invisible shield that works hard to keep your car looking good.
We may earn revenue from the products available on this page and participate in affiliate programs. Learn more ›
You spend a precious Saturday afternoon washing and waxing your car, only for it to get dirty the next time you roll out of the driveway. You can say goodbye to this frustration with a ceramic coating for cars. These detailing products may not be professional-level ceramic coating, but that doesn't mean they can't give you some noticeable benefits. They can make washing easier, prevent water spots, and protect your paint's finish.
Car care manufacturers make sure there's something for everyone. From the guy who wants to spend as little time or money as possible to the enthusiast who will happily spend all day on their routine, there's a ceramic coating for you. So, are you a spray and wipe kind of owner, or are you looking for a multi-step system that gives you complete coverage?
Best Overall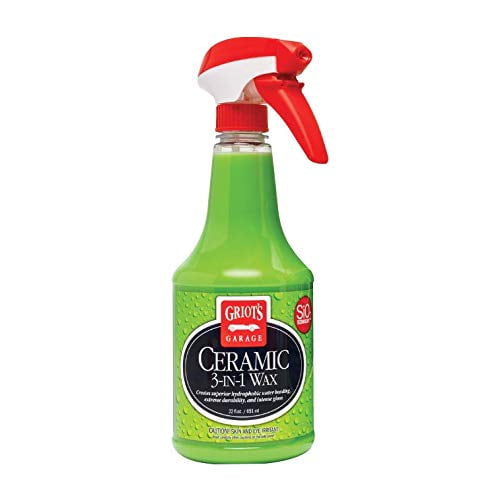 Griot's Garage 10978 3-in-1 Ceramic Wax
This custom-formulated ceramic coating protects your car from grime and environmental factors while creating a deep, glossy shine.
Hydrophobic water beading action

Formulated with advanced polymer
Spray nozzle can create overspray

Can create streaks on dark cars
Best Budget
Turtle Wax Hybrid Solutions Ceramic Spray Coating
This affordable solution helps your vehicle shed water while improving the look of your paint.
Tropical scent

Easy to use
Fogs chrome

Thin consistency
Honorable Mention
Chemical Guys HydroSlick SiO2 Ceramic Coating
This ceramic coating and wax hybrid gives your car the ultimate in hydrophobic qualities.
Up to one year of durable protection

SiO2 gel suspension technology
Complicated and detailed instructions 

Hard to wipe off
Summary List
Our Methodology
The team at The Drive gets that you want to keep your car looking its show-worthy best. When creating this list, I wanted to find ceramic coatings that the average vehicle owner could afford and use on their own. While they may not last for years like a professional ceramic coating, they can still enhance and protect your vehicle's surfaces. I chose products from well-known car care companies with a reputation for consistent quality. I then looked for specific products that had ceramic additives and features. Finally, I choose ceramic detailing products that are hydrophobic, UV resistant, create a glossy shine, and are safe for use with other detailing products. The Drive's Gear About page explains this methodology further.
Best Ceramic Coating for Cars Reviews & Recommendations
This ceramic spray is a top performer, and it is no surprise given that it is from one of the most trusted names in car care. The company took the time to formulate its own ceramic product, helping it to stand out from the others. Don't be fooled by the 3-in-1 wax name. This just tells you that it has an easy spray and wipe application process. You can use it on practically every surface of your vehicle, and it will protect against everything from UV rays to bird poop. The SiO2-infused chemistry means it will shed water off your car's surface like water off a duck's back. This silica derivative works to repel water while not damaging your paint. My one complaint about this coating product is that it doesn't work with black cars. You'll need to put in some serious elbow grease to get those streaks out. I also wish the spray nozzle had better control so that you didn't have to be so careful about overspray.
Pros
Hydrophobic water beading action
Guards against harmful UV rays and environmental contaminants
Safe for paint, wheels, plastic and rubber trim, and chrome
Formulated with advanced polymer
Cons
Spray nozzle can create overspray
Can create streaks on dark cars
Let's be real: This is not a true ceramic coating. However, this spray is a great option if you're on a budget and looking for ceramic benefits. It has synthetic wax polymers to give you hydrophobic protection. It also has additives to help it last for six months. However, how long it actually lasts will depend on your application and care. This particular budget ceramic coating stands out because you can apply it in direct sunlight. It also has a tropical scent that can be more pleasing than some of the chemical smells that these products typically have. Put on a few coats, and you can develop a high gloss shine. Unfortunately, you can't use it on chrome because it gets foggy, and you lose that shine that chrome is known for. The liquid also has a thin consistency, which can make it run during your application. You'll want to be careful about how you spray it to prevent wastage.
Pros
High gloss shine
Designed to last at least six months
Easy to use
Tropical scent
Cons
Fogs chrome
Thin consistency
The Chemical Brothers have developed a cult-like following thanks to their bright colors, pleasant smells, and clever marketing. However, their quality products are what keep people coming back for more. This ceramic coating was custom created to be a hybrid that they call a "hyper wax." It has SiO2 to make it hydrophobic but also protects your car from UV rays while creating a high gloss shine. Apply it correctly and it should last for up to a year. What I like about this particular ceramic coating formula is that you can safely use it with other Chemical Brothers products to create more shine. You can also use it on your windshield or wheels, making it easier to detail your entire car. Unfortunately, if you are a beginner, the learning curve for application can get you. While the company claims it is a ceramic that anyone can apply, there are some caveats. Not following the directions can result in swirls and streaks.
Pros
Crystalline ceramic hyper shine
Up to one year of durable protection
SiO2 gel suspension technology
Cons
Application learning curve
Hard to wipe off
The problem with many of these ceramic coatings is that you can't tell where you have applied the product. This leads to missed spots and uneven coverage, defeating the purpose of applying a ceramic coating. This ceramic coating kit solves that problem with patent-pending Ceramic Glow Technology that makes the coating glow when you shine a UV light on it. This multi-step process is the closest to a true ceramic coating on this list. It boasts a five-year protection time and a hard shell finish, creating an ultra-high gloss shine. You can safely use this ceramic system on clear coat, single-stage paint, lacquer paint, and vinyl wraps. Use the surface prep first, then the paint coating, and finish with the ceramic boost. A potential drawback of this kit is that the multiple steps make for a more labor-intensive application process, creating more opportunities for mistakes. The amount of product you get is also significantly less than other products on this list, leaving little room for over-usage error.
Pros
9H hardness when cured
Over five years of protection even in the harshest conditions
Complete accessories kit
Cons
Extensive application process
Not for beginners
Higher price
The silicone formulation of this ceramic coating gives it hydrophobic ability and optical clarity for a more aggressive shine. But, it isn't just a shine; it is more of a liquid gloss that gives your car a reflective quality. It uses a blend of SiO2 (silicon dioxide) and TiO2 (Titanium Dioxide) to ensure water does not stand a chance. Application is simple with a spray and wipe process. Use it on vehicles of any color because you never have to worry about white marks or streaks. What's nice is that you can use it by itself or over an existing sealant or ceramic coating. Unfortunately, this ceramic coating wears off the quickest out of all the products on this list. If you aren't careful and use too harsh of soap to wash your car, you will be disappointed with the short lifespan of the coating. Use a gentle soap to prevent this. You should also plan on applying multiple layers to help it last longer.
Pros
Super-hydrophobic protection formula
Long-lasting when cared for
Use stand-alone or with other products
Cons
Comes off quickly with harsh soap
Requires multiple layers
Unlike the spray bottles on this list, this squeeze bottle gives you much more application control. This lets you make the most of the 16-ounce bottle. To protect your car, it has Hybrid SiO2 technology, which is a hydrophobic quality ingredient. A unique feature of this liquid is that you can apply it either by hand or by dual action polisher, making it faster to apply. In addition, the liquid is thicker, reducing runs and making it easier to work with. Just apply, let sit for a few minutes, and buff. Unlike other products, this one won't haze when it is ready for buffing. You can safely use it on your paint, chrome, and plastic. It's also safe to use by itself or over your other wax and sealant. The drawback of this product is that it won't add the same level of shine or gloss that you get with other products on this list. This may be OK for you, but if it isn't, you will need to use it with another product on top to add shine or gloss.
Pros
Applies like regular wax
Good UV protection
No remaining wax residue
Cons
Does not add shine or gloss
Application learning curve
Our Verdict
FAQs
You've got questions. The Drive has answers.
Q: How long do ceramic coatings last?
A: A professional ceramic coating application can last two to five years, depending on the method and formula of ceramic coating used. Consumer-grade ceramic products typically last between six months and a year, depending on driving conditions and care taken during washing.
Q: How much should I expect to pay for a ceramic coating?
A: The most affordable and forgiving option is ceramic detailing products. A simple spray and wipe formula will be less than $20. A more formulated specialty coating will be slightly more expensive in the $30 to $60 range. Then there are ceramic detailing kits that are about $100 and come with multiple detailing products and accessories. The ceramic coating you buy will depend on your budget and the results you are looking for.
Q: Can you wash a ceramic-coated car?
A: You should not wash your car when you first have a ceramic coating applied. Wait at least a week for the coating to fully cure. Then you can then hand wash your vehicle out of direct sunlight with a gentle soap. Dry your vehicle post-wash to remove any remaining water droplets.
Q: Is ceramic spray better than wax?
A: A ceramic coating is better at protecting your car from bird droppings, tree sap, pollen, road grime, or UV rays. Wax is a natural material that's susceptible to wearing away. A ceramic coating is a synthetic material that creates a chemical bond with your car's paint, making it stronger and more durable.
Q: Will ceramic coating fill in scratches?
A: Technically, yes. A ceramic coating will fill in swirl marks and scratches because it is a liquid that will seep into these voids in your paint. However, a ceramic coating will not repair the scratches in your paint. So, unless the damage is micro-small, it'll still be noticeable post ceramic coating application. Sometimes defects in your paint become even more pronounced after a ceramic coating.
Q: How do you tell if a car has been ceramic coated?
A: If you just bought a brand new car, it probably isn't ceramic coated unless you specifically paid for this service during purchase. If you bought a used car, spray the car with water and then drive it. The water will gather and stream off the vehicle if it has a ceramic coating.
Q: What happens when ceramic coating wears off?
A: You won't see your ceramic coating peeling or chipping off. Similar to wax, it simply wears thinner and thinner until it completely wears away. The coating's ability to repel water and shed dirt decreases as the coating wears. Eventually, you'll have to get the coating redone.
What should I consider before buying a ceramic coating?
A: Vehicle Condition: A ceramic coating will only enhance and protect your vehicle's current look. This means it is not a solution for restoring or repairing the look of your car. A ceramic coat can sometimes enhance the blemishes and marks, making them more noticeable. If you have a new car, a ceramic coating is a smart choice because it will help your paint retain its like-new finish for longer. However, if you have an older car, you'll want to do some work to fix the paint before applying your ceramic coat. 

Application Method: Professional quality ceramic coatings should be applied by a professional. If you do not have experience with these types of products and chemicals, you risk a lot by attempting to DIY them. This often results in paying thousands to a professional to sand down the messed-up coating and redo it. Instead, opting for a consumer-grade product is a much safer way to go. While you sacrifice longevity and durability, they are much more user-friendly. Consumer products typically have a spray and wipe process that is similar to wax. However, there are some more labor-intensive systems. Only consider these if you are willing to take the time to follow the steps. If not, you won't get the results you're hoping for. 

Protective Qualities: The most common quality a ceramic coat product has is hydrophobic or an ability to repel water. This is good for protecting your car from acid rain and hard water. However, it shouldn't be the coating's only benefit. Tree sap and bird droppings will eat away at your clear coat, so look for a coating that makes it easy to rinse these off. In addition, UV rays will fade your new paint, especially if you live in a climate with a lot of sun or park your vehicle outside. A ceramic coating with UV-resistant qualities can help slow this process down.
Why Trust Us
Our reviews are driven by a combination of hands-on testing, expert input, "wisdom of the crowd" assessments from actual buyers, and our own expertise. We always aim to offer genuine, accurate guides to help you find the best picks.
Learn more