Best Headlight Restoration Kit: Refresh And Revive Your Cloudy Headlights
Make your view clear again with these headlight restoration kits.
The Drive and its partners may earn a commission if you purchase a product through one of our links. Read more.
Few things make your vehicle look old and worn than cloudy, UV-damaged headlights. Not only that, but cloudy headlights limit the reach of your car's headlamps and can hinder your ability to see far enough in front of you at night safely. That's why it's essential to keep your headlights looking fresh and clear.
If you've got damaged headlights and buying a set of brand new replacement headlights isn't in your wheelhouse right now, consider purchasing a headlight restoration kit. While it's not nearly as fun as buying a new car, it will drastically improve the look and function of your headlights without having you go into a five-year payment plan.
We've put together this handy product review and in-depth buying guide to help you weed through the plethora of headlight restoration kits on the market so that you can be sure to get one that will deliver great results.
Best Overall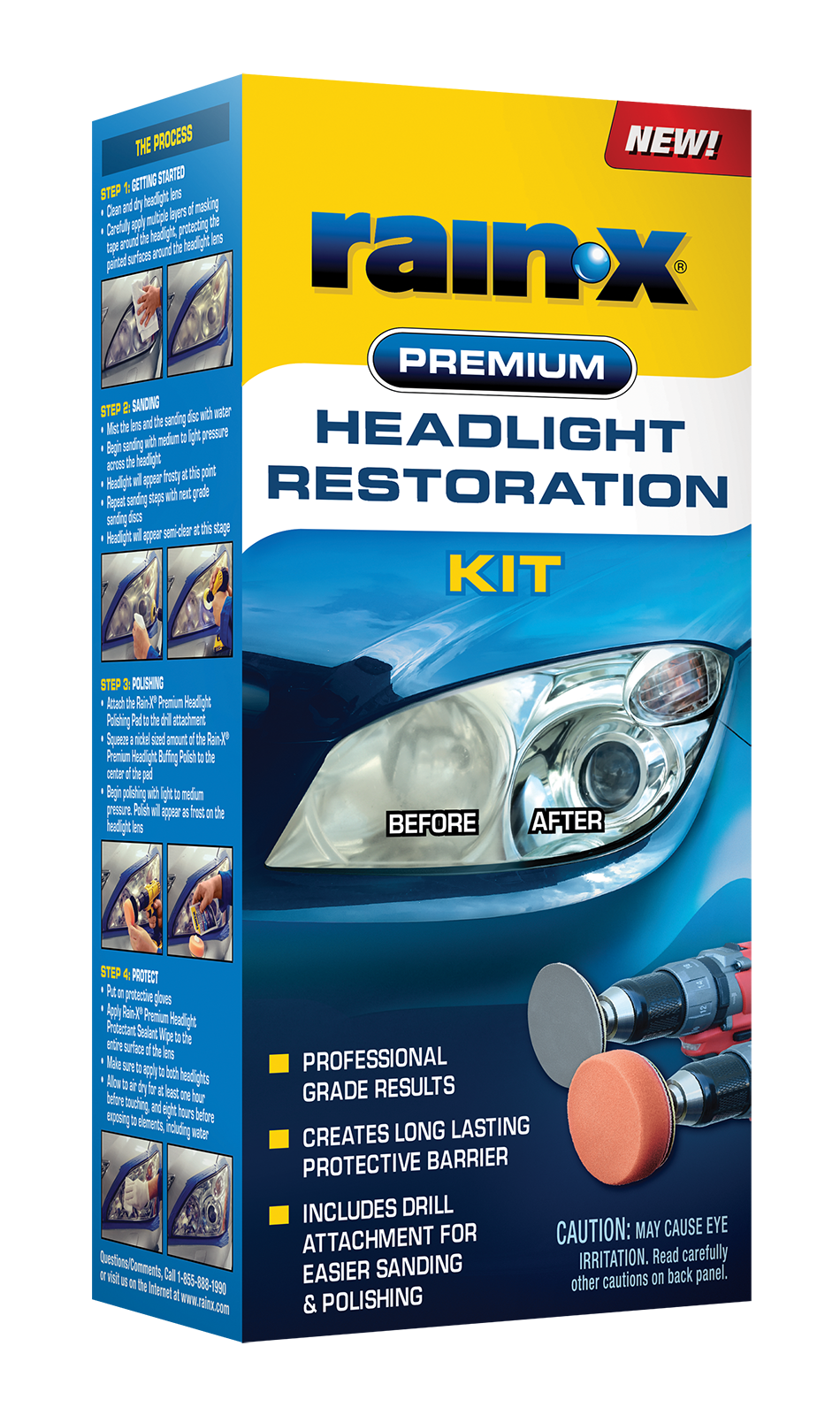 Rain-X Premium Headlight Restoration Kit
A complete all-around kit that will restore clarity and shine to your headlights with long-lasting results.
Includes rugged sanding and polishing pads that won't dull too quickly
Comes with an adapter to use with a drill to sand and polish
Includes a chemical sealant and protectant
Need to be extra careful to apply sanding and polishing pads evenly for a uniform appearance
Best Value
Turtle Wax Speed Headlight Lens Restorer Kit
A great budget-friendly kit that's ideal for minor to moderate headlight damage and cloudiness.
Kit includes a sturdy polishing pad, proprietary renew and restore compound, and two ceramic acrylic sealant wipes
Can be used on all headlights.
Super affordable
Sealant doesn't last as long as some other products
Hand sanding can be difficult without the aid of a drill
Honorable Mention
Meguiar's G2000 Perfect Clarity Two Step Headlight Restoration Kit
A high-quality product from a name you can trust in an easy-to-use two-step kit. Perfect for quick restores on minimally damaged headlights.
A proprietary formula that prevents re-oxidation for up to a year
Easy to apply by hand; no tools needed
Great shelf-life allows for lots of re-use
Doesn't come with an abrasive, making it better suited to fixing minor headlight clarity problems
Why Buy a Headlight Restoration Kit?
Top Brands
3M
Rain-X
Turtle Wax
Headlight Restoration Kit Pricing
Key Features
Single vs. Multi-Step Products
Tools vs. No Tools Needed
Other Considerations
Best Headlight Restoration Kits Reviews & Recommendations 2021
Tips
FAQs
Q: Will resurfacing the headlights improve night visibility?
Q: What causes headlights to get cloudy or yellow?
Q: Can my car fail an inspection because of yellow or cloudy headlights?
Q: How often should I restore my headlights?
Q: Is a DIY headlight restoration kit as good as letting a professional restore them?
Final Thoughts
Other '
Headlights

' Reviews You Might Like: