Keep Mistakes From Becoming Nightmares with These Fire Extinguishers
When your vehicle bursts into flames, these fire extinguishers can keep things under control.
The Drive and its partners may earn a commission if you purchase a product through one of our links. Read more.
Vehicle fires are all too frequent and can cause incredible damage and even death in some cases. Causes can vary and can include production defects, arson, accidents, and mechanical problems. You want to keep yourself, your passengers, and your vehicle safe from the dangers you may encounter while driving. We've compiled a list of the best fire extinguishers for cars to keep you and your loved ones safe.
Cars catch fire. Trust me on that. It's not the kind of fact that makes you feel warm and fuzzy inside, but it's something we need to accept. If we don't, we won't be prepared to properly deal with a fire when one occurs. You need a fire extinguisher in your car. Not just any extinguisher will do, however. You need a fire extinguisher that's the right size, easily accessible, and capable of dealing with the types of fires you're bound to encounter in an automobile. Here are some of my top picks as well as a guide to help you choose the right one.
Best Overall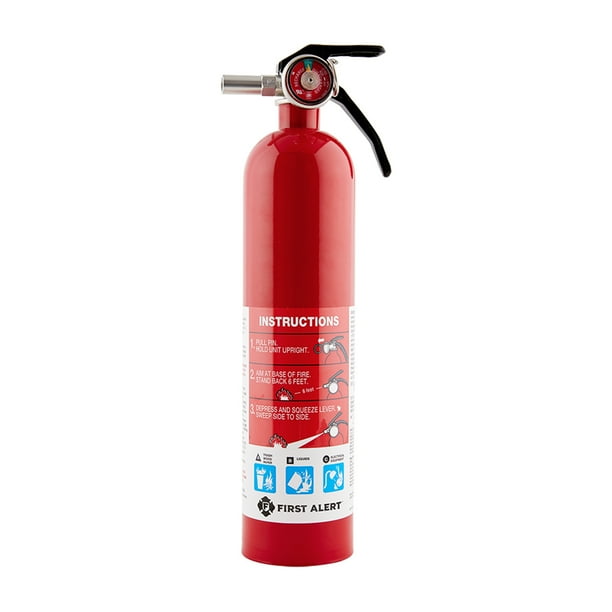 First Alert Garage/Workshop Fire Extinguisher
An affordable, reliable choice ideal for most motorists. It's rated to handle common automotive fires and comes with a simple mounting bracket.
Affordable 

Handles electrical and liquid fires

Rechargeable

Mounting bracket included
Included bracket is flimsy

Lack of Class A rating
Best Value
H3R Performance MaxOut Dry Chemical Automotive Fire Extinguisher
The kit for those who need more than one extinguisher. It's perfect for mounting in multiple locations or vehicles.
Includes three extinguishers

Rated for more fires than most 

Rechargable

Includes mounting bracket
High price point

Not a halon unit as some believe
Honorable Mention
First Alert Car Fire Extinguisher
A compact, affordable option that doesn't scale back on capacity as much as others. The 1.6-pound size gives it that much more to work with than many other compact choices.
Affordable

Compact size

Rechargeable

Includes bracket
Bracket is flimsy

Less capacity
Our Methodology
I set my project car on fire, it accidentally caught on fire, and I think it spontaneously combusted once or twice. Accidents happen, and I'm not afraid to admit that. If I were, I'd probably have a pile of smoldering ash instead of a car now. I do have a fire extinguisher and some knowledge to fall back on when it comes to picking one out. I also made sure to stick to the The Drive guidelines to make sure I offer you a solid list of options to consider.
Why Trust Us
Our reviews are driven by a combination of hands-on testing, expert input, "wisdom of the crowd" assessments from actual buyers, and our own expertise. We always aim to offer genuine, accurate guides to help you find the best picks.
Learn more
Specs
Manufacturer: First Alert
UL Rating: 10-B:C
Size: 2.5 pounds
Pros
Affordable
Can handle electrical and liquid fires
Rechargeable
Mounting bracket included
Cons
Included bracket is flimsy
Lack of Class A rating
First Alert is what's in my car, so I'm going to recommend it. This is an affordable and effective way to add a layer of protection against fires. It's UL rated at 10-B:C, making it good for electrical and liquid fires, which are your primary concerns in an automobile. This is a 2.5-pound rechargeable extinguisher that is just small enough to keep in your car but isn't so small that the usage is severely limited. First Alert also throws in a universal mounting bracket so you can mount the extinguisher where you need it. That bracket is a nice bonus, but it's not something you want to keep around forever. It's a little too flimsy to call reliable, and upgrading as soon as you can is recommended. Also, the lack of a Class A rating is something that will inspire many to look elsewhere.
Specs
Manufacturer: FH3R
UL Rating: 1A:10B:C
Size: 2.5 pounds each
Pros
Includes three extinguishers
Rated for more fires than most
Rechargeable
Includes mounting bracket
Cons
Costly
Not a halon unit as some believe
Usually the pick for Best Value is the most affordable, but the fact that this H3R MaxOut set is a selection of three fire extinguishers makes for a value that's difficult to ignore. Having three extinguishers is great for those who want them at multiple points of the vehicle or in three different vehicles. Don't let the color options fool you. It's purely a style issue. You're getting three 1A:10B:C extinguishers. All three are rechargeable, 2.5-pound units, and the set includes a steel two-strap mounting bracket. Even if the value is there, the price is on the high side. These use a dry chemical agent, not a halon agent like many assume because of the HalGuard name.
Specs
Manufacturer: First Alert
UL Rating: 5-B:C
Size: 1.6 pound
Pros
Affordable
Compact size
Rechargeable
Includes bracket
Cons
Bracket is flimsy
Less capacity than similarly priced units
First Alert's extinguisher is a solid choice for someone who needs a compact fire extinguisher but still wants decent capacity. This 1.6-pound extinguisher cuts down on the amount of space it takes up with its simplified nozzle, making it a solid option when real estate is limited. It's also an affordable unit that comes with a mounting bracket and a 5-B:C UL rating. Despite what you might think due to the unorthodox design, it is a rechargeable unit. Unfortunately, the bracket is made of flimsy plastic, and you need to be aware of that. It should also be noted that this is smaller than many other similarly priced models and will run out much more quickly.
Specs
Manufacturer: Amerex
UL Rating: 3A:40B:C
Size: 5 pounds
Pros
High quality construction
High capacity
Rated to handle more fires than many
Includes mounting bracket
Cons
Expensive
Takes up too much room
This Amerex fire extinguisher is a solid choice to keep around the workshop but does include a bracket for use in a vehicle. The five-pound capacity is good for many reasons, particularly if you think fires are a frequent threat. It's a great unit that's stamped with a 3A:40B:C UL rating, it's rechargeable, and it's a quality extinguisher. The price will steer many away as it's more than double the cost of most extinguishers that are half its size. A large amount of space in your vehicle will be used up if you keep it there.
Specs
Manufacturer: Smoke Doctor
UL Rating: N/A
Size: 7.93 ounces
Pros
Compact and easy to carry
Easy to use
Affordable
Includes two cans
Cons
Not usable for electrical fires
low capacity
Smoke Doctor's 4-in-1 Mini Suppressant is a very compact option that's no different than most other aerosol-type products, but you can carry it in a bag or backpack. It can handle basic fires and liquid fires. It also happens to be an economical choice, which is always a good thing. This product does not have a UL rating, nor is it suitable for electrical fires. Also, it's very small, and you will run through it quickly.
Our Verdict
What to Consider When Buying Fire Extinguishers for Cars
Picking out a fire extinguisher is a little more complicated than simply buying the first thing in front of you. You need a fire extinguisher that is made for automotive fires and can be accessed and used effectively. The good news is that it's all really simple.
Fire Extinguisher UL Rating
Class A
This rating means an extinguisher is made to put out ordinary combustible fires of paper, wood, and plastics. You can run into these types of fires in a car or the shop. Pay attention to the rating an extinguisher has because they can be made for one specific type of fire or have the ability to put out several different kinds. For example, you can have a fire extinguisher with A, B, and C UL ratings, and it can put out multiple types of fire. This is the type recommended for your vehicle.
Class B
The second classification for fire extinguishers deals with flammable liquids such as gasoline, oil, and paint. While car fires aren't usually started with fuel, these liquids are present and can quickly escalate a blaze. Make sure your extinguisher can deal with them.
Class C
The highest classification for regular fire extinguishers deals with electrical fires. These safety products contain non-conductive agents that not only put out the fire but also prevent any electrical current from reaching you. Electrical fires are one of the most common types for cars, so this coverage is crucial for an automotive extinguisher.
FAQs
You've got questions. The Drive has answers.
Q: What causes a car to
A: Many things. It can be a manufacturer defect, fuel leak, improperly installed components, or an electrical short that causes a fire in a vehicle. That's why it's so important to keep a fire extinguisher on board.
Q: Should I carry a fire extinguisher in my
A: Yes. Some would say it's not a necessity because automotive fires aren't that common, but you never know what might happen. When you have a fire extinguisher, you are better prepared for the worst.
Q: Where should I keep a fire extinguisher in my vehicle?
A: Make sure you can get to your fire extinguisher quickly in an emergency. Assuming you don't want it out in the open, a good place to keep it is under the driver's seat, in front of the passenger's seat, or an accessible part of the center console. 
Q: What should I do if my car catches on fire?
A: If you see any smoke or smell something burning, immediately pull over and turn your car off. It is not worth the risk to continue to your destination, and turning the vehicle off can reduce the risk of a fire starting. If there is a small flame or smoke, you can use your fire extinguisher to smother the fire. Keep a safe distance and avoid opening the hood. You should then contact emergency services.