Best Steering Wheel Locks: The Club is Back
Don't let your car remain an easy target.
The Drive and its partners may earn a commission if you purchase a product through one of our links. Read more.
A steering wheel lock could mean the difference between a discouraged thief or an easy swipe. With the rise of recent social media challenges, as well as tough economic times, vehicle theft seems to be on the rise. Not only are cars being stolen for both viral videos or quick cash, but some are being snatched simply because of how easy it is. Exploits in the security systems of select auto manufacturers have been discovered and are quickly being spread around online, leaving many drivers worried that while manufacturers work on providing a fix, their car could quickly become a target. While searching for strategies to prevent this, I researched and gathered some of the best steering wheel locks I could find to put them in a head-to-head comparison.
Best Overall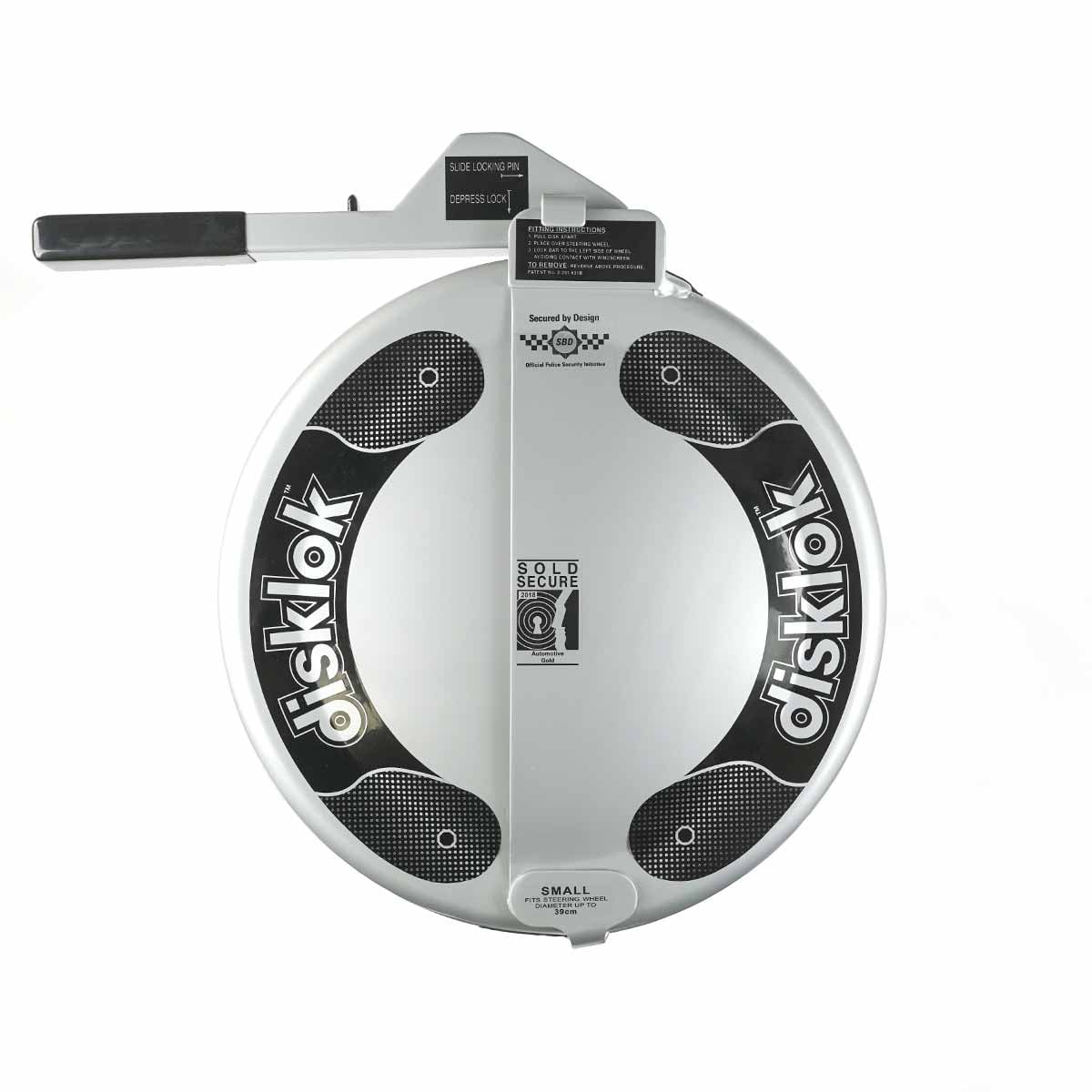 Disklok Security Wheel Lock
An enclosed steering wheel lock with various security features.
Incredibly high-quality build 

Can withstand cuts and attacks

Anti-drill and anti-pick lock design 

Spinning frame to make steering nearly impossible
Higher price point. 

Heavy and bulky construction
Best Value
A classic design from a reputable company that has specialized in steering wheel locks for many decades.
High quality build

Easy to use 

Recognizable and eye catching

$500 deductible guarantee
Lock can fail in extremely cold weather

Its iconic design is also recognizable to thieves who may have the skills to defeat this lock
Honorable Mention
Zone Tech Universal Anti-Theft Steering Wheel Lock
This three-point fixed lock works with airbags and fits most car models. It is made of heat-treated steel.
Affordable 

Universal fit

Bright yellow and very visible

Easy to install
Struggles to fit on some models

May leave marks or temporary indents on some wheels
Summary List
Why Trust Us
Our reviews are driven by a combination of hands-on testing, expert input, "wisdom of the crowd" assessments from actual buyers, and our own expertise. We always aim to offer genuine, accurate guides to help you find the best picks.
Learn more
Our Methodology
We all love our cars and want to protect our investments. As a fellow enthusiast, I strive to provide the most extensive and honest research I could provide, so that your vehicle stays right where you parked it.
I searched far and wide through countless manufacturer websites, YouTube videos, and customer reviews on sites such as Amazon to find steering wheel locks that will be both a visual deterrent and a useful security item. Overall, I chose products based on quality, price, manufacturer reputation, and customer feedback. While no product is perfect, the best on this list fit these roles to varying degrees. Any steering wheel lock that had poor build quality, easy bypass methods or overwhelmingly poor customer reviews were omitted from my list. On top of Amazon listings, I also used manufacturer websites to reference the specs and functionality of each lock. I recommend reading this for more information on how The Drive curates a buyers guide.
Best Steering Wheel Lock Reviews & Recommendations
Specs
Construction: Hardened steel
Style: Wheel cover with spinning feature
Fit: Three size options
Pros
Very high build quality
Can withstand harsh damage
Anti-drill/anti-pick design
Has spinning frame to make almost impossible to crack
Cons
High price point
Heavy and bulky
Arguably the most durable steering wheel lock, the Disklok works by completely encasing your car's steering wheel. The design is patented to spin on attack, making it extremely difficult to remove and almost impossible to drive. Made from high-quality, hardened steel, this device weighs a solid 9 to 11 pounds, depending on the size selected. Not just a visual deterrent, the Disklok is designed to withstand attacks with manual tools. A key feature is the hardened anti-drill and anti-pick design. With more than 1 million possible combinations and 10 internal disks that spin when drilling or picking is attempted, this locking mechanism is one of the toughest to crack. It's made in three sizes for a snug fit and comes with three keys, in case one or two are misplaced. The Disklok is great if you're looking for something extremely difficult to crack, and you don't mind the bulk of the design. All that said, the price point is where the Disklok gets less attractive. The quality and security features are definitely there, making this device worth the investment.
Specs
Construction: Chromoly steel
Style: Twin hook
Fit: Universal
Pros
Good build quality
Easy-to-use design
Recognizable and visible
$500 deductible guarantee
Cons
Recognizable design may attract thieves who know its flaws
Lock can stick in cold weather
The Club 3000 from Winner International is an upgraded version of the iconic red Club 1000. Innovations make it even more secure: twin hooks and chromoly steel construction make it resistant to sawing, hammering, and freon attacks. The patented self-locking feature makes it easy to use: just one pull locks it into place. Yellow is highly visible, and its fit is universal, making this ideal for any vehicle owner who seeks to create a visual deterrent. This model also comes with a $500 insurance deductible guarantee if it fails. While The Club 3000 may be durable, it's not without flaws. If a thief has enough time, it can be bypassed with the right cutting tools or enough bending force. Stealing is about speed, however, and it would still be enough of an obstacle to have a thief reconsider. The locking mechanism can also get jammed in cold weather. Keeping it lubricated helps prevent this, but keep this in mind if you live somewhere frosty. Overall, the design is iconic, the materials are high-quality, and the performance is good, making this a fantastic choice for those on a budget.
Specs
Construction: Heat-treated steel
Style: Tri-point, semi cover with extension bar
Fit: Mostly universal
Pros
Affordable
Universal fit
Can be paired with another steering wheel lock
Easy to install
Cons
Struggles to fit on some models
May leave marks and temporary indents on some steering wheels
The Zone Tech Universal Anti-Theft Steering Wheel Lock is bright yellow and is constructed of steel and heat treated for added protection. This lock is easy to use and takes just seconds to install. It is a universal fit, works with airbags, and is compatible with most vehicle models and steering wheel sizes. The device features atomic computer coding keys and a crescent lock cylinder. Two keys are included. The color makes it a visual deterrent, and users report that it's heavy-duty and effective. It's sturdy, locks easily, and fits perfectly around the steering wheel of most vehicles. However, it may make a temporary indent on your steering wheel. Also, the device is not wide enough for all vehicles, such as a Jeep Cherokee, and several users have been forced to return it despite its universal design.
Specs
Construction: Heat treated steel
Style: Tri-point, semi cover with extension bar
Fit: Mostly universal
Pros
Affordable
Universal fit
Bright yellow and very visible
Easy to install
Cons
Struggles to fit on some models
May leave marks and temporary indents on some steering wheels
The Kaycentop Steering Wheel Lock's strengths are found in its non-traditional design. It is a rope/strip shape lock with a bright yellow cover that wraps around the steering wheel and clicks into the seat belt lock. It's constructed as an alloy steel rope, similar to a bicycle lock, and has a bright yellow strip cover, making it an excellent visual deterrent. Advertised mainly as a steering wheel lock, it can also be used to protect valuables such as bags in your vehicle. It can also be used as a safety measure for those who sleep in their vehicles regularly that want to stop any unwanted guests from opening their doors. This lock is not without its flaws, however, as customers report that its length is not quite enough, the plastic lock cover is thin, and the lock itself can be extremely difficult for even owners to remove. Some reported having to cut the lock completely. The Kaycentop Steering Wheel Lock is affordable and has a universal fit. It comes with a one-year warranty, making it a solid choice if you're seeking a multi-functional lock that can be used by itself or paired with another option.
Our Verdict
Things to Consider Before Buying A Steering Wheel Lock
Key Features
Fit
Modern steering wheels are similar in size, but some models have unique quirks that warrant a universal fit wheel lock to avoid guesswork. If you're driving an 18-wheeler or similarly sized vehicle, consider finding a specialty lock.
Visibility
A key deterrent to theft is the visibility of an obstacle. That means you'll want a lock with bright color and bulk that can be spotted from far away. If thieves can see what they need to deal with before coming close to your car, you're much better off.
Construction
You'll want a steering wheel lock resistant to physical attacks. If a thief decides to break into your car, even after spotting that wheel lock, assume that they've got the toolbox to tackle it. Hardened steel or steel alloys make it much harder for a thief to succeed.
Other Considerations
Size: Although bigger is usually better when it comes to steering wheel locks, keep in mind how much space it will take when stored away. Choose a wheel lock that's the right size so you won't have to deal with the inconvenience of more bulk than you need.
Ease of use: Some steering wheel locks have more connection points than others, making them more secure but also difficult to use. Balance convenience and security so that you're never discouraged from using it.
Guarantee: Some manufacturers offer a warranty or a guarantee that your car won't be stolen. If you're unlucky enough for it to happen, their guarantee pays for part or all of your insurance deductible.
Locking mechanism: A poorly made locking mechanism can be easily broken with tools or brute force.
Padding: If you're worried about damage to your steering wheel from metal edges, find a wheel lock featuring soft padding around latch points.
Steering Wheel Lock Pricing
You may find some good steering wheel locks for under $50. You could spend several hundred dollars on one, but for the most part, you should be able to find a durable one for under $100. That's not bad for peace of mind.
FAQs
You've got questions. The Drive has answers.
Q: Will steering wheel locks damage my steering wheel?
A: An improperly sized lock can leave scuff marks or scratches, but one with the right size shouldn't be a problem with proper care and use. In any case, you can always put a fabric scrap or cloth between the lock and your steering wheel to avoid leaving marks and scratches.
Q: How do I properly install a steering wheel lock?
A: This will largely depend on the steering wheel lock's design. For the conventional bar type, just extend the lock until both hook-ends fix themselves on opposite spokes of the steering wheel, then lock it in place with the key.
Q: What do I do if I lose my lock's key?
A: If you can locate your spare key, try that first. If you've managed to lose that too, then call a locksmith before attempting anything drastic like using a hacksaw.
Q: What kind of steering wheel lock works best?
A: Any steering wheel lock that's built strong enough to resist tampering will work well, but we feel that a well-constructed wheel-to-pedal lock is particularly effective since it prevents both your steering wheel and pedal from being used.