Best Wax for Black Cars: Achieve a Mirror-Like Finish
Bring out the beauty of your black vehicle with these high-quality waxes.
We may earn revenue from the products available on this page and participate in affiliate programs. Learn more ›
You love the sleek look of your black car, but keeping up that shiny black paint is a full-time job. You've tried using regular wax, but it leaves unsightly swirl marks or a white residue, and then there are the micro scratches that degrade the finish of your paint.
Using a black car wax on your black car paint takes your car-care routine up a notch. The specially formulated wax is designed to bring out the beauty and luster of your black paint. It's just as simple to use as any other type of wax. This guide will help you understand why it's so important to use a specially formulated wax for your car's black paint and how to choose the best black wax out there.
Best Overall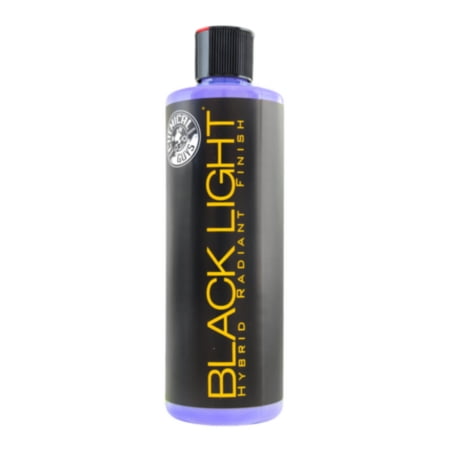 Chemical Guys Black Light Hybrid Glaze and Sealant
This easy-to-apply wax will shine your black paint to a quality that makes it clear as to why folks flock to Chemical Guys.
High-gloss results

Produces a smooth finish

No sealant required
Incompatible with some other products

Lacks some protective features
Best Value
Turtle Wax Hybrid Solutions Ceramic Acrylic Black Spray Wax
Turtle Wax's Hybrid Ceramic spray wax is an affordable way to put industry-leading protection on your black paint. 
Affordable
Easy to apply
Hybrid ceramic offers superior protection
Not as long lasting as competitors 

Outperformed by paste waxes 
Honorable Mention
The solution you need to put your tired black paint back in the show.
Fills in minor scratches

Conditions finish

Contains coconut and banana oil
Designed for vehicles with poor finishes

Container quality is lesser than previous versions
Summary List
Our Methodology
Who doesn't love black paint? While colorful cars are long overdue for a proper comeback, there's no arguing that black is among the best finish for any vehicle. It compliments every curve and adds personality to match absolutely every occasion. Taking care of it is about the only drawback. That said, it's something our team is familiar with. And though we haven't had the chance to test every product on the market, we surely know where to start researching when it comes to finding the best waxes for black paint that today's market has to offer.
Best Wax for Black Cars Reviews & Recommendations
This 16-ounce container of fully synthetic nano-blended delivers maximum high gloss. It creates a super smooth finish that looks wet to create a reflective surface. You'll find the wax is easy to apply, making it user-friendly for car owners of all experience levels. The customized formula is specially designed for black cars with advanced sealants to lock in the shine. This wax stands out because you can skip a sealant step after the wax application. The wax fills swirls to improve the look of your black paint. One potential issue with this product is that its unique formula may not be compatible with other car care products. This can cause both products to not work as well as intended. It's also a glaze and not a wax, so it lacks some of the protective qualities that other products on this list have.
Pros
High-gloss results
Produces a smooth finish
No sealant required
Cons
Incompatible with some other products
Lacks some protective features
Turtle Wax's Hybrid Ceramic solutions are a favorite of many home detailers because they're affordable yet reliable. This specialized formula is perfect for folks who want to take advantage of those benefits for their black paint. Like any spray wax, it's very easy to apply, which is great in any case. That, paired with the superior performance in comparison to traditional spray waxes makes it a no-brainer solution for many. Where it might not be a clear choice is when you want maximum protection. This is a spray wax, so it's relatively short-lived in comparison to paste waxes and should be used as an additional coat as opposed to the base layer of protection because of it.
Pros
Affordable
Easy to apply
Hybrid ceramic offers superior protection
Cons
Not as long lasting as competitors
Outperformed by paste waxes
This black tinted wax is meant for application on cars with dark paint. It will fill in and camouflage swirls and minor scratches. The formulation contains 41 percent carnauba wax. It's meant for use with single-stage black paint jobs. There are additional materials in the wax that will condition and improve the look of your car's paint. It has pure coconut and banana oil. It also has a cresol emulsion dye. The container is nicely sized, and you can get several applications from a single container. Unfortunately, this wax is not meant for cars with paint in good condition. It's meant for cars with serious blemishes. This means it won't perform as well as other waxes on your high-quality paint. Also, the new container doesn't look as reliable or professional as the old version.
Pros
Fills in minor scratches
Conditions finish
Contains coconut and banana oil
Cons
Designed for vehicles with poor finishes
Container quality is lesser than previous versions
The wax is designed for polishing black cars. It comes with black tinting that will fill in the scratches and swirl marks in your paint. It contains a blend of polymers and carnauba wax. This wax works well on cars with a clear coat or more conventional finishes. It also works well on more colors than straight black. It's effective at improving the look of metallic black, dark charcoal, and other similar paints. Unfortunately, you'll need to be careful where and how you apply the wax. It shouldn't be applied to a hot surface or in direct sunlight. You'll also need to put more effort into the application as it can leave a cloudy residue if you don't buff it properly.
Pros
Fills in minor scratches
Works on other colors
Safe for clear coats
Cons
Cannot apply on hot surfaces
May leave behind cloudy residue
This kit is more than just wax. It has everything you need to spiff up your vehicle's black paint, including Hybrid V7 High Gloss Car Wash Soap, Black Light Hybrid Radiant Finish, Hybrid V7 Quick Detail Spray, Butter Wet Wax, microfiber towels, and Hex-Logic hand pads. This kit does a great job of making black vehicles shine and pop, and you will notice a big difference after using it. The products go on smoothly and come off easily, leaving behind a beautiful finish. A little bit goes a long way, and it's easy to use. In addition, just two coats of wax creates a deep black reflective surface. The biggest downside with this kit is that it's a little expensive since it includes so many products. If you only want wax, this isn't the right kit for you. Also, it's a little time-consuming to go through all the stages to achieve the desired look.
Pros
Plenty of products to improve the look of black paint
Products go on smoothly
Easy to use
Cons
Expensive
Overkill if you just want wax
Our Verdict
What to Consider When Buying Wax for Black Cars
There are several factors to take into consideration when choosing a wax for your black car or truck. First, you have to determine what type of wax you plan on using: synthetic or carnauba and spray, paste, or liquid. There are pros and cons to each of them. Also, consider each products' ease of use, protection duration, ability to correct minor blemishes, and other features listed below.
Types of Wax for Black Cars
Synthetic
The majority of modern car waxes on the market are synthetic formulas. These waxes have special additives to give the wax additional qualities, such as UV protection and extreme temperature stability. Synthetic waxes last a long time and can help you achieve a wet look or deeper shine than what you can accomplish with natural waxes.
Carnauba
Carnauba wax is considered the best quality natural wax by car enthusiasts. It's harvested from the leaf of the Brazilian carnauba palm tree. It has a tough finished product to create a durable and UV-resistant protective layer over your car's paint. It also has a water-repelling ability that helps to prevent water from beading up and leaving water spots on your paint. Carnauba wax is long lasting but doesn't last quite as long as synthetic formulas.
Spray
Spray wax is nice because it is a liquid formula that comes in a bottle for easy application. This makes it a good option for beginners and casual detailers. The liquid formula is easy to shake up and remix after it has sat for a while. The majority of spray formulas come in synthetic formulas, making them durable and long-lasting.
Paste
This is the traditional form of car wax and the one that purists swear by. It typically comes in a metal or plastic cup with a screw-off lid. Some even come with an applicator inside. The wax is like a solid puck of candle wax but with a softer consistency. You'll rub the applicator on the wax to transfer some of the product. The downside of paste is that it tends to leave more residue than other types.
Liquid
Liquid wax is the most common form of wax on the market. It's usually applied with a dual-action polisher or a rotary buffer. You can also apply it by hand. Some liquid waxes will be slightly scented to make the waxing process more enjoyable, even though the smell does not affect the end results.
Key Features
Easy Application and Removal
Not everyone has access to a dual-action polisher or a rotary buffer, but that's OK. The best car waxes, especially those intended for use on black or dark-colored automobiles, should require little effort to apply and remove. The instructions should be clear about how much product to use over a specified surface area. A few swipes with a microfiber cloth should be all that's necessary to remove wax as well.
Long-Lasting Protection
Spend a few hours on your car each month, and you'll soon tire of the wax-on, wax-off routine. Choose a car wax that's durable enough to protect your vehicle for months at a time. That way, you won't have to spend more hours and cash on keeping your car's paint clean. Longer-lasting waxes aren't necessarily thicker; they're just a better wax to begin with.
Paint Corrective
The ideal wax should not only protect your car's paint from the elements but boost it as well. Minor surface scratches can be visibly corrected. No extra steps or special knowledge necessary. Black cars are especially prone to scratches and marring defects. Look for a wax with black pigments or blending ability to reduce the visibility of these imperfections.
Wipes Clean
The best car waxes wipe away without leaving a trace except for a protective layering. A variety of factors play into how well a wax wipes off, but generally speaking, the wax shouldn't harden immediately once it is applied. Paste wax is slightly different, but liquid wax should act more like lotion when applied. A wax that wipes clean is also easier to use overall.
Pricing
Good waxes aren't necessarily expensive. For less than $10, you can find wax wipes or 16- to 24-ounce bottles of spray wax or liquid wax. They do a good job of protecting vehicle finishes. Higher-quality and brand-name liquid waxes as well as paste waxes tend to cost a little more and can range from $15 to $20 on average. In this price range, you may also find waxing kits with items such as applicator pads and microfiber towels. For more than $20, you will find wax and polish combos and car care systems, some of which are geared specifically towards black vehicles. Expect to spend more if you want the best results.
FAQs
You've got questions. The Drive has answers.
Q: What's the main difference between regular wax and those that are formulated specifically for black/dark-colored cars?
A: The main difference is the formulation so that the black wax won't leave white residue on your black car. They also have better fillers to reduce the look of scratches and defects. 
Q: If I wax over the scratches on my car, can they still be removed at a later date?
A: Yes, wax isn't a permanent application on your vehicle. It naturally wears away as you drive, from the weather and washing. If you want to fill the scratches later, you only need to remove the wax. 
Q: Will I get better results if I use a dual-action polisher or rotary buffer instead of applying the wax by hand?
A: Yes, but only if you use these tools correctly. A polisher or buffer moves in a circular motion much faster than your hand can. This helps you achieve a more even application of the wax. 
Q: Will waxing remove the oxidation on my vehicle?
A: No. Wax only applies a protective layer over the surface of your paint. Oxidation occurs with the layers of the paint. It won't remove the damage; it can only improve the look of it. 
Q: Do black/dark-colored cars have to be waxed more often than other colors?
A: Not usually. Most black wax formulations have additives that enable them to last just as long as other waxes. 
Q: Does wax work better if I leave it on the car longer?
A: No. Always follow the manufacturer's directions when applying wax to your vehicle. Leaving it on longer only allows it to dry more, making it harder to buff off.
Why Trust Us
Our reviews are driven by a combination of hands-on testing, expert input, "wisdom of the crowd" assessments from actual buyers, and our own expertise. We always aim to offer genuine, accurate guides to help you find the best picks.
Learn more