Best Car Dusters To Keep Your Vehicle Clean
Make your car or truck more presentable, inside and out, with these top products.
We may earn revenue from the products available on this page and participate in affiliate programs. Learn more ›
If having a clean vehicle inside and out is a priority, you probably should invest in a car duster. A buildup of dust or pollen is not only unsightly, but it can also affect your vehicle's performance by getting into the air vents. The ultimate car duster will make car cleaning simple and keep your vehicle nice and tidy looking. Check out our car duster buying guide below for the best car dusters on the market.
I own a classic sports car that occasionally sits in the garage for extended periods of time, and that means it's susceptible to dust buildup inside and out. I always keep a duster for the interior under the seat and another one for the exterior in the trunk, so I can do a quick cleanup before I take it out for the day. While it's tempting to walk into an auto parts store and buy the cheapest duster you see on the shelf, not all of them are created equally. Some are simply better at getting the job done. This list of the best car dusters will help you find the best product to suit your needs, whether you regularly clean your vehicle or only wipe it down when the dust is so thick your friends get snarky about it.
Best Overall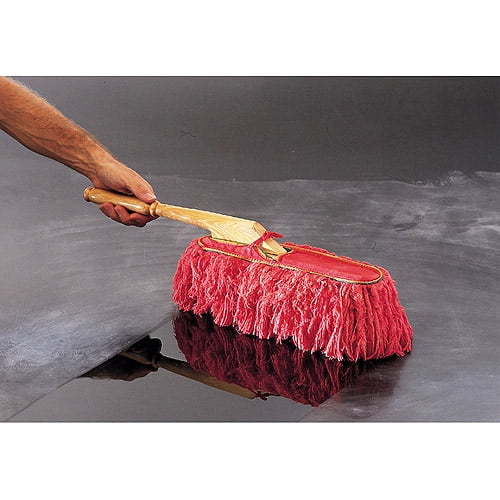 The Original California Car Duster
This duster has a cotton-fiber mop head and is treated with paraffin wax. It is 26 inches long and good for exterior and interior cleaning.
Lightweight

Easy to use

Won't scratch paint

Minimizes number of car cleanings
Can leave lint behind if hot or paint is hot

Removing excess moisture can be a hassle
Best Value
Autospa Microfiber Max Inside Shine Interior Duster
This
Chenille microfiber
duster is seven inches long and is designed to clean the cabin of your vehicle.
Cheap

Perfect for small nooks and crannies

Small and easy to store inside your car
Not designed for large surface areas

Can leave lint behind
Honorable Mention
OCM Premium Extra Large Car Duster
This duster has a 13-inch-long mop head and a wooden handle. It's made of cotton fibers and is infused with wax.
Extra large mop head for more coverage

Non-toxic

Effectively lifts dust and pollen off surface areas
Too large for small crevices

Can leave lint behind the first few times you use it
Our Methodology
I took several factors into consideration when compiling this list of the best car dusters. First, I made sure to pick brands that are well known with a reputation for producing high-quality car care products. For versatility, I included dusters that are designed to be used on either the interior or exterior of your vehicle, and I picked products in a range of prices to suit a variety of budgets. And since I was unable to test every product on this list, I looked at consumer feedback to see how these dusters perform in real world conditions. For more information on our methodology, go here.
Best Car Dusters Reviews & Recommendations
Specs
Brand: California Car Duster
Size: 26 inches
Material: Cotton and wood
Pros
Easy to use
Baked-on paraffin wax lifts off dust
Won't scratch surfaces
Carrying case included
Cons
If the vehicle or duster is hot, it can leave behind streaks or lint
Wrap the duster in newspaper for a couple days to remove excess moisture or wax
Most people who are familiar with car cleaning accessories know about the Original California Car Duster. The company is synonymous with the catch phrase, "The dirtier it gets, the better it works." The duster, which has a cotton-fiber mop head and is treated with paraffin wax, is not designed to be cleaned or washed. Simply shake it out after each use. When it's a bit older and starts pushing dirt around rather than removing it, you can clean it with mild soap and water. The cotton strands are soft, so they won't scratch your vehicle, while the wax helps remove small particles. In addition to paintwork, you can use the duster on windshields and mirrors as well as on a matte finish or vinyl wrap. If you use it regularly, you may not have to wash your car as often. It's a great option for black vehicles, which tend to show a lot of dust and pollen. It has a high-quality wooden handle and comes in a storage case, so you can protect it when it's not in use.
Specs
Brand: AutoSpa
Size: 7 x 5.3 x 0.2 inches
Material: Chenille microfiber
Pros
Inexpensive
Small and easy to store
Great for nooks and crannies
Comfort-molded handle
Cons
Too small for exterior use
May leave some lint behind
I like the Autospa duster because it's small enough to fit into your glove compartment when not in use. Plus, it's an inexpensive option and does a good job of picking up dust, including hard-to-clean black surfaces, in a single swipe. You can use it on the dashboard, cupholder, around the shifter, and by the emergency brake where a lot of dust accumulates. It's a quick way to remove dust from door pockets and consoles, and because it's so compact, you can take it anywhere. The shape and 360-degree dusting design allows you to get into all the nooks and crannies in your vehicle. It's made of Microfiber Max deep-pile chenille and has a comfort-molded handle. You can also remove the head from the handle and clean it in a washing machine. Due to its size, it's not designed to clean the exterior of your car or truck. Also, it may leave behind a little bit of lint and doesn't pick up particles quite as well as some more expensive options.
Specs
Brand: OCM
Size: 22.75 x 3.75 x 4.25 inches
Material: Organic cotton fibers
Pros
Organic cotton fibers
Gets softer and more absorbent over time
Non-toxic
Effectively lifts dust, pollen, and other debris
Cons
Can leave lint and wax residue behind when you first use it
Best to use in the shade
Too large for small crevices
Specs
Brand: Griot's Garage
Size: 13 1/2 inches long
Material: Microfiber
Pros
Squeezes into small spaces
Machine washable
Durable construction
Works on paint, glass, plastic, and more
Cons
Performs best when used with interior detailing spray
The Griot's Garage Microfiber Mini Duster is one of the softest dusters available. It's made of a thick microfiber pile that is durable and long lasting. The duster is 13 1/2 inches long with a 7-1/2-inch-long brush head, providing a good surface area to tackle your dashboard near the windshield and other spots inside your vehicle, such as the center console, the vents, the area between the seats, and the rear windshield. Since the mop head is so compact, you can use this duster in tight spots in your car or truck. It's safe to use on paint, glass, chrome and plastic. And when it gets dirty, simply toss it in the washing machine. The duster does an even better job if you spritz it with interior detailing spray.
Specs
Brand: Barret-Jackson
Size: 11.5 x 2 x 2 inches
Material: Microfiber
Pros
Fits in side pocket of the door
Removes dust and other particles
Bends to fit in awkward spaces
Detailer brush included
Cons
Too small to clean exterior
Requires cleaning after use
If you 're familiar with the car auction company Barrett-Jackson, you might be interested in its eponymous duster. What sets this duster apart from others on this list is that it includes a detailing brush that's great for small, hard-to-reach spots, such as your vehicle's vents. The duster can be used on the dashboard, center console, cupholders, door handles, small crevices, and other areas in your car or truck that are covered in dust, pollen, and other contaminants. The microfiber material won't scratch the surface area or leave lint behind. It's less than a foot long and features an ergonomic handle, which makes it comfortable and easy to hold. You can also put it in the washing machine to clean it. However, it's not designed for exterior use and might need to be cleaned regularly.
Specs
Brand: The Original California Car Duster
Size: N/A
Material: Cotton fiber
Pros
Paraffin wax lifts dust off surface areas
No spray required
Accesses tight spots
Cons
Not for exterior use
May leave lint behind during initial use
The Original California Dash Duster is a smaller version of the The Original California Car Duster and is a great option if you want to quickly clean the interior of your car, truck, SUV, or camper. It features a durable plastic handle and soft cotton-fiber bristles on the mop head. Baked-on paraffin wax aids in lifting dust and other contaminants off your vehicle's surface, so it doesn't require the use of a detail spray wax or cleaner. The wedge-shaped mop head enables you to access hard-to-reach spots, such as where the dashboard meets the windshield. You can also use it in your home on window blinds, electronics, and so on. As with its larger companion, the California Car Duster, it doesn't need to be cleaned unless it gets really dirty. Since it's smaller than its counterpart, you can more easily store it in your vehicle. However, it's a little too small for exterior dusting, and it may leave behind some red lint when you initially use it.
Best for Larger Vehicles
SEE IT
Specs
Brand: Relentless Drive
Size: 21.5 x 6 x 6 inches
Material: Microfiber
Pros
Great for large vehicles
Non-slip handle
Safe for all finishes
Cons
Not infused with paraffin wax
Not ideal for smaller areas in a vehicle's interior
If you have a truck, SUV, or other larger vehicle, you need a duster with more reach. That's where the Relentless Drive Car Duster comes in. It includes an extendable, telescopic handle that reaches 28.5 inches. It also has a non-slip handle that allows you to comfortably reach high areas, such as your vehicle's roof. The mop head is made of 2.5-inch electrostatic microfiber chenille strands that are safe to use on all paint finishes and effectively remove dust and pollen. The company also has a 100 percent satisfaction guarantee in the event that you experience any issues with its product. However, it is not infused with paraffin wax, so you may need to use a detail spray for more effectiveness. Also, since it's so large, it's not as effective at cleaning tight spots in a vehicle's interior.
Our Verdict on Car Dusters
What to Consider When Buying Car Dusters
When choosing a car duster, it's important to pick the right one for your particular job. Most are sized to tackle either the interior or exterior but not both. If the product is too small, it won't effectively clean your finish. If it's too large, it won't effectively reach tiny nooks and crannies. Dusters are also constructed of different materials, so make sure to choose the best one for your needs.
Car Dusters Key Features
Size
Car dusters can range in size, depending on their use. Smaller dusters are designed for interior purposes. These dusters can clean hard-to-reach areas such as vents, cupholders, the space between the seats and the door, and the space where the windshield meets the dashboard. It can be challenging to use a larger duster in a vehicle's interior because they are more difficult to maneuver and simply aren't designed for tight spots. Instead, they do a good job of eliminating dust from your exterior paint, trim, and other areas.
Material
Car dusters are typically made with either cotton fiber or microfiber/chenille bristles. Many cotton fiber products are infused with paraffin wax in order to aid in lifting dust, pollen, and other contaminants off the surface area as opposed to simply spreading it around. Sometimes, these dusters require a break-in period and can leave lint and wax behind when they are first used. Ultimately, they provide some of the best results. Microfiber bristles are particularly soft and also a good job of removing dust without scratching the surface.
Pricing
If you're looking for a budget-friendly duster, there are many options available for less than $10. However, these dusters are typically smaller and are usually designed for interior cleaning. Bigger car dusters are a little more expensive because they feature better materials and are meant for cleaning the exterior of your car, truck, SUV, or camper. Even the most expensive dusters generally cost less than $30, and it's worth spending a little more because high-end products will last for many years if you properly care for them.
FAQs
You've got questions. The Drive has answers.
Q: Do car dusters really work?
A: Yes. If you want to remove dust or pollen from the interior or exterior of your vehicle, a car duster can get the job done (and it looks better than wiping your hand across the dashboard).
Q: Do car dusters scratch the paint?
A: High-quality dusters are made of soft material and sometimes a wax coating that lifts particles off the finish. Cheaper options may be more abrasive and could scratch paint.
Q: How long does a California duster last?
A: If maintained properly, a California duster will reportedly last 10 to 15 years.
Why Trust Us
Our reviews are driven by a combination of hands-on testing, expert input, "wisdom of the crowd" assessments from actual buyers, and our own expertise. We always aim to offer genuine, accurate guides to help you find the best picks.
Learn more