Best Brake Caliper Grease: The Power of Stopping Smoothly
The best brake caliper greases for maintaining stopping power.
We may earn revenue from the products available on this page and participate in affiliate programs. Learn more ›
Brake caliper grease helps extend the life of your brakes by properly lubricating all of its components to avoid brake dust buildup, squeaking, and malfunction due to heavy wear and tear. Brake caliper grease varies in terms of consistency, noise/vibration reduction, operating range, and compatible connections to rubber, plastic, and metal.
Keep reading to learn more about the best brake caliper greases, including our top recommendations and answers to the most frequently asked questions.
Best Overall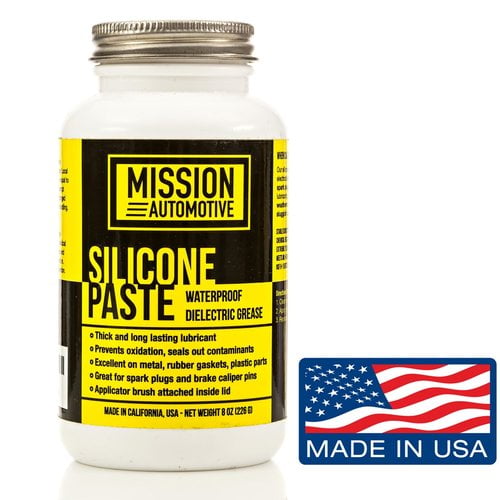 Mission Automotive Silicone Paste Waterproof Dielectric Grease
This waterproof lubricant prevents oxidation, inhibits corrosion, and seals out contaminants. It has a non-melting, stable consistency from -55 to 570 degrees Fahrenheit.
This silicone grease is very thick, slick, and applies quickly
It can be used on metal, rubber, and plastic on items such as brake caliper pins, rubber gaskets, O-rings, and other components
Bristles on the brush may fall out
Because the grease is so thick, it can be hard to get out of the container
Best Value
Permatex Ultra Disc Brake Caliper Lube
This non-melting, synthetic grease can be applied on caliper pins, sleeves, bushings, and pistons to keep them lubricated throughout the lifespan of the brake pads.
This stuff is excellent when properly applied
Price is right
Prevents sticking and uneven wear
Reduces the chance of brake chatter
Tube is very small and contains only 0.5 ounces of lubricant, which is only enough for one brake job
Honorable Mention
CRC Brake & Caliper  Grease
This synthetic grease prevents caliper binding, vibration, and corrosion. It contains molybdenum, PTFE and graphite for an extreme temperature range of -40 to 400 degrees Fahrenheit.
This high-temperature grease is plastic and rubber safe
The small diameter-sized nozzle gives you control over where you put the grease
Resists moisture and will not wash out
Grease is a little tough to squeeze out of the container, particularly in cooler weather
May thicken over time and cause uneven pad wear
Benefits of Brake Caliper Grease
Lubrication. Properly lubricated brake parts simply work better. Your caliper and wheel cylinder assembly is a complex series of internally moving parts, including but not limited to pins, bushings, and caliper slides. All of these mechanisms need to be lubricated to keep the pads sliding optimally within the caliper housing.
Vibration and noise reduction. Brake caliper grease helps limit vibrations and noise generated by caliper pistons and disc brake pads. repeated and hard braking can create excess friction, resulting in squealing noises over time. By lubricating the caliper at the point of brake pad contact, these two symptoms can be eliminated.
Types of Brake Caliper Grease
Mineral Oil-Based Grease
Petroleum-based products underpin mineral oil-based formulas. it may or may not be mixed with additives to achieve better viscosity, consistency, and working temperatures. Generally, petroleum-based brake caliper grease performs worse with high temperature, high torque applications. Because of this, it is not as safe on wheel bearings as silicone and synthetic grease.
Note: mineral oil-based grease also runs louder than standard/synthetic greases with high-speed applications.
Synthetic Grease
Consider synthetic grease the wild card of brake caliper grease. Synthetic greases offer a variety of different formulations with more or less viscosity, additives, moisture resistance, and extreme working temperature ranges. For example, some synthetic grease formulas use lithium or calcium along with additives to enhance working temperatures.
Many synthetic greases are also silicone-based, as opposed to conventional petroleum-based grease with mineral oil.
Silicone Grease
Silicone grease is a jack of all trades, known for its thick viscosity, consistency, and extreme working temperature range. Unlike oil-based greases, it is safer on more brake materials such as rubber, metal, wood, and glass.
Top Brands
Permatex
CRC
Founded in 1958, CRC develops chemical solutions for the automotive, marine, and metalwork industries. Today, it sells more than 1,300 specialty products across four continents. Arguably its best brake caliper lubricant is the CRC Brake Caliper Synthetic Grease.
3M
Multinational conglomerate 3M is a consumer powerhouse, producing everything from adhesives to paint protection films. Today, it sells approximately $30 million annually in consumer goods with close to 100,000 employees. 3M Silicone Paste is an excellent choice.
Brake Caliper Grease Pricing
Under $30. Brake caliper grease under $30 falls into the bargain basement category. These are typically categorized by size. Expect mineral oil-based grease over silicone/synthetic grease with a container size no larger than 8 ounces.
$30 to $50. This price range offers improved extreme working temperatures, higher viscosity, and silicone/synthetic grease over weaker mineral oil-based grease. Note that mineral oil-based grease (comprising petroleum-based agents with additives) works poorly for rubber components and is more easily washed off, hence the premium paid for silicone and synthetic grease.
$50 and up. Brake caliper grease formulas in this price range typically have an increased container size. Expect 20 ounces or greater containers with the same formulation as formulas priced from $30 to $50.
Key Features
Here are some of the more important features to consider when looking for brake caliper grease.
Viscosity
Viscosity refers to thickness. The higher the viscosity, the greater the friction protection, as it produces more stickiness that keeps the formula on your lubricated parts over time. This concept applies to any component, whether it be O-rings, calipers, disk brake pads, or self-adjusters.
Operating Temperature
The best brake caliper grease holds extreme operating temperatures due to the excess heat generated by friction between calipers and brake pads metal-on-metal contact. Some lesser brake caliper grease formulas break down in heat. Our recommendation is to go with silicone and PFPE-type brake caliper grease formulas that can withstand temperatures between -40 and 392 degrees Fahrenheit. Polyglycol follows, working well in temperatures between -40 and 257 degrees Fahrenheit. Avoid PAOIs and ester-based formulas.
Classification
Pay close attention to a brake caliper grease certification. Some formulas are classified as all-purpose (AP) grease and other formulas are classified as multi-purpose grease. The difference between both lies in their stability and durability under immense pressure, with all-purpose grease holding higher operating temperatures, greater viscosity, and all-around better performance than the lighter-duty multi-purpose grease.
Compatibility
Note, some ingredients found in brake caliper grease formulas may not be compatible with your brake pad. For example, PAO and ester-based lubricants are known to attack plastics, whereas silicone and PFPE-formulas work better with plastic. When in doubt, opt for silicone-based brake caliper grease.
Dispensing Method
Many brake caliper grease formulas come with brushes. Look carefully and see if it's a bent versus a straight brush. Some users prefer one over the other based on how comfortable they feel during the application process.
Water Resistance
Look at water resistance very carefully. Waterproof lubricants are better able to keep moisture out, preventing rust and corrosion.
Best Brake Caliper Greases Reviews & Recommendations 2021
This silicone-based compound offers low viscosity and excellent dust resistance. Combined with polydimethylsiloxane (PDMS), a silicon-based organic polymer, it can be used across countless applications from automotive to industrial. This highly rated product is equally effective and safe on all types of materials, including brake calipers, pads, and other internal/external components such as rubber gaskets, hoses, and O-rings. Kudos for its high-temperature resistance (-40 to +500 degrees Fahrenheit)
Be sure to use gloves or the attached brush when applying Mission Automotive Dielectric Grease/Silicone Paste/Waterproof Marine Grease, as its excess thickness makes it difficult to remove and apply without them. Note that many online reviews have blasted the attached brush for loose bristles and the lack of a straight option.
For anyone who doesn't want to buy brake caliper grease in bulk, our best value option, the Permatex Disk Brake Caliper Lube, may be a great pick for you. It's a green, synthetic grease that comes in a 0.5 ounce tube. The fluid is formulated to maintain the lubrication of the caliper pins and slides.
This product is designed to be non-melting, meaning that it will last through adverse braking conditions and promote the longevity of your brake calipers. It also maintains a consistent viscosity even under extreme heat or cold conditions. This means that you may not have to worry about regreasing your calipers as often as you regularly would.
While it's a great product, 0.5 ounces is only enough to cover one brake caliper. Also, it's not safe on rubber and, therefore, you should only apply it on the metal parts. In addition, it's not the best for dampening brake noise.
Don't let the 1980s-looking bottle fool you. CRC Brake Caliper Synthetic Grease is a very formidable option. Its calling card is its unique molybdenum, PTFE, and graphite blend, which works very well with all types of brake components, including disk brake pads, pivot pointers, self-adjusters, O-rings, and calipers. It is also known for its durability ( -40 to 400 degrees Fahrenheit temperature range), lasting for much longer than standard grease.
The CRC Brake Caliper Synthetic Grease is highly rated and is given good reviews for its value, thickness consistency, and generous 8-ounce portion size.
The Versachem 26080 is a great grease for anyone looking to dampen brake noise and prolong brake life. It's formulated with pure synthetic oils and has additives to prevent rust, corrosion, and oxidation. It also includes a sear-stable thickener that helps to improve its high temperature tolerance to provide maximum protection to the applied surface.
The grease comes in an 8-ounce bottle with a convenient brush applicator on the lid. It has a working temperature of -5 to 400 degrees Fahrenheit. The grease lasts longer on a disk brake caliper but it can also be used on spark plug boots, battery terminals, valves, and bushings.
Naturally, this grease has a few drawbacks, too. For one, it has a low operating temperature in comparison to other synthetic greases and, as a result, has a tendency to run hot. It can also get too gummy in the brake system and may need to be washed out to prevent more dust from sticking on the brake pads.
Permatex Ceramic Extreme Brake Parts Lubricant is an all-around performer. It uses a 100 percent synthetic and ceramic solid formulation that works very well on your brake pad backsides, caliper pins, and mounting hardware. It offers an outstanding working temperature range ( -50 to 3000 degrees Fahrenheit) and limits noise and vibration caused by poorly lubricated pads.
We love the fact the Permatex Ceramic Extreme Brake Parts Lubricant is available in different pack sizes, ranging from a single 5-ounce bottle to a 480-pack. The only downside to the Permatex Ceramic Extreme Brake Parts Lubricant is its price. A six-pack costs more than $100 and a single 8-ounce container may not be enough to cover all four brake calipers for a single job.
The Napa Sil-Glyde Silicone Lubricating Compound is a silicone-based compound that works very well on all types of materials, including glass, wood, metal, and rubber. This versatile product prevents squeaks and freezing, halts corrosion and oxidation, and keeps windows and doors from sticking. Waterproofing makes it especially useful for marine applications.
While highly rated, the Napa Sil-Glyde Silicone Lubricating Compound has one main downside. It could use a better operating range. It clocks in between -20 and 500 degrees Fahrenheit, which is far below some of our other recommendations.
Tips
Be sure to apply the proper amount of lube when you're working on the brakes. Using either too much or not enough will adversely affect the effectiveness and/or lifespan of the brakes.
Experts recommend that every time you rotate your tires you clean the grit from your brakes with an air compressor as well as add some lubricant if it's required.
You should replace your brake pads approximately every two to three years, depending on how quickly they wear. Calipers on modern vehicles can last as long as 10 years but should be monitored in the meantime. Using the correct lube will keep your system running efficiently for a longer period of time.
Opt for silicone-based brake caliper grease over other formulas. Silicone grease offers outstanding viscosity and keeps plastic and elastic parts safe, unlike hydrocarbon-based oils. It holds the highest temperature resistance (high-temperature resistance (-40 to +500 degrees Fahrenheit) of all types.
Upon every tire rotation, use an air compressor to clear brake dust and debris off of your brakes. This makes lubricant easier to apply and creates additional stickiness.
Keep brake caliper grease stored in a cool and dry location with temperatures ranging between 46 to 82 degrees Fahrenheit for the best results.
Watch out for synthetic formulas. Some synthetic formulas do not work well with rubber boosts and bushings.
Avoid low viscosity formulas. Low viscosity formulas can drip or run, loosening off of your brake parts and generating wear and tear over time.
Watch your driving conditions. If driving in colder climates, opt for lubricating your brake caliper pins at least quarterly or depending on driving conditions. If not, expect faster wear and tear on your brakes due to increased friction between your rotor and brake pads. Any excess corrosion is a surefire sign your brake caliper pins need to be lubricated or replaced.
Look for brake caliper grease with an extreme working temperature range (e.g. -40 to +500 degrees Fahrenheit). Lower quality brake caliper grease will cause your components to dry out or lubricate to freeze or melt. Watch for non-freeze and non-melt formulas.
FAQs
Q: How do I lubricate my brake calipers?
First, remove rust from the caliper brackets using a wire brush or other tool. Clean or replace hardware, and lubricate any of the metal to rubber friction points.
Q: Can I use regular grease for brakes?
The brakes on your car can get extremely hot, particularly when braking hard or braking repeatedly. Some general-purpose lubricants aren't designed to hold up in these types of conditions. You need high-temperature grease that can take the heat and won't damage rubber or plastic components.
Q: Can I use lithium grease on brake calipers?
White lithium can be used on drum brake hardware and backing plates; however, it is a low-temperature grease, so it shouldn't be used on front disc brakes.
Q: What grease do you use on brake calipers?
Our recommendations on the best brake calipers run the gamut in terms of price point, consistency, noise/vibration reduction, operating range, and compatible connections to rubber, plastic, and metal.
Q: What happens if you don't grease caliper pins?
Not greasing caliper pins could result in sustained wear and tear over time, causing uneven brake pad wear, poor brake-to-rotor contact, and sticking slide pins that cause excessive heat buildup. Excess brake dust buildup can also result.
We highly recommend lubricating your caliper slide pins at least twice a year or as needed based on driving conditions. Colder climate drivers may benefit more for more frequent lubrication.
Why Trust Us
Our reviews are driven by a combination of hands-on testing, expert input, "wisdom of the crowd" assessments from actual buyers, and our own expertise. We always aim to offer genuine, accurate guides to help you find the best picks.
Learn more
Other '
Engine & Performance

' Reviews You Might Like: