Bring Clarity to Your Drive With These Window Cleaners
With the help of these effective cleaning solutions, you'll be able to hit the road and see without a single streak in your way.
The Drive and its partners may earn a commission if you purchase a product through one of our links. Read more.
Few things are more annoying when driving your car than a cloudy, streaky windshield that's hard to see through. Not only is it annoying, it's also dangerous. Whether driving on a clear, sunny day, through rain, snow, or fog, or at night, you need to be able to see what's outside your vehicle clearly and accurately.
There's also something so satisfying about having a car with pristinely clean windows. This is where a good quality, streak-free window cleaner comes in handy. It's so frustrating to clean your windows with a window cleaner only to come back when you want to drive somewhere and see that it has left streaks all over your windshield and windows.
If you're looking for a great car window cleaner that won't disappoint and will leave your windows looking as good as new, we got you covered with our top-of-the-line recommendations and handy buying guide that will help you weed through the hype and get a reliable cleaner that's not a waste of money.
Few things are more annoying when driving your car than a cloudy, streaky windshield that's hard to see through. Not only is it annoying, it's also dangerous. Whether driving on a clear, sunny day, through rain, snow, or fog, or at night, you need to be able to see what's outside your vehicle clearly and accurately and that's where window cleaners come into play.
There's something so satisfying about having a car with pristinely clean windows. And a good quality, streak-free window cleaner is the perfect addition to your home car care plans, especially since it's so frustrating to clean your windows with a window cleaner only to come back when you want to drive somewhere and see that it has left streaks all over your windshield and windows.
Best Overall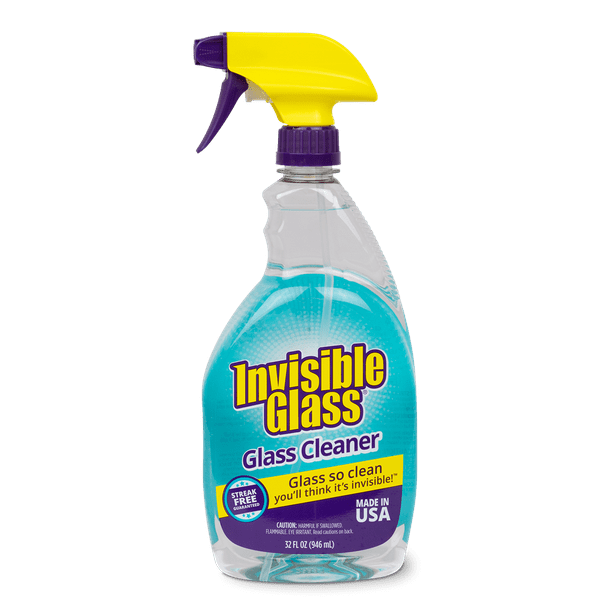 Invisible Glass' Glass Cleaner
Invisible Glass boasts just that: glass that's so clean it looks transparent. The ammonia-, streak-, and residue-free formula makes this glass cleaner safe for use on almost any surface.
32 ounces goes a long way

Cleans car windows and other glass surfaces or windows

Leaves no residue behind
A 32-ounce bottle is a lot to hold if you plan on cleaning a lot of glass at one time
Best Value
Known to some as the industry standard when it comes to glass cleaner, Sprayway comes packaged in a slim can that can easily be stowed for later use.
Easy to apply

Foaming action prevents messes

Comfortable and easy to spray on surfaces
Dropping the can affects the nozzle, which makes it unusable
Honorable Mention
TriNova Streak-Free Glass Cleaner
For a glass cleaner you can use on multiple surfaces, check out TriNova's formula, which works just as hard to scrub off debris as it does in wiping off haze-free.
Tough on hard water spots

Deep, streak-free cleaning

Ammonia-free formula doesn't dry out surfaces
TriNova doesn't provide the most ergonomic design when it comes to bottle size and shape
Our Methodology
The best car window cleaners are those that leave you with a streak-free, smudge-free line of sight whether you're looking out your passenger windows or your front windshield. And that was the key metric we used to compare different cleaning products — our top picks are products that are formulated to leave windows crystal-clear, free of all kinds of marks from smudges to water spots to bugs and debris. We took a look at the formulation of each cleaner, looking for items that are potent yet safe for use on tinted windows. And we dove into users' reviews to assess what kinds of results each cleaner could deliver when put to the test on dirty car windows.
Why Trust Us
Our reviews are driven by a combination of hands-on testing, expert input, "wisdom of the crowd" assessments from actual buyers, and our own expertise. We always aim to offer genuine, accurate guides to help you find the best picks.
Learn more
Best Car Window Cleaner Reviews & Recommendations
Specs
Application Method: Spray nozzle
Size: 32 ounces
Safe for Tinted Windows?: Yes
Pros
Long-lasting cleaning solution
Tough on dirt and grime
Doesn't leave residue, streaks, or haze behind
Safe for chrome and tinted windows
Cons
Large bottle can get heavy to work with
Can't adjust spray pattern
Invisible Glass wins our pick for the best car window cleaner overall because it's the most product that you can get for the price and that removes a number of contaminants without leaving a single streak. This automotive glass cleaner comes in a 32-ounce spray bottle.
They don't call it a mirror-like finish for nothing. When you clean a mirror, you want to be able to see a crystal clear image, so that's why we chose Invisible Glass. You won't have to worry about hazing, streaks, or residue. Invisible Glass even works on chrome surfaces to shine up your bling. The formula is ammonia-free, so it's safe to use on tinted windows. The spray bottle packaging means you won't have to worry about the compressed air within, as you would with an aerosol can.
However, you might find the spray bottle, at over 30 ounces of product, becomes heavy over time. You also aren't able to adjust the spray pattern, unfortunately. At the same time, Invisible Glass makes it easy for any driver to clean their windows with ease.
Specs
Application Method: Aerosol spray
Size: 19 ounces
Safe for Tinted Windows?: Yes
Pros
Recycled steel canister
Contains zero ammonia and ozone-depleting chemicals
Little to no fragrance or scent
Easy to apply broadly
Cons
Can't be used if nozzle is damaged or altered
A close second, Sprayway's Glass Cleaner wins our value pick this time around. A favorite among professionals, Sprayway gives a nod to the environmental folks with their recyclable cans that are actually made of recycled steel. It just goes to show that you can clean your windows and save the environment at the same time.
In all seriousness, Sprayway brings a strong, no-drip formula to the table. With zero ammonia and ozone-depleting chemicals, you won't have to worry about damaging your tinted windows or the ozone layer. Sprayway's glass cleaner has little to no aroma. With a replaceable cap and an ergonomic can shape, Sprayway glass cleaner offers up a small-but-mighty product.
Like almost any aerosol can, losing the nozzle means the can becomes a dud. Without any way to release the glass cleaner within the can, your only choice is to dispose of the product. Aerosol glass cleaners are harder to store since they have to be upright and can be awkward to stuff behind a seat or in the trunk. For all intents and purposes, however, Sprayway is a product nearly any driver can use.
Specs
Application Method: Spray nozzle
Size: 18 ounces
Safe for Tinted Windows?: Yes
Pros
Easily removes hard water spots
Not animal-tested
Free of ammonia
Easy to apply
Cons
Not the most ergonomic bottle for those with larger hands
There are many products we could have chosen as our honorable mention, but TriNova caught our attention with one simple characteristic. This humble glass cleaner is able to remove hard water spots with ease, whether they're discoloring your vehicle's paint or hazing up the inside of your shower doors.
TriNova also sets itself apart by not testing its products on animals. Their car glass cleaner is packaged in a spray bottle with a long trigger for better grip during application. The TriNova glass cleaner is rated for both indoor and outdoor use, so you can clean anything from your RV to your patio furniture. The streak- and ammonia-free formula makes it an easy alternative to our top picks above as well.
The spray bottle TriNova packages its glass cleaner in isn't the most ergonomic. Gripping the product, with its small trigger and wide-shouldered bottle design, could be difficult for you, especially if you have larger hands. However, this glass cleaner is easy for almost anyone to use.
Specs
Application Method: Spray nozzle
Size: 16 ounces
Safe for Tinted Windows?: Yes
Pros
Non-toxic, ammonia-free, and gentle on surfaces
Widely versatile for windows, mirrors, and even electronics
Breaks down dirt, bugs, and other debris
Fresh scent
Cons
Can streak if not wiped carefully
Nozzle can loosen up with use
Chemical Guys is a reliable company that never fails to deliver high-quality products. This time, it offers a highly efficient glass cleaner that can be used on car windows, mirrors, computers, phones, and more. With such a wide application, it's one of the most versatile cleaners on the market. You can use it on your vehicles as well as around the household.
What makes this product stand apart from others is a unique streak-free formula. The liquid sprays and spreads on the surface with ease, removing dirt, dust, debris, bugs, and other types of residue without leaving streaks. The formula is also non-toxic and ammonia-free, which makes it safe to use on all kinds of surfaces. You can even use it on tinted windows. Additionally, the cleaner leaves a fresh smell that lingers.
There are a few things to keep in mind with this cleaner, though. First of all, it might leave some streaks on the exterior if not wiped off carefully. It might require some extra elbow grease. Secondly, some users noticed that the nozzle tends to loosen up after a while.
Specs
Application Method: Spray nozzle
Size: 23 ounces
Safe for Tinted Windows?: No
Pros
No-residue formula
Cleans quickly and with little elbow grease
No buffing required
Protects and repels rain
Cons
Can damage interior tint
Bottles may leak during shipping
If you're looking for a versatile product you can use on different glass types, this might be a perfect choice for you. The Rain-X cleaner is ideal for all kinds of vehicles and windows around the house. You'll be able to clean glass surfaces rather quickly and effortlessly.
The Rain-X cleaner features an efficient formula that removes snow, ice, bugs, dirt, water spots, and other residues. It also leaves a protective coat that repels rain. The application is super easy — you just need to spray the liquid on the surface and wipe it off. No extra buffing is required. Also, the product leaves no residue behind, so you won't notice those annoying streaks after cleanup.
The main drawback of this product comes from the powerful formula. It might damage the tint on the inside glass of car doors, so make sure to use it with extra care. Also, some buyers complained about getting bottles that leaked during shipping.
Specs
Application Method: Pour and dilute
Size: 1 gallon
Safe for Tinted Windows?: Yes
Pros
Cleans exterior and interior of windows
Can be diluted to varying strengths
Works on dirt, bugs, and residues
Easy to spray and wipe
Cons
Does require extra buffing for a flawless finish
Strongly scented
Meguiar's is one of the best-rated companies when it comes to automotive cleaning products. With a wide range of cleaners, polishers, and waxes, it provides customers with many choices. Our pick is the glass cleaner concentrate that proves to be very efficient in removing dirt, bugs, and other residues from glass surfaces.
The concentrated formula is incredibly effective at cleaning both the inside and outside of car windows. You get to have crystal clear glass without much effort. The liquid sprays and wipes off effortlessly, which makes the overall cleaning process as easy as it can get. Although very powerful, the formula won't damage the window tints and is safe to use. The product comes in a 1-gallon bottle and lasts for quite a while.
Just keep in mind that this product might require some extra buffing for flawless results. It tends to leave some streaks if not wiped thoroughly. Also, a lot of users complained about the strong scent that lingers for quite a while. You might need to wait sometime after cleanup to drive your vehicle.
Specs
Application Method: Spray nozzle
Size: 23 ounces
Safe for Tinted Windows?: No
Pros
Works on vehicles and household surfaces
Reliable, consistent performance
Easy to achieve streak-free finish
Little elbow grease required for cleaning
Cons
Only ammonia-free Windex is safe for tints
Can streak if you aren't using a lint-free cloth
What list of top-quality glass cleaners would be complete without a product from Windex? Windex is probably the largest and most well-known manufacturer of reliable glass cleaners in the world, and the Windex Glass and Window Cleaner is perfect for use on automobile glass. It starts working right away to deliver a top-notch streak-free cleaning.
This glass cleaner is also an excellent choice for use on multiple surfaces, such as mirrors, sealed granite and marble, stainless steel, UV-protected windows, glass stovetops and shower doors, bathroom surfaces and fixtures, plastic, tile, vinyl, aluminum, and more. With a bottle that's made from 100 percent recycled ocean-bound plastic, it's also an environmentally friendly option. Be sure to use a lint-free cloth or dry paper towel to get a streak-free finish. Other materials may leave streaky residue behind.
Specs
Application Method: Spray nozzle
Size: 16 ounces
Safe for Tinted Windows?: Yes
Pros
Leaves behind a protective layer to fight dirt
Eco-friendly
Ammonia-free formula
Fresh, pleasant scent
Cons
Can leave behind residue
Can leave behind a foggy haze
Adam's Glass Cleaner is an efficient product you can use on both inside and outside car windows. It comes from a reliable company that never fails to deliver high-quality products. With a powerful formula, this cleaner proves to be one of the top products within the category.
The cleaner has a concentrated formula that is safe to use on tinted and non-tinted windows. It applies in a breeze and leaves a protective coating on the surface. The product is eco-friendly, doesn't contain ammonia, and ensures enhanced visibility. It's ideal for removing dirt, dust, debris, water, and other substances. Additionally, it has a fresh smell that lingers.
The main drawback of the product is the tendency to leave some residue. The glass might be foggy if not wiped carefully. There's another possible issue with the product. Some buyers didn't receive the bottle with the sprayer nozzle. Having to use the sprayer from another bottle is quite inconvenient.
Specs
Application Method: Spray nozzle
Size: 22 ounces
Safe for Tinted Windows?: Yes
Pros
Clear, shiny finish
Ammonia-free formula
Easy to apply, easy to finish streak-free
Won't damage other automotive surfaces or finishes
Cons
Spray trigger isn't the most durable
Another well-known and trusted name in interior auto care is Armor All, and the Armor All Auto Glass Cleaner is a prime example of why. This auto glass cleaner is a tough and efficient spray that works on both your car's interior and exterior glass. This product is specifically formulated for your car, so it's able to tackle some seriously caked-on dirt, dust, and grime without damaging specialized automotive surfaces. It works great on your boat and RV as well.
You can also use this cleaner on a multitude of other surfaces, including household vinyl, tile, glass, marble, granite, aluminum, and more. This, and all ArmorAll products, are proudly manufactured in the United States. As an added tip, try using newspaper instead of paper towels with this product to clean your glass. The newspaper also acts as a polishing agent, giving you even more clarity and shine. Some customers complain that the trigger on the spray nozzle needs to be a little larger and more durable.
Specs
Application Method: Spray nozzle
Size: 32 ounces
Safe for Tinted Windows?: Yes
Pros
Versatile for vehicles and household use
Safe for tint and tint films
Removes residues and haze from other products
Safe for electronics
Cons
HOPE'S Perfect Glass Cleaner gets a shout out for being ranked the number 1-rated glass cleaner in testing by a major leading consumer magazine in 2008, 2011, and 2015. It cleans faster and with less effort than some other glass cleaners on the market. Specifically designed with a no-residue formula, this glass cleaner easily eliminates the haze that many others leave behind. Because it's ammonia-free, it is completely safe to use on your car's tinted windows and tint film coverings.
As with many other glass cleaners on our list, Perfect Glass Cleaner is also safe and effective for use on mirrors, tabletops, glass cooktops, light fixtures, TV screens, shower doors, sealed granite and marble, computer screens, and more. If you choose to use it on computer or phone screens, be sure to spray the cleaner on a cloth to wipe the screen, and not on the screen directly. It's also not recommended to use this product on prescription eyewear, as it can damage the UV and anti-scratch coatings.
Specs
Application Method: Disposable wipes
Size: 28 wipes
Safe for Tinted Windows?: Yes
Pros
Easy to apply and use
Portable and won't spill
Works on interior and exterior of windows
Strong enough for bird droppings and bugs
Cons
Really best used for quick cleanups
May leave behind residue
The Invisible wipes are ideal for those who are looking for a quick cleaning solution that can be used on the road. They come in a convenient container you can take with you and keep within hand's reach for emergencies. For such versatility and portability, they are also very well priced.
These wipes efficiently clean glass surfaces, removing bird droppings, bug splatters, dirt, grime, and more. They don't leave any streaks or residue themselves and allow for hassle-free use. You'll be able to easily wipe away annoying residue from both inside and outside windows. Additionally, the wipes are ammonia-free. They are safe for tinted windows and don't leave any odors. All in all, these wipes make cleaning glass surfaces super easy.
Still, it's important to keep in mind that these wipes are designed for quick cleanups. Therefore, they are not the best solution for removing stubborn stains and piles of dirt. Also, you might need to use a microfiber towel to wipe the surface after the first cleanup. This way, you can avoid possible residue that the wipes might leave on the surface.
Specs
Application Method: Spray nozzle
Size: 32 ounces
Safe for Tinted Windows?: Yes
Pros
Tackles residue, greasy spots, water spots, and more
Free of VOCs, alkylphenol surfactants, and petroleum
Not tested on animals
Won't streak when wiped
Cons
Can leave streaks if you don't use a lint-free cloth
If you're looking for a greener, more eco-friendly car window cleaning solution, the Better Life Natural Streak-Free Glass Cleaner is a great option. This cleaning formula is made with plant-based ingredients, and it's free of all those not-so-healthy (or environmentally friendly) ingredients like VOCs, alkylphenol surfactants, alcohol, synthetic fragrances, parabens, dybers, and petroleum. And it isn't tested on animals, either. Plus, this cleaner really works. It's suitable on glass, including auto glass and treated windows with tints; it can even be used on chrome and acrylic. It'll remove dirt and grime, tackle greasy streaks and fingerprints, and fight water spots, too.
However, do keep in mind that this cleaner can streak if you're not wiping it with a lint-free cloth. Paper towels in particular tend to create harsh streaks on your car windows.
Our Verdict on Car Window Cleaners
When it comes to the best of the bunch, you're going to want to equip yourself with Invisible Glass' Glass Cleaner. This top-tier car window cleaner leaves your windows beautifully clean and streak-free, plus it's safe for use on almost any surface. But if you're keeping value at the top of your mind, consider Sprayway Glass Cleaner. It's a much-loved choice for automotive cleaning and detailing, and it's priced affordably.
What to Consider When Buying Car Window Cleaner
Plenty of cleaning products promise to clear away dirt and debris without leaving any smudges or streaks behind. Unfortunately, far too many don't live up to those big claims. Here's what you'll want to look for as you shop so you know you're getting a top-tier, highly effective cleaner.
Types of Car Window Cleaners
Aerosol Spray Can
Many glass cleaners out there today are compressed into a spray can for easy application. The replaceable cap is useful for storing and using the glass cleaner at a later time. Aerosol glass cleaners typically foam up and thus require a bit of shaking to prime. We don't recommend storing spray can glass cleaners upside down. Keep them in a cool, dry place where they can stand right side up.
Spray Bottle
Another popular way to package glass cleaner is in your typical spray bottle with a squeeze trigger. Many bottles range anywhere from 19 to 32 ounces and should be stored right side up, as you would with aerosol glass cleaners. You might find the squeeze trigger easier to use than the spray nozzle since there is more surface area for your finger to contact. Glass cleaner in spray bottles is not compressed, so there's less of a chance of it exploding in extreme circumstances. Be sure to store it in a cool, dry place when not in use.
Wipes
Glass cleaner wipes are probably something you've seen used for cleaning eyeglasses. We don't recommend using them on your entire car since you'll easily go through at least three or four wipes, making them a less economical option than spray cleaners. However, they can be useful if you're trying to see out of your windshield/side mirrors or need to clean off your headlights for safety reasons. Wipes typically come in resealable packs that can be easily stored in a door pocket or behind the seat.
Non-Toxic
Knowing what's in your glass cleaner can mean a world of difference if you have tinted windows. Choosing a cleaner that's ammonia-free ensures your window tint won't break down and degrade faster than it should. Alcohol allows the glass cleaner to evaporate quickly, but such an ingredient may adversely affect your senses. If you're worried about other chemicals that might be found in glass cleaner (such as alcohol), check the label before you buy.
Car Window Cleaner Key Features
Easy Application
Applying glass cleaner to your vehicle shouldn't be the hard part. Choose a glass cleaner that goes on easy in whichever way you choose, whether it's via a spray bottle, aerosol can, or glass wipe. Spray bottles tend to be easier to use, but you may find the spray nozzle on an aerosol can to be less demanding of your hand. Multiple spray patterns aid in quick application as well.
Chemical Components
Most car window cleaners have chemicals, such as ammonia, chlorine, butoxyethanol, and more. While these chemicals are great at cleaning and not leaving behind any streaks, they can be harmful to children, pets, and people with skin sensitivities and allergies. If you're concerned about that, consider choosing products with natural ingredients, such as vinegar and essential oils that are less likely to irritate your skin and respiratory tract.
Stowable
Unless you have the luxury of washing your car at home, you'll have to keep a bottle or can of glass cleaner handy in the back seat or trunk of your vehicle. Glass wipes win out overspray bottles and aerosol cans in this aspect because they don't need to be oriented a certain way to avoid spillage. However, spray cans are more flexible in this sense than spray bottles.
Rated for Tinted Windows
Whether or not your windows are tinted, you should purchase a glass cleaner that is safe for this type of aftermarket upgrade. Tint-safe glass cleaners don't include ammonia in their formula, so stay away from those products that list it as an ingredient. The more non-toxic your glass cleaner is, the safer it is to use not only on your glass but also in other applications as well.
Scent
Most glass cleaners carry a less-than-noticeable scent that quickly dissipates once the product hits the air. Like anything automotive-related, however, there might be some manufacturers that add a little aroma to their products. If scented glass cleaner is something you're sensitive to, make sure the product you choose has nothing more than a trace of chemical smell. It might not be completely odor-free, but it's as close as you can possibly get.
Streak-Free
Glass cleaners only work when they leave your windows looking new. Choose a streak-free formula so you don't have to climb in, out, and around your vehicle trying to make sure you wipe away all the haze. Glass cleaners that leave a residue behind are notorious for causing streaks, so avoid these products if you can.
Car Window Cleaner Pricing
Car window cleaners are very affordable. In fact, most single spray bottles and aerosol cleaning solutions are priced at just $2 to $10 total. You'll also find single-use wipes within this price range. For $11 to $25, you can get more cleaning solution per bottle or pack. And if you want a comprehensive kit, you can get car window cleaner plus microfiber towels, wipes, and other accessories for $26 to $35.
FAQs
You've got questions. The Drive has answers.
Q: Should I avoid any areas of my vehicle when using glass cleaner?
A: While many car glass cleaners are safe and recommended for use on multiple surfaces, including household applications, be sure to read the label of the brand you choose prior to use. Some glass cleaners can damage stickers or decals, as well as remove the lettering printed on your dash, stereo, and steering wheel.
Q: Can I use glass cleaner on the interior of my car?
A: Again, this depends on the brand of glass cleaner that you use. Most are safe for dashes, door handles, touch screen displays, vinyl seats, etc. Read your label first, though, to avoid damage and heartache. We certainly don't recommend using glass cleaner on your car's leather interior, either.
Q: Will glass cleaner remove bugs/tree sap/tar/road paint/bird droppings?
A: In theory, most glass cleaners will be effective at removing bug guts and bird droppings, depending on how thickly these things are coated onto your windows. However, for most tough cases, you'll need a stronger, more targeted cleaner, especially for really sticky and tough tree sap, tar, and road paint. We recommend trying more aggressive cleaners on an inconspicuous area first to ensure that they don't damage your car's finish or paint.
Q: What's the best way to apply glass cleaner?
A: The best way to apply car glass cleaner is to spray the cleaner directly onto a clean and soft microfiber or paper towel, then apply this to the windows in a uniform direction. Try to keep a set of towels dedicated only to window cleaning to ensure they don't get contaminated with other chemicals and leave behind unsightly greasy streaks and debris, or worse, scratch the surface of your windows. Try also to avoid applying glass cleaner in extreme heat or direct sunlight, as this can cause it to dry out faster than you can wipe it off, leaving streaks behind.
Q: How often should I clean my windows?
A: While many people recommend cleaning your windows each time you wash your vehicle, you may be able to get away with cleaning your interior windows less frequently. However, if you have children or pets who tend to touch the windows and windshield frequently, you may want to clean more often. If it's a stormy or messy time of year, you may need to clean pollen, bird droppings, bug guts, mud, and other debris off your windows more frequently — maybe even daily.