Reviews | The Drive
Best Oil-Absorbent Pads (Review & Buying Guide) in 2022
Soak up leaks, spills, and oily messes in your garage with the best oil-absorbent pads
When you're working under the hood, things can get pretty messy. Bleeding brake lines, adding lubricant or grease, and even your regular oil changes can all leave behind one hard-to-clean mess. Instead of dealing with the aftermath or letting your garage floor take all of this dirty abuse, you can make cleanup a breeze by keeping a stash of oil-absorbent pads on hand. These single-use pads are designed to catch oil and other slippery or messy substances, helping you mop up once your work is finished. Made to handle any job, oil-absorbent pads can be a big help when you're in the midst of any automotive maintenance or repair job. I've rounded up some of the best disposable oil-absorbent pads right here.
Best Overall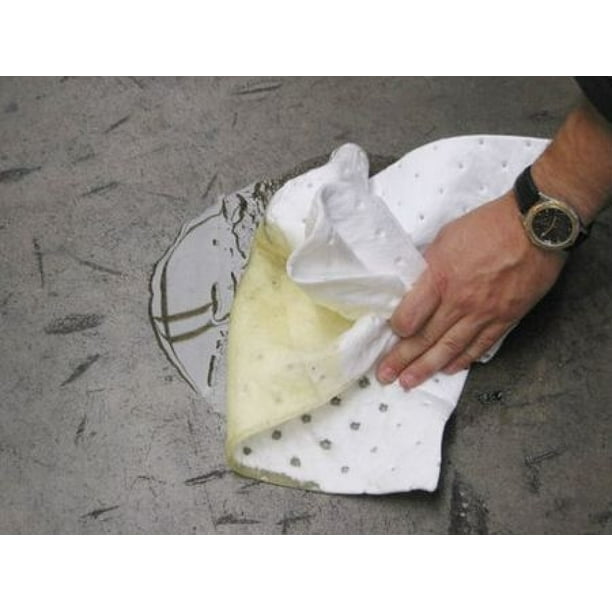 Brady SPC Basic Oil-Only Absorbent Pad
An oil-absorbent pad that's constructed to absorb oil and repel water with an impressive 20-gallon capacity.
Perforated pads makes them easy to rip to size
Made with materials meant for oil and other automotive liquids
Portable and easy to carry
Single ply
May not stand up to heavy-duty messes
Best Value
Spilfyter Double-Weight Absorbent Pad
A double-ply oil-absorbent pad that features a dimpled texture for extra strength, it's affordable and value rich.
Can be used for automotive liquids and water
Can be used to catch leaks or wipe up messes and spills
Big enough to cover a large area
Thickness can vary
Will need multiple pads for most messes
Honorable Mention
Made specifically for petroleum-based liquids (such as oil), this oil-absorbent pad has a high level of absorbency and strength.
Pads can absorb up to 33 gallons
Won't leave behind flakes, fibers, or fuzz
Pads can be reused for multiple cleanups and messes
Pads repel water
Best for catching leaks rather than large cleanups
Our Methodology
In order to choose the best oil-absorbent pads available, I used The Drive's methodology and focused on disposable pads that can be used to catch leaks or clean up. I looked for pads that offer good absorbency for automotive fluids such as oil, coolant, and gasoline. The stronger and more versatile a pad was, the better I rated it in my selection process.
Product selections, rankings, and awards for this story are based on research. While I haven't conducted real-world testing on all of these products yet, I've looked at consumer testimonials and data, tutorials, and general discussions on social media and in forums. I also consider price and specification in the context of these pads. Of course, I also rely on my institutional knowledge of the automotive landscape to weed out weak products.
Best Oil-Absorbent Pad Reviews & Recommendations
For quick cleanup, the Brady SPC Basic Absorbent Pad is designed to absorb oil and will actually repel water. Dimples in the sheets mean you get a durable pad that won't tear apart.
Although these oil-absorbent pads are single ply, they're serious about mopping up leaks as a single 100-sheet bale can absorb more than 17 gallons of liquid. These pads are only designed for certain liquids, however, so if you spill water, for example, the pads will actually repel the liquid. Some users also note that they aren't great for heavy-duty situations; they're more like shop paper towels in their thickness.
Product Specs
Number of Pads: 100
Absorbency: 17 gallons
Pad Size: 17 in L x 15 in W
Pros
Pads are perforated so you can tear off as much or as little as needed
Made specifically for oil, petroleum, and other automotive fluids
Portable and easy to carry for unexpected messes
Cons
Single-ply design is a bit thin
Some users note the pads can't handle heavy-duty messes
Pads will repel water
While the Spilfyter DB-75 Double Weight Absorbent Pad isn't necessarily the lowest-priced product on our list, it offers value thanks to its double-ply nature. Sold in cases of 100 pads, all of which are made out of metal-blown polypropylene and dimple-bonded for increased strength, you'll be able to tear off as many or as few pads as you need thanks to their center perforation.
Able to absorb and retain everything from oil to solvents to coolants and more, these pads make stopping messes or cleaning up puddles a breeze. Plus, with their size of 16 in W x 18 in L, these pads are sizable enough to really make a dent in cleanup. You can use them as rags and wipe up liquids or simply lay them on your garage floor. Even though they're double ply, you may want to double up if you're trying to protect your garage floor. While some users say that the pads are thin, others are pleased with their thickness.
Product Specs
Number of Pads: 100
Absorbency: 0.27 gallons (per pad)
Pad Size: 18 in L x 16 in W
Pros
Two ply
Can absorb water and petroleum-based products
Can be used to wipe up spills or laid down for protection
Cons
May need to double up if you're using the pads for protection
Some users say they're a bit thin
Will need multiple sheets for most jobs
The 3M Petroleum Sorbent Pad is designed to remove one surprisingly frustrating side effect of using oil-absorbent pads: the lint. The pads you're using to clean up can leave behind flakes or fibers, making an extra mess. With these oil-absorbent pads, you don't have to worry about anything being left behind.
These absorbent pads offer a high capacity for absorbing all petroleum-based products. Made for strength, you can actually reuse the pads and clean up multiple fluids with them, although they are designed to be tossed when your work is done. Thanks to their 17 in W x 19 in L size, these pads can be laid over a mess to absorb it or used as a rag.
Product Specs
Number of Pads: 50
Absorbency: 33 gallons
Pad Size: 19 in L x 17 in W
Pros
Can be used as a rag or a pad underneath a slow leak
Doesn't shed or leave behind fibers
Strong enough to use a few times
Cons
Pads are best for slow leaks not large messes
Pads repel water
May not offer enough absorbency
Sold as a pack of 100 absorbent pads, with each one measuring 15 by 20 inches, New Pig Oil Oil-Absorbent Pads offer great absorbency. Each pad has a whopping eight layers of 100 percent polypropylene that are thermally bonded, plus a dimple pattern that will make absorption of oil faster.
In addition to being quite thick and highly absorbent, another perk of these pads is they're incredibly durable and strong. They won't tear, fray, or rip when saturated. The fabric mat is also flame resistant, which makes it safer than cellulose mats. Unfortunately, users note that despite their thickness, these mats feel very thin. They're also not intended to soak up anything other than oil, which makes them unhelpful when cleaning up water-based spills.
Product Specs
Number of Pads: 100
Absorbency: 28 ounces (per pad)
Pad Size: 20 in L x 15 in W
Pros
Eight-ply thickness is highly absorbent
Flame-resistant material means these pads merely melt when exposed to high heat
Tough enough to stay in one piece even when full of liquid
Cons
Users note that the pads don't feel as thick as they seem
Each pad is a little smaller than competing products
You may need multiple pads for larger messes


Easy to tear off and use for cleaning or wiping up, the NPS Spill Control Absorbent Pad are made to stand up to heavy-duty use. The pads measure 13 by 10 inches, and each box holds 100 pads and has a 12-gallon total capacity.
What makes these pads stand out is that they are a premium-grade synthetic material that's made of superfine fibers. They're woven into a super-dense fabric that's sonically bonded. The dark-gray color also helps to hide the absorbed liquids, and the dispenser box keeps the pads clean, organized, and within reach. Unfortunately, according to users, the pads struggle to hold liquid once they reach capacity.
Product Specs
Number of Pads: 100
Absorbency: 12 gallons
Pad Size: 13 in L x 10 in W
Pros
Highly absorbent fibers
Easy to tear off and use
Box doubles as a convenient dispenser
Cons
Pads might leak once they hit maximum absorbency
Can drip and require additional cleanup
You'll likely need multiple pads to clean up
You might not think of lighter weight as a positive feature when you're sopping up oil and catching leaks, but the Spilltech Absorbent Pad can absorb a total of 22 gallons per pack. This single-ply oil-absorbent pad set includes 100 pads per box, each one made with polypropylene so it can absorb oil and oil-based liquids. The dimpled surface texture makes these light pads more durable and better equipped to sop up liquids. Plus, these pads are perforated every 7.5 inches so you can tear them off and use as much or as little as you need.
The single-ply thickness may not be as thick as some prefer, and one or two pads may not be enough to clean up large messes.
Product Specs
Number of Pads: 100
Absorbency: 22 gallons
Pad Size: 18 in L x 15 in W
Pros
Polypropylene can absorb all oil-based liquids
Lighter weight than other pads
Dimpled surface texture adds durability
Perforated for perfect sizing
Cons
Single ply
Might need multiple pads to clean up messes
Be kind to the environment and get all of the absorbency you need with the Moose Racing Oil-Absorbent Pads. These are small compared to other packs of 50-plus pads, but there's a big difference. With these five pads per pack, you'll get a whole lot of use, all without creating a lot of waste and tossing your pads in the trash as soon as they're dirty. Made to be reusable, each pad can absorb oil, fuel, and other liquids and then be wrung out and reused. It's a great alternative for those who want to be eco-friendly or save some money. Each individual oil-absorbent pad can absorb 13 to 25 times its own weight. They're designed for shop use and can handle everything from fuel and oil repairs to carburetor repairs and more.
These pads won't work on water, however, and are meant only for the cleanup of oil-based fluids.
Product Specs
Number of Pads: 5
Absorbency: 13 to 25 times its weight
Pad Size: 19 in L x 17 in W
Pros
Reduces waste
Pads can be reused
Absorbs 13 to 25 times its own weight
Made in the U.S.
Cons
Repels water and won't absorb it
Fewer pads in each pack
DripPansUSA Oil-Absorbent Pads are different from your typical disposable pads in that they're thick and perforated, with tiny holes dotting each pad's surface. While that might sound counterintuitive, they are very absorbent. Best for laying underneath vehicles or car components to catch leaks, these pads absorb oils, coolants, transmission fluids, hydraulic fluids, and even water. This makes them more versatile than many pads, as they can absorb just about everything and anything.
These pads are also perforated and can be cut to size. They aren't designed to wipe up messes; they're best for places under vehicles or parts you expect to be messy.
Product Specs
Number of Pads: 6
Absorbency: Not specified
Pad Size: 16.5 in L x 12 in W
Pros
Absorbs oil, vehicle fluids, and water
Perforated and can be cut to size
Pads can be used to hold parts or as shelf liners
Durable blown polypropylene material
Cons
Best for catching leaks—not wiping up messes
Perforation may be problematic for some large messes
Our Verdict on Oil-Absorbent Pads
What to Consider When Buying Oil-Absorbent Pads
In order to find the highest-quality and most reliable products, consider a few key features and details as you shop. Here's all of the advice you need right here.
Types of Oil-Absorbent Pads
Single-Use Pads
The most common type of oil-absorbent pad are single-use pads, which are designed to be used once and then thrown away. These pads are convenient, because you can grab them when an unexpected leak pops up or use them to wipe off oil-covered parts and tools. Available in an array of ply choices, however, they aren't the most environmentally friendly option, as they do create more waste.
Reusable Pads
Reusable oil-absorbent pads are a bit more expensive than single-use pads, but you can clean up messes and sop up oil (and other automotive fluids) just like you can with disposable ones. Once the pads are full, wring them out to remove fluids and let them dry. Reuse them the next time you're working with leaking liquids. They're a good choice as a more eco-friendly product but are more expensive.
Oil-Absorbent Pad Key Features
Thickness
The first thing to consider when shopping for quality oil-absorbent pads is the thickness of the pads. Some pads are made of a single ply good for cleaning up or catching messes as they happen. Other pads are two-, three-, or even eight-ply thick or more. The thicker an oil-absorbent pad is, the more fluid it's able to absorb and carry. If you're planning to use these pads for big messes or leaks, thicker is better. However, two- or three-ply pads should be fine for daily cleanup.
Capacity
No matter how thick a pad might be, not all pads are capable of holding a lot of liquid. Some can absorb just a few ounces, while others can hold gallons of liquid. If you need a more heavy-duty pad, look for a higher capacity per pad. If you're simply in need of an everyday oil-absorbent pad, lower capacity should be just fine.
Size
While oil-absorbent pads are typically sold in packs by the hundreds, each pad can vary in size. Some are the size of a standard sheet of paper, while others are larger and able to be used on the garage floor. Consider how you plan to use your pads when choosing a size. Small pads are best for wiping or cleaning, while larger pads are best for catching leaks or drained fluids.
Oil-Absorbent Pad Benefits to Know
Easy to Use
Forget about keeping a stash of old towels nearby; oil-absorbent pads are even easier to use. When you're working with difficult-to-clean substances such as oil, transmission fluids, and fuel, oil-absorbent pads make it easy to catch spills and clean up messes. They're convenient and lightweight, and they're perforated so you can tear off pads just like you would paper towels. Plus, with many pads sold in bulk, you will have plenty on hand.
Keeps Your Garage Clean
Your garage floor and other surfaces can get messy when you're dealing with cars and motorcycles. Whether you're worried about setting oily tools and parts on your shop surfaces or need to catch a leak, these pads are specifically designed to absorb oil and other automotive fluids, and you can lay them out to keep every surface you need covered clean. If you put them on your garage floor while you work, you can prevent stains and unsightly discoloration over time.
Affordable
You don't have to spend a lot to clean up with oil-absorbent pads. These pads are typically sold in large bulk packs with 50 to 100 pads each at an affordable price. You can spend a reasonable amount and get plenty of oil-absorbent pads for your work now and months into the future. While reusable pads are more expensive, they can save you cash over time.
Oil-Absorbent Pads Pricing
Packs of 100 disposable, single-use pads can be had for $30 to $50. However, if you're looking for something specialized, such as heavy-duty or two- to three-ply pads, you might spend between $70 and $100. For reusable oil-absorbent pads, you'll find packs of three to six pads for $10 to $25.
Tips and Tricks
As with something you do for decades, you pick up a few tips and tricks along the way in terms of selecting the right product and/or using it. That's the case with us and oil-absorbent pads. To help you bridge the information gap, here's a selection of what we've learned along the way.
When you're looking at the total absorbency of oil-absorbent pads, check whether the total is per pad or per box. For example, a box of pads may hold up to 20 gallons, but a single pad will hold much less.
Not all oil-absorbent pads can be wrung out, so double check the instructions for use if you're opting for reusable pads. You may need a different cleanup method before the pads can be used.
Many oil-absorbent pads repel water, which means they aren't all-purpose cleanup pads. If you do want water absorption, check the material and product details closely.
FAQs
You've got questions. The Drive has answers.
Q: Do oil-absorbent pads work?
A: Oil-absorbent pads are designed to soak up or wipe away oil and petroleum-based products. These pads aren't usually effective on water spills or leaks, although some can handle water. Many even repel water. But when it comes to other oil-based fluids, they'll have you covered.
Q: What are oil-absorbent pads made of?
A: Most commonly, oil-absorbent pads are made from some form of polypropylene. Some are made of metal-blown polypropylene, woven with very thin fibers or polypropylene or are 100 percent polypropylene.
Q: How do you dispose of oil-absorbent pads?
A: You'll need to dispose of these pads the same way you dispose of oil from your car. Stash the used or full pads in a leak-proof container and then bring them to a local or regional hazardous waste service.
Why Trust Us
Our reviews are driven by a combination of hands-on testing, expert input, "wisdom of the crowd" assessments from actual buyers, and our own expertise. We always aim to offer genuine, accurate guides to help you find the best picks.
Learn more