Hands-On Review: The Best Car Interior Cleaners to Make Your Baby Shine
Sprays, wipes, and more—we tested the top contenders.
The Drive and its partners may earn a commission if you purchase a product through one of our links. Read more.
The car community is one of the most complex and diverse groups out there. While outsiders might lump us all into the same basket, those within car culture understand that there's no one-size-fits-all school of thought. That's why you'll often catch us arguing over what seem to be insignificant details.
But if there's anything we can agree on, it's the pride and satisfaction of a freshly cleaned interior. Even if the thing is smoking, backfiring, and beat-up on the outside, a clean cabin allows us to escape into the mystique of any car or truck.
There's no shortage of products to help you clean your cars' interior. The hardest part is sorting through all of the options. Now, we don't know if you're running leather or cloth seats, but we do know you've got a dashboard, a steering wheel, and plenty of other hard surfaces for dust and dirt to collect on. So, we set out to find out exactly what product is the best for cleaning your car's interior.
Best Overall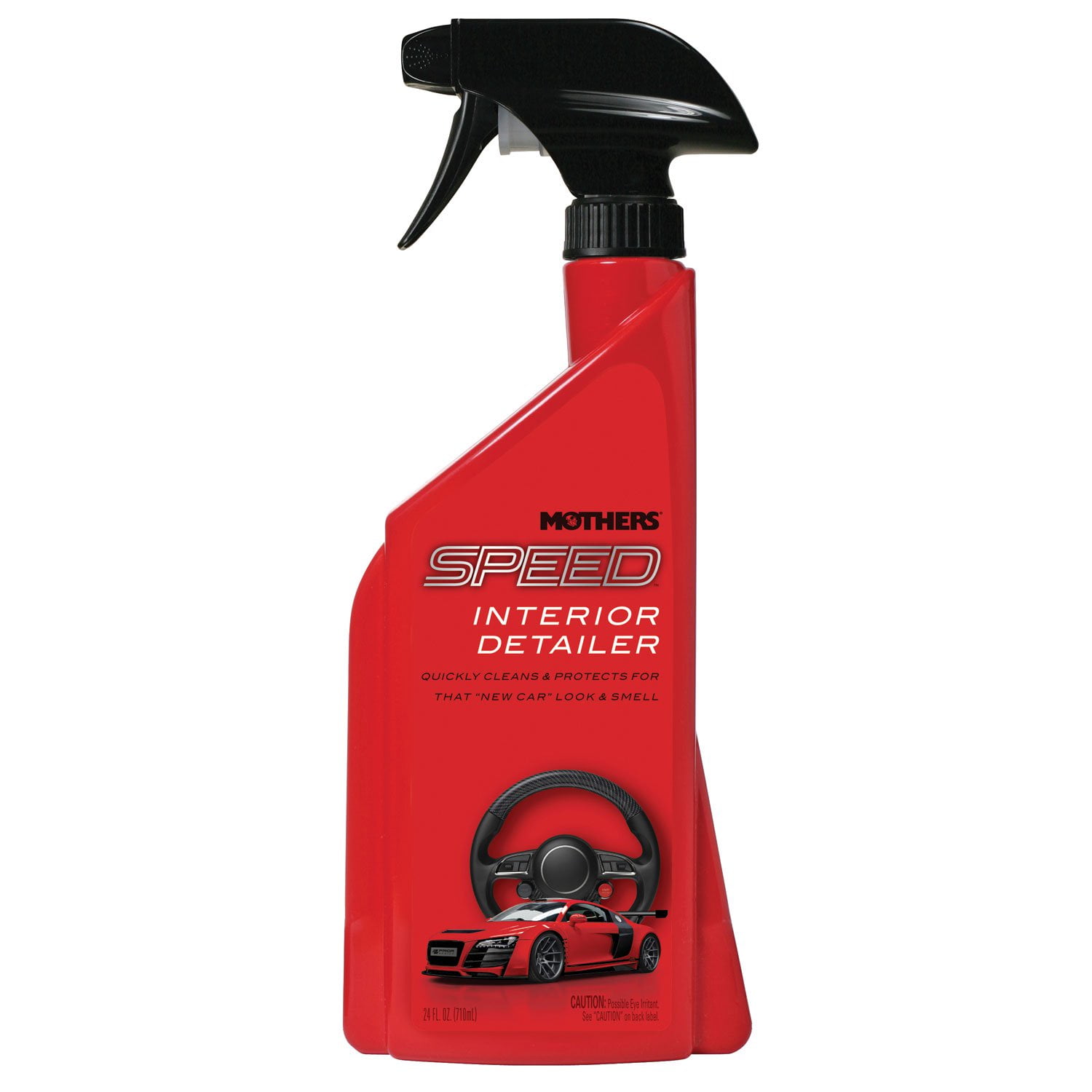 Mothers Speed Interior Detailer
Makes quick work of dust and dirt while leaving behind a light layer of protection. Its fine performance in our tests is complemented by its affordable price point.
Competitive price point

Cleans and repels dust well

Light layer of protection provides "new car" appearance
Offers no UV protection, warranting the use of additional product
Best Value
303 All Surface Interior Cleaner
Despite being the most affordable on the list, this product is a heavy-hitter. It offered superior performance in cleaning and repelling dust.
Very affordable pricing

Outperformed more expensive products

Light layer of protection is virtually undetectable
Does not offer UV protection; should be paired with additional product
Best Premium
Chemical Guys Hydro Interior Ceramic Quick Detailer
The power of ceramic technology for the interior of your car. This layer replicates the new car "feel" while offering premier protection against dust and harmful UV rays.
Ceramic coating offers superior defense

Thick layer of protection offers a premium sheen, reflective of a new car
The hefty price tag reflects a premium product; it's nearly double the cost of any other product on our list
Summary List
How We Tested
Surface Test
Steering Wheel Test
Dust Resistance Test
Our Findings
Our Verdict
Pricing
FAQs About Car Interior Cleaners