The Best Winches: Get Your Vehicle Unstuck
A winch can get your vehicle out of tricky situations and over challenging terrain.
The Drive and its partners may earn a commission if you purchase a product through one of our links. Read more.
Winches are everything to avid off-roaders, allowing you to get unstuck from muddy terrain, haul cargo, and clear trail hazards quickly. The Drive's managing editor Jonathon Klein could've used one with his Can-Am last winter. But winches run the gamut in terms of type, load capacity, construction, and design. And there are those that are built for specific vehicles and situations. They do all have one thing in common: they're great at reducing the likelihood of you needing your local search and rescue team.
Because of the boom in off-roading recently, there are a host of great winches available. But which is right for you and your application? Let's talk about that.
Best Overall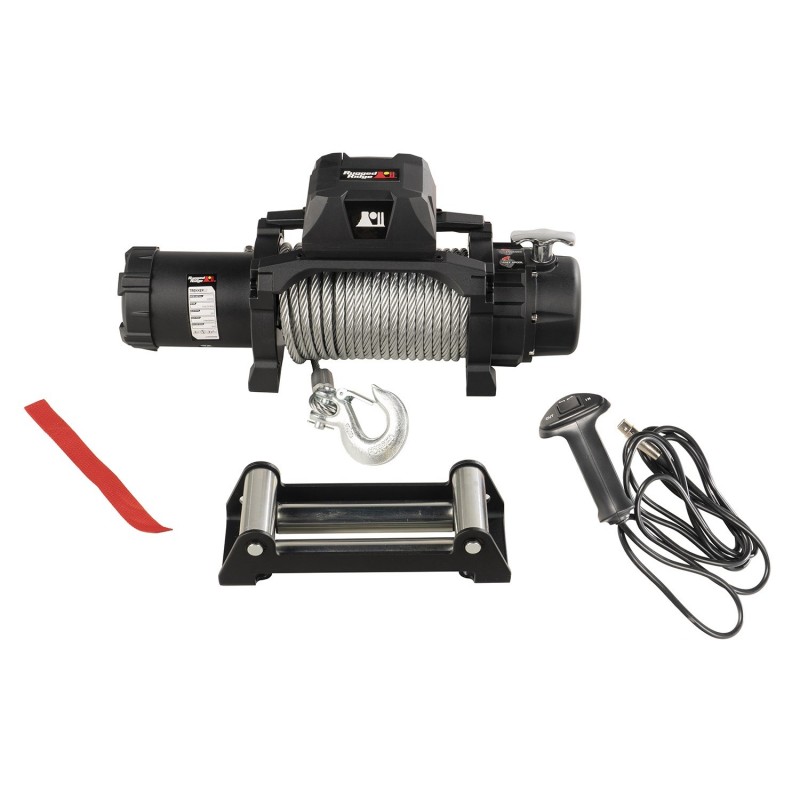 Rugged Ridge Trekker Winch
A large capacity winch with an 85.3-foot steel cable, offering 6.6HP and a three-stage planetary gearbox.
12,500-pound capacity is ideal for most off-roading needs
You'll like the IP68 waterproof rating making it great for wet terrain
Wired remote may be an issue for some as it will require being in close proximity during operation
Best Value
Champion Power Equipment 3,000-lb Winch Kit
A wallet-friendly pick that supports up to 3,000 pounds, making it great for occasional use.
Complete kit is ideal for novices that may not have experience with mounting a winch to their vehicles
Lower 3,000-pound capacity can be limiting and make it only compatible with  ATVs and UTVs
Honorable Mention
Smittybilt XRC 9.5K Waterproof Winch Gen 2
A sturdy 9,500-pound capacity and IP67 rating makes this a solid choice for medium weight vehicles and regular use.
You get a 3-stage planetary gear system, offering faster line speeds
A 6.6 horsepower motor aids in giving you the power you need for any job
This winch comes with a synthetic cable and features a wired remote, which may be a deal breaker for some
Summary List
Our Methodology
Why Trust Us
Our reviews are driven by a combination of hands-on testing, expert input, "wisdom of the crowd" assessments from actual buyers, and our own expertise. We always aim to offer genuine, accurate guides to help you find the best picks.
Learn more
Here at The Drive, the avid off-roader has kindred spirits as we're routinely out on the trails and getting muddy or climbing up rock faces. As such, we've used our fair share of winches in our time. That's not to say we couldn't learn more, so in order to put together this buying guide, we used our inherent knowledge, as well as scoured opinions on forums and retail sites for others' opinions on the products within.
We also consulted who OEMs used for accessory parts, as those would need to pass longevity tests that most suppliers don't usually run. In the end, we've come up with top products here.
Best Winches Reviews & Recommendations
The Rugged Ridge Trekker Winch is a mega-hauler, featuring a 6.6 HP series wound motor clocking a 12,500-pound pull capacity, a nice choice for full-size pickups like the Ford F-150, Dodge RAM, and Chevy Silverado 1500. Complementing 12,500 pounds is a heavy-duty 3-stage planetary drive gear delivering serious power in colder weather, unlike lighter-duty permanent magnet motors.
We love the fact the Rugged Ridge Trekker Winch comes with the choice of traditional steel cable or synthetic line. Both offer their own unique advantages. Traditional steel cables are better suited for rough, abrasive terrain albeit with less flexibility and strength than costlier synthetic ropes. It also includes a wired remote for safe operation.
Kudos to the Rugged Ridge Trekker Winch's limited five-year warranty, which is one of the longest offered on our list. It is only trumped by WARN's limited lifetime warranty.
And when you're looking at pricing, it's $629 tag isn't one that'll break the bank.
The Champion Power Equipment 3,000-lb. Winch Kit is a lighter-duty affair. With a 3,000-pound capacity, it's better suited for ATVs, boats, trailers, and other smaller vehicles rather than full-sized trucks. Features include a 1.3hp, 12v DC motor with a 3-stage planetary gear system and a 171:1 gear reduction ratio.
Three drawbacks of the Champion Winch Kit are the lack of a waterproof rating, a paltry 2-year limited warranty (one of the shortest we've seen), and wired controls, which may present a safety concern if not used correctly or from an unsafe distance. Consider this a solid budget option—but only for beginners and light-duty vehicles.
When you're on a budget, this $149 kit is perfect if you just need a light-duty winch.
The Smittybilt XRC 9.5K Waterproof Winch Gen2 is an all-around workhorse, featuring a 9,500-pound working capacity, 6.6hp Wound Motor, and a three-stage planetary gear, an excellent choice for midsize pickup trucks like the Nissan Frontier and the Toyota Tacoma. It also comes with an IP67 waterproof rating, making it great for use on muddy terrain. A 12-foot range remote control also allows for precise winch maneuvering.
Note that the Smittybilt XRC 9.5K Waterproof Winch Gen2's limited 3-year warranty on electrical components is middling. It falls square in the mid-range for warranty length and coverage. For heavy-duty work and vehicle recovery, you'll probably want to look for a sturdier winch—and a sturdier warranty.
Costing just $305, it's easily a value proposition.
Now we're talkin'. If you're driving a truly heavy vehicle, you're going to need serious power to help get you out of sticky situations. With a 16,500-pound line pull capacity, this pick from Warn is ideal for hardcore outdoor enthusiasts or professionals who need to push through rugged terrain without any issues.
You get a 12-volt motor with a 4.6 horsepower rating. More importantly, the motor features extreme-duty sealing so that you can work in not only wet conditions but in the dust and grime without worrying about your motor. Plus, the three-stage planetary gearbox and 90-foot wire rope give you plenty of control for even the toughest situations.
One thing to note is that this winch has to be mounted using a compatible bumper or even a mounting plate for it to be installed properly. While this shouldn't be an issue for shoppers looking for a winch of this capacity, unsuspecting shoppers may be surprised or frustrated to find that this pick is not a complete kit, as the plate must be purchased separately.
Warn's 16.5ti is currently priced at $2,548.
The WARN XC9000i performs well in almost all areas, starting with a 9,000-pound pull capacity, three-stage planetary gear system, 12-foot lead remote control, and a generous 12 feet of wire rope. It does an excellent job of keeping cool with its low amp draw, making it safer to use.
Kudos for the WARN XC9000i's limited lifetime warranty, which trumps all of our recommended picks on this list.
At the time of writing, the Warn XC9000i will set you back $1,340.
Our Verdict
The "right winch" is going to vary depending on your needs and your comfort level with installing a winch onto your vehicle. But given that reality, we liked the Rugged Ridge Trekker Winch as our Best Overall selection. Along with a relatively reasonable price point, it featured a 12,500-pound pull line capacity which should be more than enough power for most people's needs.
Meanwhile, UTV owners will like the Champion Power Equipment 3,000-lb Winch Kit. Along with being a complete solution with everything you need to install it on your off-road vehicle, the 3,000-pound pull line rating is more than sufficient, and the wallet-friendly price makes it accessible to a wider range of consumers.
FAQs on Winches
You've got questions. The Drive has answers!
Q. How much does a winch usually cost?
A. Winches aren't cheap, but they'll save you money in the long run by not requiring you pay Search and Rescue for their efforts. A good-quality winch will set you back between $800 and $2,000. And winches are absolutely case studies in which you get what you pay for.
Do not forget to factor in the warranty. WARN winches are known for the longest warranty in the business (limited lifetime). In a world of two and five-year warranties, a limited lifetime warranty is a total steal.
Q. How powerful of a winch do I need?
A. This is going to depend on your vehicle. Experts agree that winches should be able to pull 1.5 times your vehicle's weight. But in general, heavier vehicles need more powerful winches.
Q. Do I need a winch plate?
A. Yes, winch plates are a must. Many manufacturers sell vehicle-specific winch plates. Universal winch plates can be used as long as the 10- x 4.5-inch mounting pattern is used. Many bumpers already come pre-installed with winch plates, while others need a universal winch plate to be purchased separately. Lastly, some vehicles already come equipped with front-mounted winches integrated into the front bumper. Be sure to consult with your winch manufacturer for the correct mounting method.
Q. What IP rating should my winch have?
A. If you frequently navigate through mud and water, then we recommend a winch with a minimum IP67 rating. IP67-rated can handle heavy water blasts in spurts. An IP68 rating turns the corner, allowing your winch to operate continuously underwater without breaking down.