Best Air Compressor: You Can Take It With You
Our top choices deliver all the utility of an air compressor without messy cords.
We may earn revenue from the products available on this page and participate in affiliate programs. Learn more ›
Assuring that your tires are properly inflated is one of the most important things to do before getting behind the wheel. Since the process of going to the nearest service station and waiting in line just to top off your tires can be a hassle, you may be content to eyeball them and be on your way. Unfortunately, you're endangering yourself and others by doing this. Fortunately, there's an easy solution. That solution is a cordless air compressor. It doesn't cost much and it will save you a lot of time, effort, and money in the long run.
Of course, with the crop of cordless air compressors out in the market all claiming to be the best, we understand that picking the right one can be confusing. That's why we created the buyer's guide.
There are hundreds of ways you can put an air compressor to use, from inflating tires to powering up your nail gun to speeding up your painting process. They even come in handy when you're cleaning up after a woodworking job or need to prep inflatable toys. When you're looking for an air compressor that's easy to work with freely yet still as powerful as a full-sized model, a cordless air compressor is what you need. Bigger and more capable than your typical portable tire inflator, cordless air compressors give you more freedom and all of the power you're looking for. With built-in batteries, these air compressors can even be carried with you, if you need an on-the-road companion.
Best Overall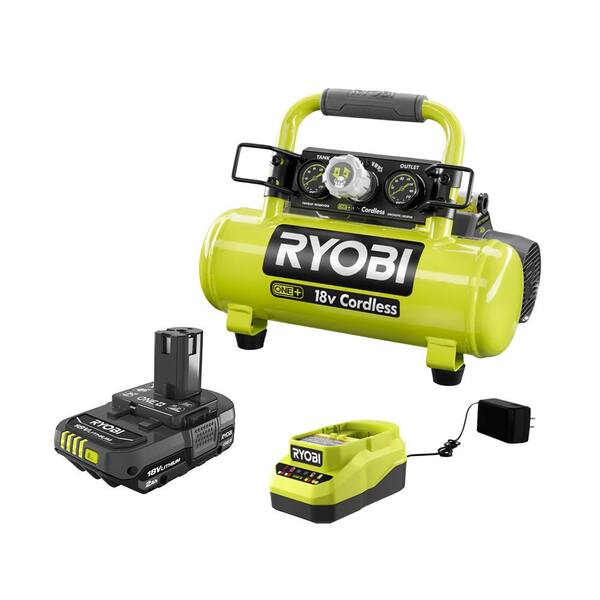 Ryobi One+ 18V Cordless Portable Air Compressor
This cordless air compressor is speedy and efficient, with enough power to handle inflation needs as well as power tools effortlessly.
Lightweight and portable

Quick inflation from empty to full

120 maximum psi
Battery and charger not included
Best Value
Freeman Cordless Air Compressor
A cordless air compressor kit that'll provide everything you need for inflation and finish nailing at an affordable price.
Comprehensive air compressor and accessory set

Rust-resistant valves, couplers, and components

90 maximum psi
Include extras not every user needs

Somewhat lower max pressure
Honorable Mention
Milwaukee M18 Fuel Cordless Portable Air Compressor
This cordless air compressor runs quietly, allowing you to carry and use it pretty much anywhere.
Runs at 68db of noise

Long-lasting rechargeable battery lifespan

135 max psi
Best suited for smaller tools and tasks

Need an extra gauge
Our Methodology
To choose the best cordless air compressors, I looked at the many kinds available, from small and handheld to larger and more capable. I focused on those with more power and bulk, comparing different 18- and 20-volt models that ran on a rechargeable battery and offered tank capacity of a gallon or more. To highlight the best options of the bunch, I looked for features such as long-lasting rechargeable batteries, sizable capacity, ease of use, and the inflation speed and pressure to assess their overall performance and durability. I also read user reviews to determine how these cordless air compressors perform over time and in a variety of real-life settings.
Best Cordless Air Compressor Reviews & Recommendations
Specs
Tank Capacity: 1 gal
Maximum psi:120 psi
Voltage:18V
Pros
Lightweight and portable
Battery can be swapped with other Ryobi One+ tools
Inflates nine car tires per charge
Fully inflates tires in 80 seconds
Cons
Battery and charger aren't included
The Ryobi One+ 18V Cordless Portable Air Compressor is designed with convenience in mind, but it's no slouch when it comes to power. It's a corded air compressor and a handheld air compressor combined, with enough power to support needs from inflation to nail guns to painting and cleaning. With a one-gallon tank, a 2.0 Ah rechargeable battery, and up to 120 psi, this compressor gets down to work without any frustrations. It'll inflate car tires from empty to full in just 80 seconds total, and you can inflate up to 9 tires per battery charge. A universal push-to-connect quick coupler lets you operate the device one-handed, and there's a professional-quality locking regulator that ensures you're getting the psi you need. Plus, if you have other Ryobi One+ tools, the battery for this compressor can be used interchangeably within the system. The only downside? You'll have to buy the rechargeable battery and the charging cord separately.
Specs
Tank Capacity: 1 gal
Maximum psi:90 psi
Voltage:20V
Pros
Comprehensive accessories set
Rechargeable 4-Ah battery
Air hose and inflation accessories
Includes fasteners and finish nailer
Cons
Somewhat lower psi
Includes extras everyone may not need
If you're looking to get plenty of bang for your buck when it comes to a cordless air compressor, you can't overlook the Freeman Cordless Air Compressor. This kit goes way above and beyond, providing you with a versatile air compressor that runs on a rechargeable 4-Ah battery plus a pneumatic finish nailer and stapler. You'll also get an array of must-have accessories, such as an air hose, inflation needles, and 600 fasteners. With the air compressor alone, you'll get up to 90 psi and the ability to drive up to 700 brad nails per battery charge. Speaking of the battery, it recharges in 90 minutes or less. The oil-free motor makes maintenance easy. However, if you are looking for high maximum psi, this compressor doesn't deliver the most power. Additionally, if you aren't looking for a finish nailer, this kit may not provide as much value as certain components go unused.
Specs
Tank Capacity: 2 gal
Maximum psi:135 psi
Voltage:18V
Pros
68-decibel volume while running
Drives up to 1,600 18-gauge brad nails per charge
Compact and lightweight
Battery works with other power tools
Cons
Not ideal for larger tools
Need pressure gauge
The Milwaukee M18 Fuel Cordless Portable Air Compressor bundles together all the perks of a powerful cordless air compressor with increased versatility and a surprisingly low noise level. It's compact and designed with portability in mind, with no cord and a Milwaukee M18 Fuel 18-volt battery that can be swapped into and used with other M18 Fuel power tools. It's also convenient, giving you enough power to reach 135 psi max and drive up to 1,600 brad nails on a single battery charge. Best of all, it's relatively quiet. It runs at just 68 decibels, meaning you won't need to worry about your noise level (or how much you're bothering others). There are other perks, too, such as a long-lasting battery lifespan and a two-gallon tank that's still light enough to carry. Some users note that this cordless air compressor is really best used for smaller power tool tasks, and it can lack volume for items like impact wrenches or spray guns. Additionally, you'll need to get a separate gauge to see exact pressure readings.
Specs
Tank Capacity: 2.5 gal
Maximum psi:135 psi
Voltage:20V
Pros
Lightweight and portable
Drivers 850 nails on a single charge
80-decibel noise level
Convenient regulator
Cons
Regulator not precise
Battery and charger not included
If you're planning to put your cordless air compressor to work primarily with a nail or staple gun, the Dewalt 20-Volt Cordless Air Compressor just might be your biggest ally. This device is built to get nailing done quickly, providing you with a pneumatic tool accessory that can sink more than 850 nails per battery charge. It's part of DeWalt's 20V Max system, which means you can use one rechargeable 20-volt battery among any of the tools within this line for versatility and convenience. The brushless motor with heavy-duty pump on this cordless compressor work seamlessly to provide up to 140 psi. And you won't get too much noise thanks to the 80 decibels generated while it works. Built with a heavy-duty roll-cage design and a total weight of 21.5 pounds, it's also made for any environment. The slight downside to this DeWalt compressor? Its regulator isn't always exactly precise, and its pressure can be a little bit off. And you have to purchase the battery separately, which is an added expense.
Specs
Tank Capacity: 1.6 gal
Maximum psi:135 psi
Voltage:20V
Pros
Can run on a single battery or multiple
Consistent, reliable locking pressure regulator
No-maintenance pump and motor
Protective front roll cage
Cons
Extra batteries purchased separately
If you're hoping to find a cordless air compressor that can deliver more options and increased versatility, the Bauer 20V Brushless Cordless Air Compressor is a solid pick. Built for heavy-duty uses, with a protective front roll cage, higher efficiency, and a long lifespan, this is a device that will give you options. It can provide up to 135 psi max, and it'll provide full power on a single Bauer 20-volt battery, or you can double the runtime and up your potential psi with the addition of a second. Adjust as you'd like. Plus, you'll also get extras that offer increased versatility, such as a nine-piece inflation kid, convenient built-in accessory storage, a locking pressure regulator, and a no-maintenance pump. Just keep in mind that if you do want to double your battery power and your potential air compressor runtime, you'll have to purchase extra batteries separately. That can add to the initial investment for this machine.
Our Verdict
Consider Secondhand
When we start shopping for tools and products, we never overlook the secondhand market. In fact, it's usually the first place I look. Whether you're scrolling through Amazon's Renewed section, eBay for car parts or tools, or flipping through the pages of Facebook Marketplace and Craigslist, you have hundreds of thousands of used tools, parts, and gear ready to be shipped to your doorstep. Refurbished to like-new status, they'll be willing to give you many more years of faithful service all while saving you money.
If those options don't have what you need, your local salvage yard is great for tools, while swap meets are a another resource you should tap. Just Google either and head on down.
Secondhand Tips
To make your secondhand search easier, here are two tips to finding the best deals and making sure your new-to-you stuff wasn't destroyed by the previous owner.
Make sure the used air compressor includes all of the original components, especially the battery's charging cord
Air compressors that use a common or system-wide battery mean you don't have to pay for a new or separate battery if you already own tools within the system
What to Consider When Buying Cordless Air Compressors
As you're shopping for a cordless air compressor, don't overlook these key details and features. They're what make the difference between top-tier, reliable models and lesser-quality picks.
Cordless Air Compressor Key Features
Quick-Connect Brass Couplers
To make hooking up your hoses both easy and secure, you'll want to make sure your cordless air compressor comes with brass couplers and quick-connect brass couplers. Brass couplers are durable and trustworthy, giving you secure, leak-free connection points for years. And when those couplers are also quick-connect style couplers, you won't have to struggle to get them fitted into place. Setup should be pretty seamless and almost effortless.
Low Noise Generation
Air compressors are always going to be somewhat noisy while running. But a cordless model that's too noisy will be a pain, especially if you're bringing your compressor outdoors or at a campsite. You can find plenty of cordless models — with gallon-sized or larger tanks — that run between 60 and 85 decibels. The quieter, the better if you're working around others often.
High-Volume Hose
To suit the various psi levels of a good cordless air compressor, you're going to want to make sure the machine is paired with a high-volume hose. These extra-durable hoses are built for higher pressure levels and larger volumes of air, giving you the perfect companion for everything from inflation to workspace cleanup. Plus, if your compressor comes with a high-volume hose, you won't have to purchase one separately, giving you an all-in-one product.
Pricing
Your basic cordless air compressor will cost between $100 and $225. In this price range, it's common to find one-gallon tanks and moderately compact machines. If you need a bigger tank or more power, expect to spend between $225 and $350. These larger compressors are a good fit for more frequent uses or serious pressure needs. If you're looking for the most premium selection products, you'll need to spend upwards of $350.
FAQs
You've got questions. The Drive has answers.
Q: Can I use a tire inflator as an air compressor?
A: Technically, tire inflators and air compressors perform the same job, and they're almost interchangeable; you can use your air compressor to inflate tires. However, tire inflators tend to be smaller and less powerful. For more versatile uses, a cordless air compressor is the right pick.
Q: What is a good psi for a cordless air compressor?
A: Most cordless air compressors deliver between 100 and 150 psi. Anything within this range should satisfy nearly all of your needs, so settling for a product that delivers 125 to 140 psi will have you covered.
Q: What are cordless pancake air compressors good for?
A: If you're looking for an air compressor to inflate tires and power nail guns, a pancake model is a great choice. They tend to have smaller tanks of less than six gallons, so they're ideal for workshop, garage, and general air compressor tasks.
Why Trust Us
Our reviews are driven by a combination of hands-on testing, expert input, "wisdom of the crowd" assessments from actual buyers, and our own expertise. We always aim to offer genuine, accurate guides to help you find the best picks.
Learn more