Best Driveway Alarms (Review & Buying Guide) in 2023
Keep your home safe with these quality driveway alarms
We may earn revenue from the products available on this page and participate in affiliate programs. Learn more ›
Your home security system keeps your house safe, but what about your driveway? It leads to your garage, which is filled with costly tools and equipment. Driveway alarms ensure you're notified whenever someone enters your driveway. There are options that detect only vehicles, while some alert you to the presence of people or wildlife. The best driveway alarms work both as a notification for you and a deterrent for potential intruders. Of course, the best driveway alarms depend on the layout of your driveway, integrating seamlessly to give you quality results. To help you track down the best driveway alarms on the market, we've curated a list of the leading selections and everything you need to know about choosing a driveway alarm that works for you.
Best Overall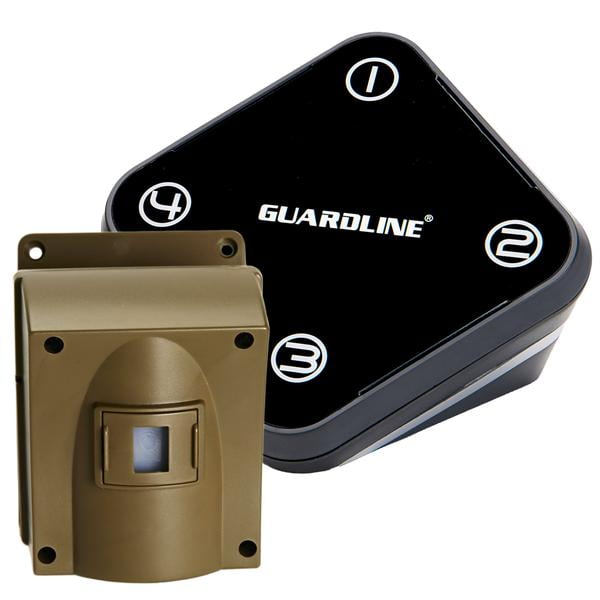 Guardline Wireless Driveway Alarm System
Install this alarm and hear a chime anytime a person, vehicle, or large animal comes within 40 feet of the angled eye sensor. The sensor uses passive infrared technology to sense motion and heat during the day and night.
Straightforward design with plug-and-play install
Expandable to up to 16 separate alarms
Features over 30 unique sounds and adjustable volume
Unit vulnerable to false alarms due to high sensitivity
Housing is not durable enough to withstand extreme weather
Best Value
Mighty Mule Wireless Driveway Alarm
This magnetic wand sensor detects large masses of metal near it. It will trigger an alarm in a 3-12 foot radius. You can then have the internal base station up to 400 feet away. It requires two AA batteries.
Will not result in false alarms for wildlife or people
Features a 400-foot range for longer driveways
Comes at an affordable price
Wand vulnerable to malfunctions
Signal weakens as it gets further from the base
Subject to issues with electrical interference
Honorable Mention
eMacros Solar-Powered Wireless Driveway Alarm
This solar-powered driveway alarm can detect movement in your driveway up to 143 feet horizontally and 128 feet vertically for a detection range of 30 feet. You can place the receiver up to a half-mile away.
Adjustable sensor sensitivity to limit false alarm risk
Able to send signals through dense materials like walls and trees
Straightforward installation requirements
Alarm works best only on the highest sensitivity setting
Receiver may be vulnerable to outside interference
Weakens as it gets further from the base
Our Methodology
Best Driveway Alarm Reviews & Recommendations
Our Verdict on Driveway Alarms
What to Consider When Buying a Driveway Alarm
Types of Driveway Alarms
Active Infrared (AIR)
Passive Infrared Technology (PIR)
Magnetic Probe Technology
Driveway Alarm Key Features
Mode of Operation
Weatherproofing and Durability
Driveway Alarm Benefits
Secure your garage and home
Wireless door alarm
Deter potential intruders
Children's safety
Driveway Alarm Brands to Know
Guardline
Chamberlain
Rodann
Driveway Alarm Pricing Considerations
FAQs 
Q. How can I hide my driveway alarm?
Q. Why do motion sensors give false detections?
Q. How do you install a wireless driveway alarm? 
Q. How far away will a driveway alarm work?
Q. Can pets trigger motion sensors?