The Best Wheel Cleaners: Get That Showroom Finish
Your wheels and tires deserve a respite from all that road grime.
We may earn revenue from the products available on this page and participate in affiliate programs. Learn more ›
If you clean your vehicle regularly, you know the importance of washing it from top to bottom. That includes the wheels. Dirty wheels are an eyesore, but clean ones can really make your car pop. Unfortunately, brake dust is a detailer's nemesis. It can build up and create a nasty film on the wheels that's unattractive and corrosive. If you're not sure which is the best wheel cleaner, check out our top picks in the buying guide below.
Your car's wheels get particularly dirty, and it's easy to see why. They come into close contact with all manner of road grime, including dirt, mud, and tar. In addition, when you use your brakes, bits of metal and debris from the brake pads accumulate on your wheels. What you end up with are wheels caked and coated with gunk.
Wheel and tire cleaners are specially formulated to remove such contaminants. But without the proper wash, you can rub this debris into the wheels, dulling or damaging the finish. The best wheel cleaners are designed to clean your rims without harming them and leave them looking pristine. Here are some of my favorites.
Best Overall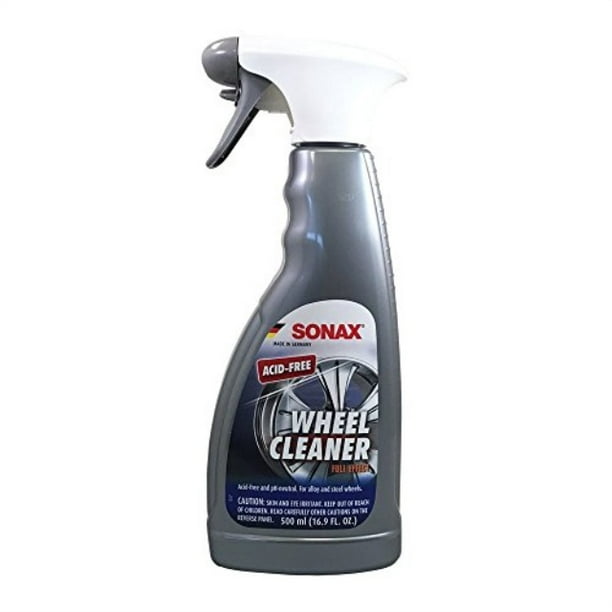 Sonax Full Effect Wheel Cleaner
This eco-friendly wheel cleaner makes short work of brake dust buildup. It is safe to use on a wide range of wheel finishes.
pH-balanced, acid-free formula

Penetrates deep layers of grime

Safe product for powder-coated wheels
Not for custom-made wheels

Applying it may require extra effort
Best Value
Armor All Extreme Wheel and Tire Cleaner
This cleaner's triple-action formula combats brake dust, grease, and road grime. It has strong foaming properties and cleans tiny nooks and crannies.
Easy to use

Works quickly

Produces a shine
Old, tough stains will need scrubbing

Spray nozzle inconsistent
Honorable Mention
Adam's Deep Wheel Cleaner
This tough-on-stains formula dissolves the most stubborn wheel gunk. It is specially
designed to eliminate heavy brake dust.
Safe for most wheel finishes

Long straw in the sprayer nozzle

Concentrated formula
Strong smell

Not recommended for

all wheels
Our Methodology
I took several factors into consideration to select the best wheel cleaners. I chose products from well-known companies with a reputation for producing high-quality car care equipment. Since I didn't have the opportunity to hand-test every item, I examined user feedback to see how these products operate in real-world conditions. I also chose wheel cleaners in a range of prices in order to suit a variety of budgets. I avoided multipurpose cleaners and focused on products that are specifically designed to clean different wheel surfaces. The aim was to pick products that perform the best, are the easiest to use, and provide the longest-lasting shine.
Summary List
Best Wheel Cleaners: Reviews & Recommendations
Specs
Brand: Sonax
Size: 16.9 ounces
Wheel compatibility: Safe for all wheelss
Pros
Effectively removes brake dust
Works on chrome, aluminum, steel, and other finishes
Acid free
Changes color when it dissolves grime
Cons
Not the best option for some custom-made wheels
Caked-on grime can require more elbow grease
Pricer than some rival brands
The Sonax wheel cleaner does a great job of removing brake dust. This product is safe to use on a variety of different wheel finishes, including chrome, aluminum, steel, clear coat, painted, and powder-coated wheels. It's pH balanced with an acid-free formula, so it won't damage the wheels. One feature that sets this formula apart from others is that it changes color when it makes contact with dirt and ferrous metals generated by brake dust. It starts out fluorescent yellow and turns deep red or purple as it dissolves the dust. It penetrates deeply into the grime, particularly if you scrub it off with a sponge. However, it may adversely affect the quality of certain custom-made wheels. It may require extra scrubbing if you have to clean away caked-on grime. It's also a little pricier than some competing brands.
Specs
Brand: Armor All
Size: 24 ounces
Wheel compatibility: Safe for factory and aftermarket coated wheels
Pros
Inexpensive
Triple-action formula
Effectively removes grime
Easy to use
Cons
Old, tough stains may require scrubbing
Spray nozzle may operate inconsistently
Specs
Brand: Chemical Guys
Size: 16 ounces
Wheel compatibility: Safe for use on chrome, alloy, powder-coated, clear-coated, and factory-painted wheels
Pros
pH-balanced
Tackles stubborn grime
Quick and effective results
Minimal scrubbing required
Cons
Some users don't like the strong scent
Not for use on certain wheels
Adam's Wheel Cleaner is pH balanced and tough on stains. It works well on even the most challenging grime and is specially designed to tackle heavy brake dust. This cleaner is safe for use on a variety of wheel finishes, including chrome, alloy, powder-coated, clear coated, and factory-painted wheels. It comes with a long sprayer nozzle and changes color as it dissolves the dirt. It works quickly and efficiently, even if your wheels accumulate a lot of brake dust. Users have reported that you can literally see the dirt and grime dripping off your wheels as you spray the cleaner on the surface area. Plus, minimal scrubbing is required. One downside is that the strong fragrance could be irritating to some users. Also, the cleaner is also not recommended for anodized aluminum wheels, polished aluminum wheels, and aftermarket metallic wheels.
Best for Heavy Brake Dust
SEE IT
Specs
Brand: Meguiar's
Size: 24 ounces
Wheel compatibility: Safe for all wheel finishes
Pros
Dissolves brake dust and removes grime
pH-balanced and acid-free
Easy to use
Changes color to show it's working
Cons
Requires immediate rinsing
Some scrubbing required
Meguiar's Ultimate All Wheel Cleaner features a powerful cleaning formula and is safe for all wheel finishes. It simultaneously dissolves brake dust while removing road grime, living up to its "ultimate" moniker. It features a deep-cleaning gel formula that turns dust purple and grime brown, visually demonstrating that it's working. It's also acid-free and pH balanced, so it won't damage your wheels or painted brake components. Users report that it does an excellent job of breaking down brake dust, even if it's heavily deposited on the wheels. Simply spray the cleaner on the wheels, wait a few minutes, and rinse off the residue. No scrubbing is required. Unfortunately, if you don't rinse it off quickly enough, it can leave a residue behind. Also, you may have to agitate some tough-to-remove brake dust using a brush in order to thoroughly clean some wheels.
Specs
Brand: Adam's Polishes
Size: 16 to 64 ounces
Wheel compatibility: Safe for all wheel finishes
Pros
Mild citrus scent
Easy to apply and rinse off
Effective on brake dust and road grime
Better for the environment compared to other options
Cons
Expensive
Doesn't clean tires as well as some other brands
If you're looking for a powerful, eco-friendly option, consider this product from Adam's Polishes. It features direct release to the environment (DRE) technology, so you can worry less when runoff flows down your driveway or into your yard. It features a citrus scent, which disappears rather quickly. While this formula doesn't have the ingredient that specifically tackles iron brake dust like its other wheel cleaner does, it is powerful enough to clean wheels without the risk of harming any delicate finishes. It can be used on a variety of finishes, including chrome, polished aluminum, matte-black, vinyl-wrapped, and plasti-dipped wheels. It's pH neutral and not acidic, so it's safe to apply on wheels as well as brake components, including the calipers and rotors. While it will clean tires, it's not as strong as some rival products that are designed specifically for that application. It's also a little expensive considering the size of the bottle.
Specs
Brand: Eagle One
Size: 23 ounces
Wheel compatibility: Safe for factory-coated, clear-coated, and factory-painted wheels
Pros
Thick, quick-acting foam
Easy to use
No scrubbing required
Can be used on tires too
Cons
Spray nozzle may malfunction
May require more than one application
The Eagle One All Wheel & Tire Triple Cleaning Foam Spray features a thick foam that adheres to your wheels and tires and eliminates dust, grease, and grime. Simply spray the formula on the wheels and then hose them off. It's safe for use on factory-coated, clear-coated, and factory-painted wheels. It removes dirt and grime without requiring any scrubbing. After you use it to clean your tires, they will shine with a factory-black result. Users report that this product is particularly effective on wheels that are tough to keep clean. The whole process takes just a few minutes, and it requires little to no elbow grease. Plus, the formula foams up immediately. And unlike many of the other products on this list, it's designed to clean tires as well. However, there have been several complaints that the spray nozzle doesn't work too well, and you may have to dump the contents into a new spray bottle to clean your wheels.
Our Verdict on the Best Wheel Cleaners
My pick for the best overall wheel cleaner is the Sonax Full Effect Wheel Cleaner. It does a great job of removing wheel dust, and it changes color as it dissolves contaminants, demonstrating its effectiveness. It's also compatible with a variety of different finishes. For a more budget-friendly option, consider the Armor All Extreme Wheel and Tire Cleaner.
FAQs
You've got questions. The Drive has answers.
Q: How do I get rid of the dirt after applying the cleaner?
A: Rinse it off with a high-pressure water hose and let the wheels dry. You may have to use some elbow grease to loosen up the dirt before you rinse it off.
Q: Is a wheel cleaner safe for engines?
A: Some cleaners are safe for engines. However, check the product details to make sure your preferred cleaner won't harm or damage any components.
Q: Does a wheel cleaner remove rust?
A: Some wheel cleaners can also be used as rust removers. For the best results, use a dedicated rust remover, which may include a stronger formula.
Q: What should I consider when buying a wheel cleaner?
A: Not all wheel cleaners are created equally, so it's important to look at several factors before making a final purchasing decision. First, you must decide whether you want a formula that does the work for you without any scrubbing or one that requires a little work with a sponge or rage. The latter may require more work, but it may also produce more effective results, particularly on extra-dirty wheels. You must also consider how easy it is to apply the cleanser as well as its chemical composition, so you know exactly what you're putting on your wheels to spiff them up.
Q: What should I expect to pay for a wheel cleaner?
A: Wheel cleaning products can be less than $10 or close to $20, depending on the brand. Some items are less expensive but come in smaller bottles, so they don't last as long and you need to buy replacements more often.
Why Trust Us
Our reviews are driven by a combination of hands-on testing, expert input, "wisdom of the crowd" assessments from actual buyers, and our own expertise. We always aim to offer genuine, accurate guides to help you find the best picks.
Learn more
Other '
Cleaning & Detailing

' Reviews You Might Like: