Best Car Wash Mitts: Keep Your Car Sparkling Clean With These Top Picks
Get your car sparkling clean with these top car wash mitts
TheDrive and its partners may earn a commission if you purchase a product through one of our links. Read more.
It's not too hard to wash your car, but you can make your job a lot easier by purchasing a good quality cleaning mitt. Add a little bit of soap, a bucket or two, and some water, and you can have a sparkling clean car. Check out our picks for the best car wash mitts on the market.
Best Car Wash Mitt Overall: Ultimate Car Wash Mitt by Relentless Drive
Best Value Car Wash Mitt: Meguiar's X3002 Microfiber Wash Mitt
Best Car Wash Mitt Honorable Mention: Nanoskin (AS-010) AutoScrub Medium Grade Wash Mitt
Why Buy a Car Wash Mitt?
Protect your paint. The best car wash mitt will collect and trap dirt without scratching or marking up your car's exterior surface. If you want to preserve your paint job, invest in a high-quality car wash sponge or mitt.
Simplify cleaning. The right cleaning mitt will make your job easier. Instead of struggling with an old, ineffective sponge, use a modern wash mitt that seamlessly and smoothly swipes the exterior surface of your vehicle.
Cheaper than an automatic car wash. Save money by washing your car at home. Stock up on supplies, including car wash sponges, and you'll be set for months, if not years.
More effective. If you have the right car washing mitt glove, a little bit of elbow grease, and some cleaning products, you can do a better job of washing your car than an automatic one.
Types of Car Wash Mitts
Chenille Microfiber
A chenille microfiber wash mitt is a popular choice among car enthusiasts. A microfiber car wash mitt has numerous tendrils that enable you to achieve a thorough cleaning. The best microfiber wash mitt will have a high-density amount of microfiber so it can absorb more water. Lower quality wash mitts may not be as effective, or worse they may damage your vehicle's paint.
Wool
A wool wash mitt is typically very soft and gentle with long fibers. They are unlikely to scratch or damage your vehicle's paint job. They are very effective in removing dirt and grime that build up. A lambswool car wash mitt is a good choice, but it may not be quite as durable as its microfiber counterpart. They may need to be replaced over time and are harder to keep clean.
Synthetic
Synthetic wash mitts are fluffy like wool mitts but are longer lasting and more durable. They aren't quite as absorbent as microfiber. They also offer slightly less cleaning performance. However, they don't degrade as quickly as wool mitts. Synthetic mitts are made in a variety of shapes, sizes, and materials.
Top Brands of Car Wash Mitts
Mothers
Mothers, based in Huntington Beach, California, is known for its quality polishes, waxes, and cleaners. The company started in the 1970s with its 4-ounce can of mag and aluminum polish for alloy wheels. Today, they have over 70 products on the shelves for car enthusiasts. One popular product is the Mothers Genuine Lambswool Wash Mitt.
Chemical Guys
The Chemical Guys are based in Gardena, California. While they are most known for their waxes, coatings, nano-polishes, and sealants, they also produce car care products such as car wash mitts. Check out their lime green MIC_493 Chenille Microfiber Premium Scratch-Free Wash Mitt.
Meguiar's
The Mirror Bright Polish Company, what later became Meguiar's, was founded in 1901. Based in Irvine, California, it launched its popular liquid cleaner wax for automobiles in 1973. Their top car wash mitt is Meguiar's X3002 Microfiber Wash Mitt.
Car Wash Mitt Pricing
Under $10: There are plenty of good quality car wash mitts in this price range. You don't need to spend a lot to get a good product.
$10-$20: Some car wash mitts fall into this price range. They sometimes come in pairs, which can be convenient if you need a backup mitt or a partner helps to wash your car.
Over $20: A select few car wash mitts cost more than $20. The ones that do usually have dual purposes, such as the ability to clean combined with a clay bar capability.
Key Features
Durability
It's important that your cleaning mitt is very durable so it doesn't fall apart after just a few uses. If you wash your vehicle regularly, you need to have a mitt that doesn't fray or is damaged in a short period of time. Keep a lookout for high-quality material when purchasing a car wash sponge or mitt.
Fiber Length
When selecting a sponge for car washing, pay attention to the length of the fibers. Wool mitts typically have longer fibers, making them very effective at picking up dirt and grime and taking it away from the surface. Other types of mitts tend to have shorter fibers, which don't remove dirt quite as well.
Other Considerations
Size: Make sure you find a mitt that fits your hand well. If you get one that is too large, it will slip off, making it challenging for you to complete the job. If you get one that's too small, you will also struggle to properly clean your vehicle.
Color: Car wash mitts that are brightly colored enable you to find any dirt, grime, or other contaminants that it may attract. This allows you to easily remove the debris while washing your vehicle.
Elastic Cuffs: Car wash mitts with non-slip elastic cuffs enable you to have better grip. It's much easier to drop a sponge than a mitt that is secured around your wrist.
Best Car Wash Mitts Reviews & Recommendations 2019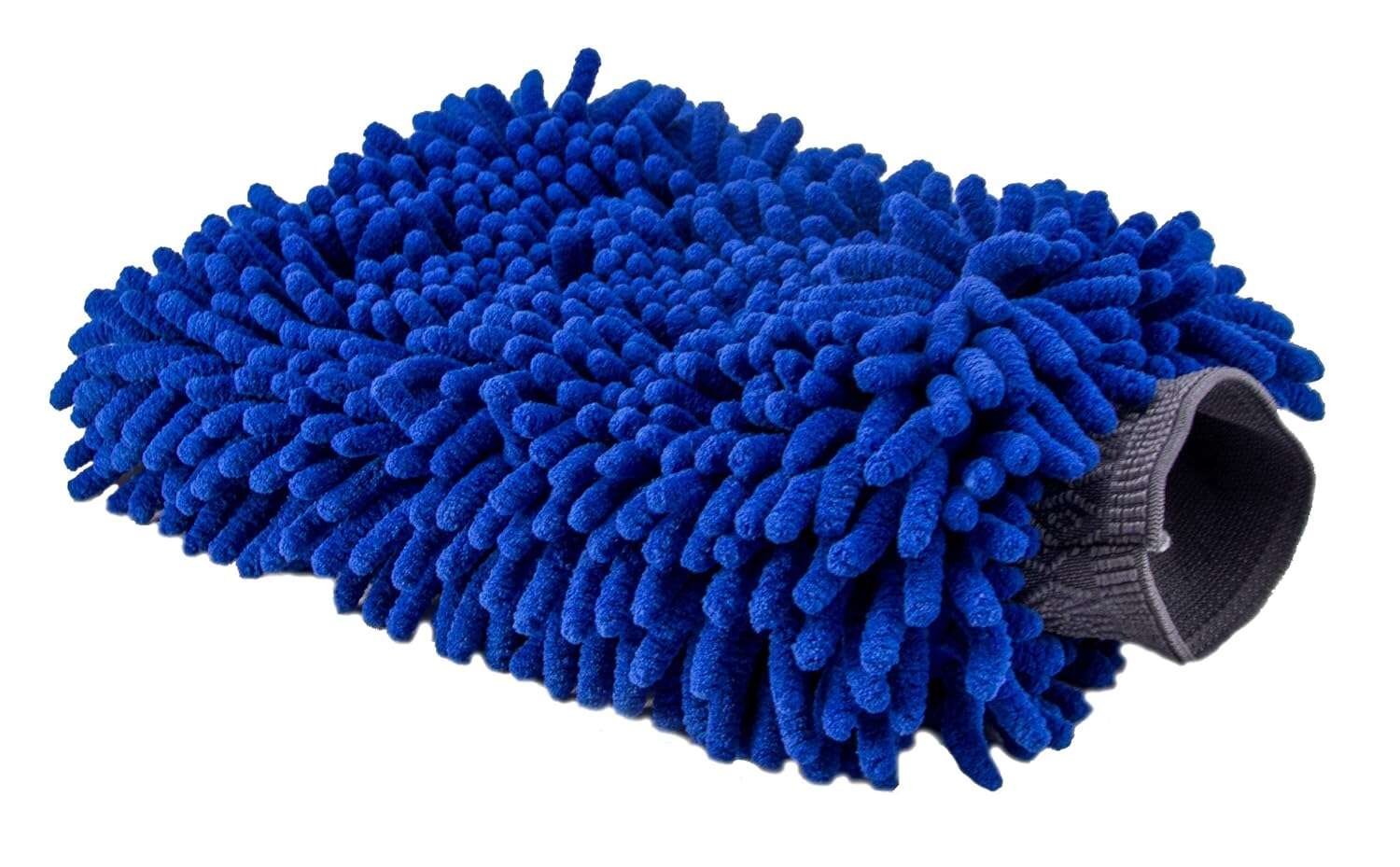 This double-sided, chenille microfiber mitt weighs 4.8 ounces and is 11.5 inches by eight inches by one-and-a-half inches wide. It is 80 percent polyester and 20 percent polyamide. It is machine washable and can be used on cars, trucks, motorcycles, boats, RVs or even in your home.
The thick, absorbent microfiber wipes away dirt and grime without leaving behind any lint or scratches. The mitt has a mesh lining interior that easily allows you to put your hand back into the glove when you take it off while it's still wet. The mitt is soft and plush and holds a large amount of water. It fits nicely if you have big hands. It is well-designed and completely non-abrasive. It features a wrist band so it doesn't fall off your hand.
One downside is the cuff may tear or split after use. It may also get very heavy when drenched in water. The XL size may not be as big as you expect.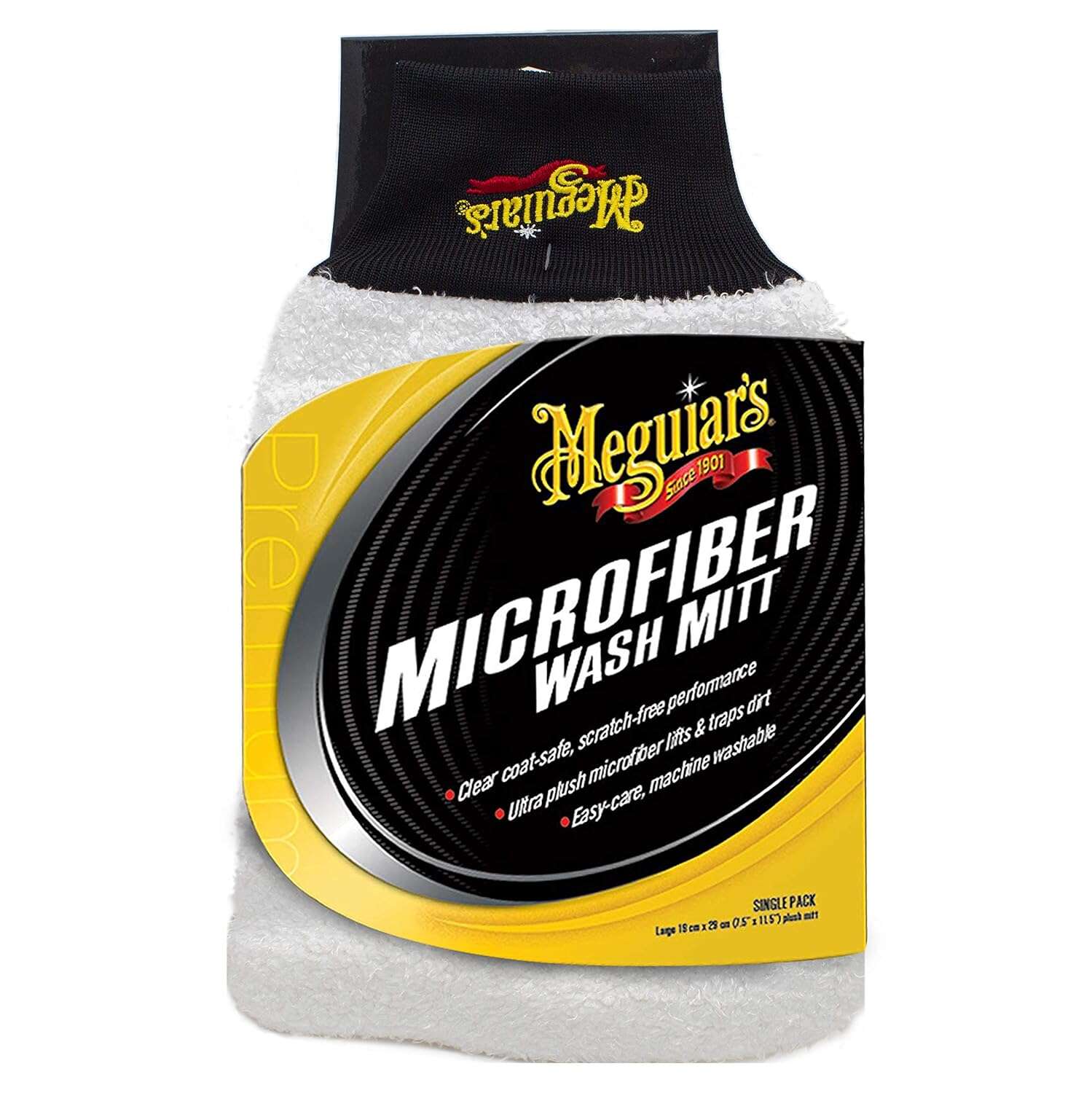 This super-absorbent microfiber mitt weighs 2.4 ounces and is eight by 10 inches wide. It is suitable for both wet or dry washing and is machine washable.
The mitt is easy to control and isn't floppy, which is important when you clean the lower parts of your car—you don't want any part of the mitt touching the ground. It is very soft and features a band that secures to your wrist to keep the mitt on your hand. It is very soft and glides smoothly over the surface of your car. It holds suds very well. Its white color allows you to easily see and pick out any particles it picks up.
The mitt is so light-colored, it can be difficult to get fully clean after use. It may not transfer suds from the bucket to the paint as well as other mitts. The stitching may come apart at the seams. It may be too large for some people's hands.
This medium-grade wash mitt weighs 2.4 ounces and is 10.5 inches by 7.5 by 1.2 inches wide. It does the job of both a wash mitt and a clay bar but lasts up to four times longer than the latter. Auto enthusiasts use clay bars to remove contaminants from the surface of a car's paint.
This wash mitt does the work of a clay bar by decontaminating the paint finish during the cleaning phase. It is simple to rinse clean if you drop it on the ground (conversely, clay bars must be discarded). There is no need for special lubrication like there is for a clay bar—just dunk the mitt in soap and water and wipe the surface clean. It gets rid of small surface irregularities, such as tree sap and tar. It is much quicker to use than a traditional clay bar.
The mitt requires a lot of soap and water for lubrication. It works best on newer vehicles or ones that have previously been treated with a clay bar.
Tips & Advice for Car Wash Mitts
When polishing or cleaning glass, choose a mitt that's 100 percent lint free. It should leave as little water behind as possible so droplets can easily evaporate. It should also be powerful enough to remove residue.
Be sure to wash dead bugs, bird droppings, and road chemicals from your vehicle sooner rather than later. If they sit too long on your car's paint, they can damage it.
Do not use dishwashing detergent or other household cleaners to wash your car. They're not intended to interact with paint and may strip it of its protective wax. Use car wash products, which are milder.
Before applying soap, completely rinse your vehicle to remove loose dirt and other particles, which could cause scratches. Start on the roof and then wash your windows and the rest of your car.
Use two buckets—one with soapy water and one with clean water. The more suds you have, the better the lubrication you will have for the paint. Put the mitt in the soapy water and wash one section of the car at a time. Then rinse the sponge in the clean water before washing another section.
Squeeze out most of the soapy water when you first dunk the mitt in the water bucket. It can hold a lot of water and can get really heavy.
Move the car wash mitt lengthwise across the vehicle; don't move it in circles. This can cause swirl marks, which are unsightly scratches on the surface of your vehicle.
If you drop your mitt on the ground while washing your car, rinse it off as thoroughly as you can. It can pick up dirt and debris from the ground, which can scratch your paint.
To prevent water spots, rinse the soap off your car using a hose without a nozzle. Let the water flow from the top of the car to the bottom. This sheeting effect minimizes the pooling of water.
Wash the wheels last with a separate mitt or sponge. A vehicle's wheels may have mud, brake dust, and other particles on them, which can harm a car's finish.
FAQs
Q: What is the difference between a yellow sponge and a car wash mitt?
A: Car wash mitts are different from typical, rectangular sponges because they are not flat faced. Dirt and grit is absorbed into the mitt's deeper surface area, so when you swipe it across the paint, you're less likely to scratch the paint.
Q: What is the best type of mitt for avoiding scratches?
A: Most car wash mitts are better than a typical, cheap yellow sponge. They are more absorbent and safer on paint jobs. Either wool, microfiber, or synthetic mitts will do a nice job.
Q: How do I wash a car mitt after using it?
A: Many car wash mitts are machine washable. After wringing out most of the water and soap, put it in the washing machine using the gentle cycle. Read the manufacturer's directions to determine if it can be placed in a dryer. Others can be drip dried.
Q: How often should I wash my car?
A: In general, you should wash your car once a week or so. However, it depends on your personal preference and whether or not your car requires a wash. If it gets particularly dirty from road grime or mud, then wash it. If you keep it in the garage and drive it only occasionally, you can go much longer between washings.
Q: What's the most effective way to dry my car?
A: One of the best ways to dry your car is with a drying towel made especially for vehicles. They are often made of microfiber. You can also use a chamois drying cloth. An alternative is an electric air dryer.
Q: How do I get rid of water spots?
A: A drying cloth will help prevent water spots. You may also consider rinsing your car with distilled water, which doesn't contain minerals or other particles from your faucet.
Q: Can I wash a car that's hot?
A: You shouldn't wash a hot car if you want it to be streak free. A car that's warm to the touch will dry faster, allowing water spots to form quickly. If you recently drove your car, or if it's been sitting in the sun for a while, you may want to wait a while before washing it.
Final Thoughts
Our top pick for the best car wash mitt is the Ultimate Car Wash Mitt by Relentless Drive. It is soft, holds a lot of water, and doesn't leave any lint or streaks behind.
If you're looking for something a little less pricey, consider the Meguiar's X3002 Microfiber Wash Mitt.