The Best Holiday Gifts For RVs and RV Lovers in 2020
No matter where they roam, they'll be thinking of you with these great gift ideas for RVers.
Deposit Photos
Home Depot
A generator is a key piece of equipment for most RV users, and right now, the Sportsman 4,000/3,500-watt Dual Fuel Powered Portable Generator is being offered at one of the lowest prices ever. This durable and dependable generator is able to be powered by either gasoline or liquid propane, making it a versatile option for any RV. It features an impressive running power of 3,500 watts and a peak surge of 4,000 watts, which is plenty of power to run most RVs.
It comes equipped with one 12-volt DC outlet, four 120-volt AC outlets, and one 120-volt RV outlet for a comprehensive power supply that will run most RV appliances, including an air conditioner. A strong, 7hp, 4-stroke OHV engine delivers quiet, powerful performance. Note: This unit is not designed for high altitude use and should not be purchased for RVs that commonly travel above 3,000 feet.
Amazon
We really like the Best Choice Adjustable Zero Gravity Lounge Chair Recliners. Offered as a set of two, they're priced perfectly to make a great gift. They also come in several color options. It would be great if they came offered in two separate colors to distinguish whose chair is whose, but that's hardly a deal-breaker for these well-made, heavy-duty folding chairs that can support up to 250 pounds each.
They feature a smooth gliding, lockable reclining system that allows the user to recline into a comfortable and relaxing zero-gravity position. These chairs also come with a convenient detachable tray with two built-in cup holders, a tablet holder, and a phone holder so people can keep all the important stuff close by. The fabric is made of a durable and attractive steel mesh that promotes airflow and breathability. These chairs are great options for sitting around the campfire and chatting.
Amazon
One of the toughest aspects of RVing can be trying to back it up to fit into a tight campsite or off-season storage space, which is why the LeeKooLuu LK5 HD 1080P Digital Wireless Backup Camera makes a perfect gift for the RVer in your family. This wireless camera features a large, 7-inch, dash-mounted, split or single screen monitor with two wireless video inputs. You can attach two cameras to different areas of the RV to get a complete and comprehensive view of your surroundings.
This system also features a handy built-in recording function that allows you to record footage while driving to ensure protection against theft or erroneous blame in an accident. The upgraded FHD DVR digital image is super clear and stable and is compatible with vehicles up to 50 feet. It's rated IP69K waterproof to withstand harsh weather conditions.
Home Depot
Nothing ruins a great night at the campground like being plagued by annoying and biting insects, which is why we love the Black Flag 2000-Volt ½-acre Bug Zapper Insect Killer for a top-notch gift idea for any RVer. It's great for anyone who doesn't want to have to slather themselves in greasy or toxic bug sprays and lotions each night so that they can sit comfortably around the table or campfire with friends and family. This is an efficient, weather-proof, plug-in bug zapper that can be used 24 hours a day to keep a campsite comfortable and bug-free.
It uses silent UV attraction and circuit board technology to draw in and eliminate mosquitoes, biting flies, moths, and wasps. It's equipped with a durable plastic safety cover to protect children, pets, and wildlife from accidental contact, and it works without the use of toxic chemical sprays. It does use an Octenol lure emission that has a 30-day lifespan, so consider purchasing extras if you decide to go with this model.
Amazon
The LevelMatePRO Wireless Vehicle Leveling System is an ideal gift for any RV user. It's a wireless vehicle leveling system that easily connects to your smartphone or tablet and accurately gauges how much height is required to achieve a level position when parking your RV. It even allows you to monitor the level of a campsite while you're pulling in so that you can choose the most level spot before you begin settling in.
With an accuracy of within 0.1 degrees, this device is not only simple to install and use, but it drastically cuts down on RV set-up times, giving people more time to relax and enjoy the area. It also allows you to save and recall your hitch position so that you can quickly and easily reconnect it to your tow vehicle. Since it works with an app, it does require a Bluetooth link to either a smartphone or tablet, so be sure to check with the gift recipient that they'll be able to use it before you buy it.
Home Depot
Every RV enthusiast needs a comprehensive set of tools and we love the Ryobi 18-Volt ONE+ Lithium-Ion Cordless 6-Tool Combo Kit due to its space-saving design and soft-sided, yet rugged organizational bag that neatly stores everything in one place. This kit includes a reciprocating saw, a circular saw, an impact driver, a drill/driver, multi-speed multi-tool, a 160-lumen work light, one 1.5 Ah battery, one 4.0 Ah battery, and an 18-volt charger that will allow the RV user in your life to tackle almost any job.
The 18-volt charger is compatible with all Ryobi ONE+ Lithium-ion batteries, making it a versatile and multi-functional system that you can add extra tools to as needed. In fact, Ryobi offers over 175 cordless tools that will work on this platform. As an added bonus, this kit comes backed by an impressive three-year warranty. Consider buying extra blades for the reciprocating saw, since it only comes with one.
Amazon
The Tymate Tire Pressure Monitoring System is a highly practical and very affordable gift that will be much appreciated by frequent RV users. It can be charged up either by solar or 12-volt power outlet to ensure you never run out of power. It also features five alarm modes to alert you to high or low tire pressure, a fast leak, high-temperature, or a low voltage sensor to give you a comprehensive look at the state of your RV's tires at any given moment.
Ideal tire pressure range can be set from 12-87 PSI, and the unit features a well-illuminated backlit display that is equipped with a smart-screen that automatically adjusts for day or night driving. It also features a power-saving auto-sleep mode to promote longer battery life when the RV isn't in motion. One thing to note, this unit requires time to activate after the initial installation and the RV will need to be driven for 5-10 minutes to properly calibrate and activate the sensors.
Walmart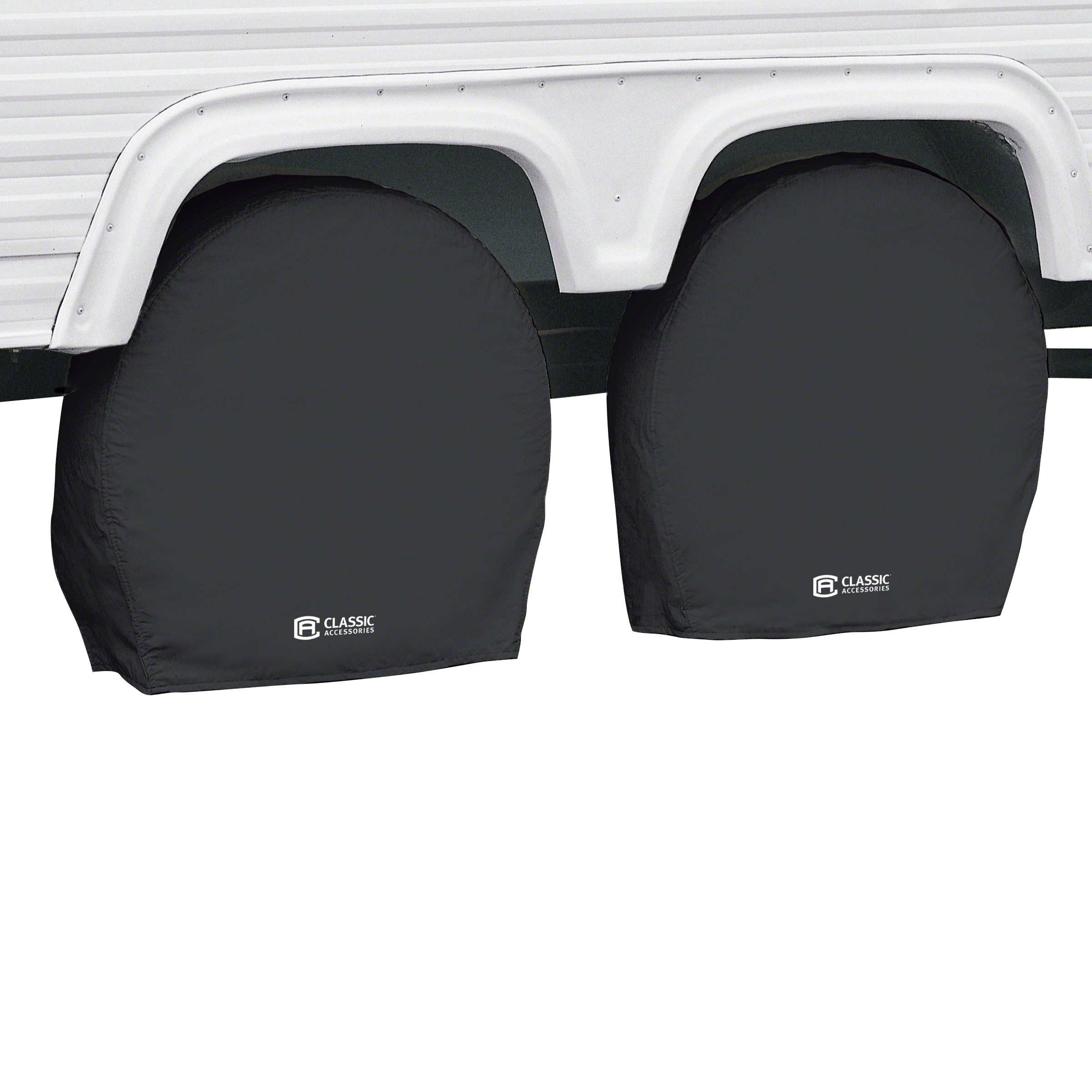 While they may not be the most glamorous or exciting gift option, the Classic Accessories Over Drive RV Wheel Covers will certainly be appreciated by the RVer in your life, especially in the off-season, or in the event that their RV is parked at a single site for the long term. This set of two wheel covers is made from super rugged and waterproof polyvinyl chloride with a laminated knit polyester backing that is sure to protect RV tires from damage caused by overexposure to harsh elements and temperatures. Offered in a variety of sizes, there's sure to be one to fit perfectly over your RV's tires.
These wheel covers feature a fast and super easy slip-on fit and are simple to wipe down and keep clean. Even better, they're backed by a hassle-free three-year limited warranty, which is one of the best in the business. Keep in mind that these are sold in sets of two, so you may need to buy more than one set, but with the current low sale price being offered, it's still an excellent gift idea.
Walmart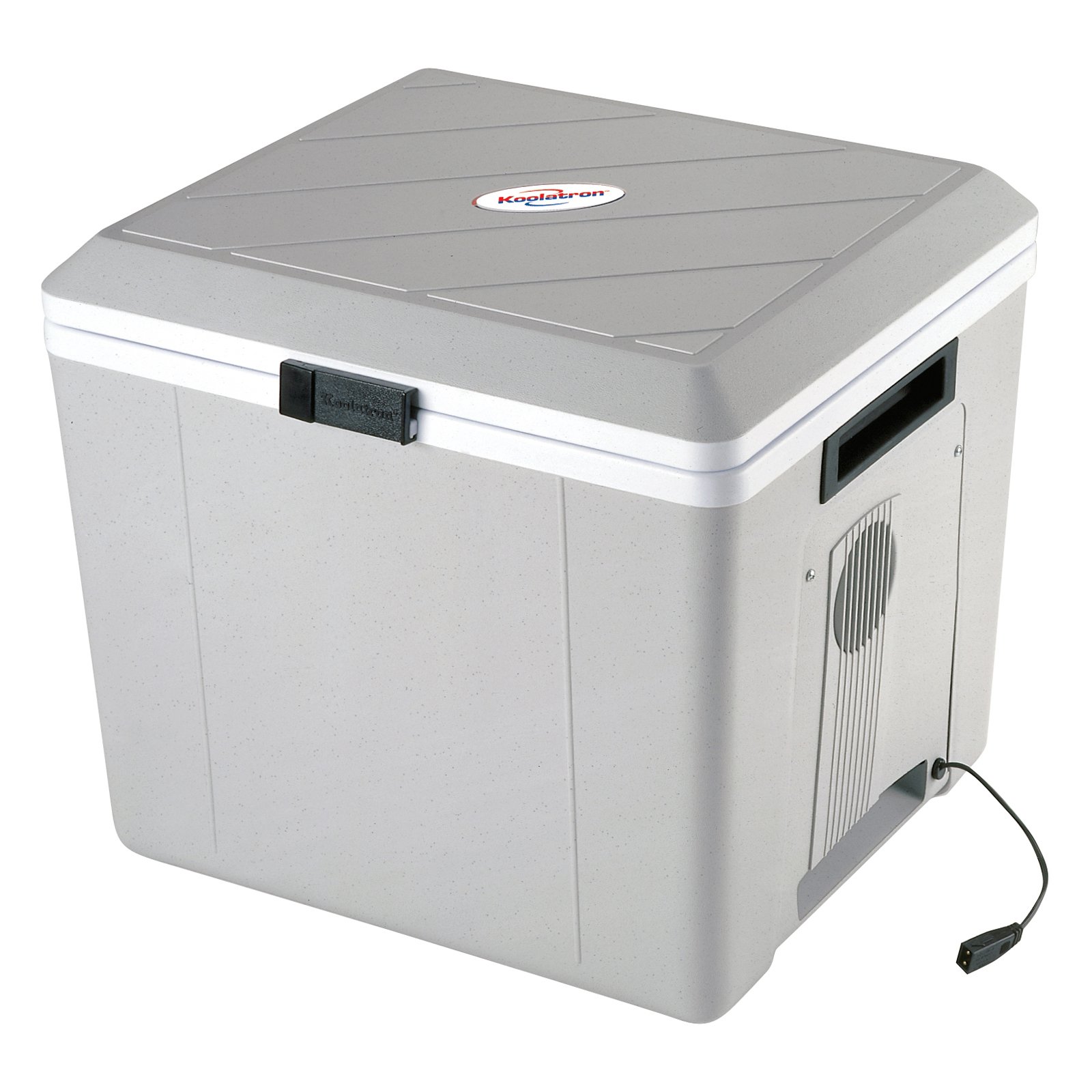 A proper cooler is an essential part of the RV lifestyle. What's not fun is the constant need to fill it with ice and empty that melted ice out of it. That's where the Koolatron P27 12V Voyager Travel Electric Cooler and Warmer makes a great gift idea. This is a 29-quart capacity cooler that has the ability to fit an impressive 48 cans, and the best part is that it is powered by your RV's 12-volt power supply to stay constantly cool or warm at whatever temperature you decide.
Thermoelectric technology allows this cooler to cool beverages and snacks without the need for messy, melting ice. It can cool contents as much as 40 degrees Fahrenheit below the surrounding temperature, or it can warm contents up to 135 degrees, making this a versatile and highly functional gift that any RV user will love. This is a fairly large cooler, so if your RVer is limited on space, consider one of the smaller options that are available.
Walmart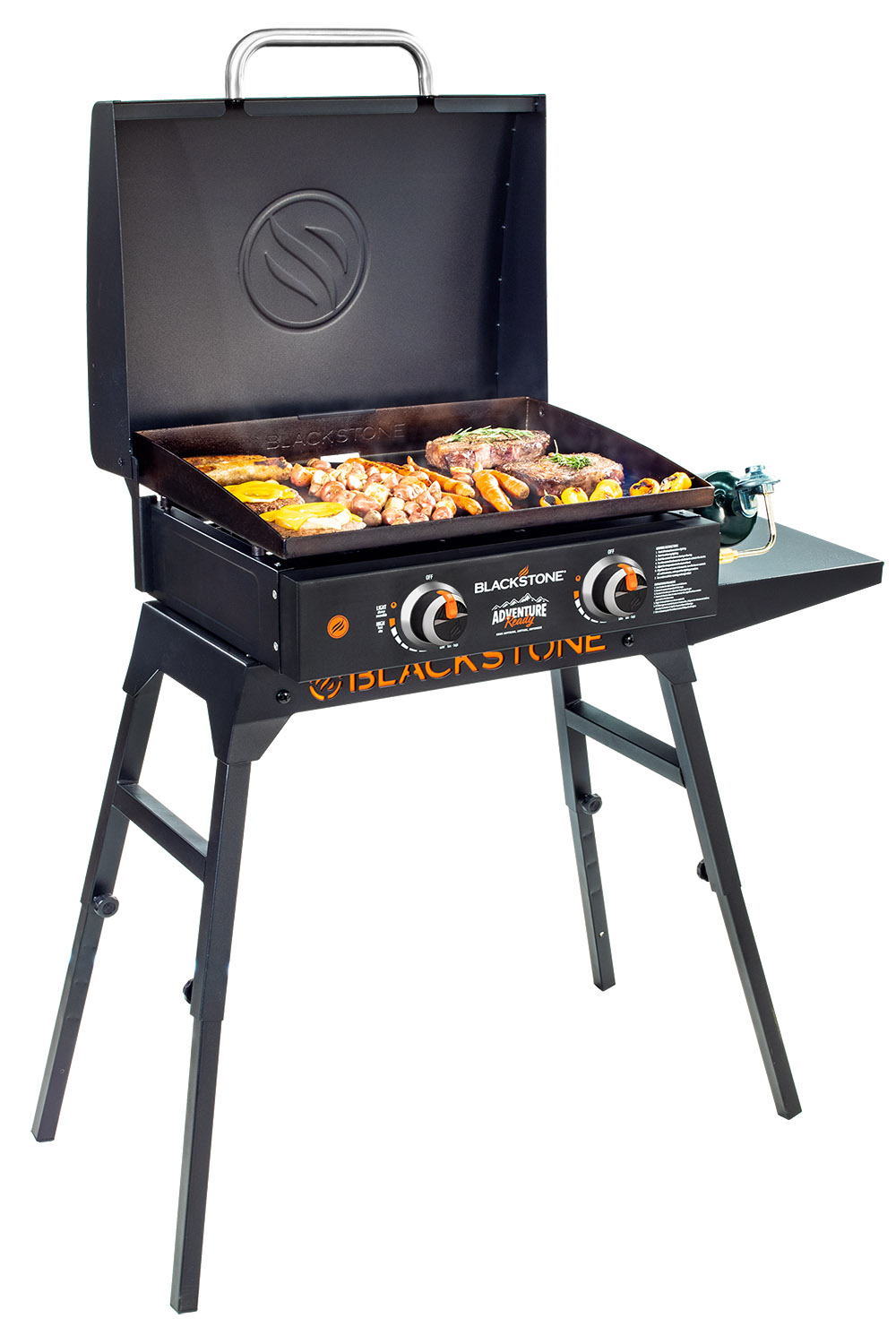 Just because a person lives the RV lifestyle, doesn't mean they have to sacrifice their stellar grilling skills, and the Blackstone Adventure Ready 22" Griddle with Hood gives them the best of both worlds by providing a versatile and high-end grilling experience in a portable setting. It can be used with a table or countertop set-up or you can purchase a handy adjustable and compact stand to set it on to save table space.
This versatile grill can be used with either a one-pound portable propane cylinder or a 20-pound propane tank, giving you even more options to create the perfect grilling conditions. It provides up to 330 square inches of cooking space and features dual "H" burners for customizable and even heat distribution. It's equipped with 24,000 BTU capacity. One thing to note is that this grill is on the heavier side at 64.5 pounds, making it slightly less portable than many other options.